Luscious, tender and moist, this lemon drizzle loaf cake is one of the best cakes I've ever had! Drizzled with a sweet lemon icing, it's so quick and simple to make. It's light and refreshing flavour is the perfect accompaniment to an afternoon tea and is sure to become a favourite.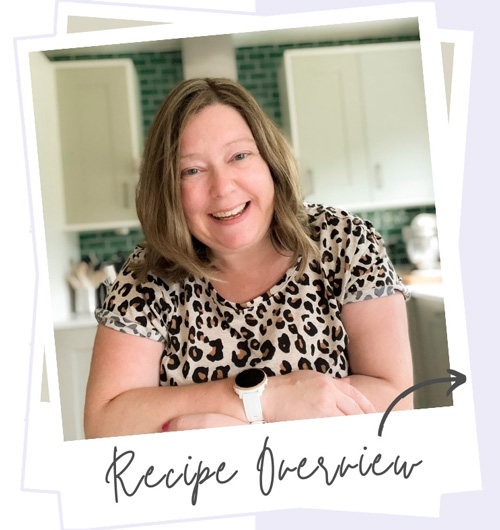 Lou's recipe overview
SKILL: intermediate
TASTE: Rich buttery and zesty lemon
PROS: The perfect everyday cake
CONS: You can't stop eating it!
Out of all my 'go-to' cake recipes, I don't think I make any of them as often as I make this lemon drizzle loaf cake.
You see, while my Granny's Victoria sponge is big and fluffy, and my chocolate traybake is slathered in chocolate buttercream, this lemon loaf cake is a little more dense, like a pound cake, soaked in a lemon syrup and encrusted in zesty icing; so it's super easy to take 'just one more slice'. Then, oops… it's all gone, and the only time you can do is make another!
I first discovered a version of this lemon cake at Le Manoir cookery school, and damn it's just perfect. They've served it for over 30 years and while it is hands-down an utter winner; there was only one thing I wanted to do… add more lemon!
I mean if you're making a lemon cake, there's got to be a good drizzle going on hasn't there?
So here we go, my take on Raymond's traditional lemon cake!
If you want to skip the essential details and handy tips for the best lemon drizzle loaf cake, then head down to the printable recipe card.
Why you'll love this recipe
I love loaf cakes just as much as I love tray bake cakes; they are just so easy. It's the simplicity of just baking one cake all at once and adding a glaze or simple icing. No fuss!
But if the photos aren't enough to get your puckering your lips at the thought of a fresh and zingy taste, then here's why I know you're going to love this as much as I do…
Buttery, tender and moist cake sponge, that's light and zesty
Quick and easy to make in just one bowl, so less washing up
Soaked with a super simple lemon syrup and glazed to seal it in
Easy to adapt and perfect for any occasion, including cake sales
What you'll need to make this
View my Amazon shopping list with equipment and ingredients
Alongside my vanilla traybake cake, this cake is one of the most lush and moreish cakes you'll ever make. Leave any thoughts of 'I can't possibly have one more slice' behind because you're going to end up making this as much as I do!
The ingredients
First up, your ingredients and I'm pretty sure that you're got all of these in the pantry. So when you're ready go and grab…
Unwaxed Lemons – It wouldn't be a lemon cake without them. You can use lemon extract instead of lemon zest if you're not a fan.
Unsalted Butter – If you prefer to use slightly salted butter, just leave out the extra salt.
Caster or Superfine Sugar
Eggs – As always, make sure these are at room temperature before using as they will be easier to whisk up.
Double or Heavy Cream – If you can't get double cream, then you can substitute for creme fraiche or natural yoghurt. This gives the cake that rich, buttery flavour and texture.
Plain or All-Purpose Flour – You can substitute for self-raising flour if you prefer, just leave out the baking powder.
Baking Powder
Icing Sugar
Apricot Jam – We're going to use this for an extra glaze to seal to keep the cake moist. This is optional if you don't have any to hand.
Dark Rum – Now this one is completely optional, it works so well with the lemon and the butter to give a little extra depth to the flavour. You can leave it out if you don't want to use it.
Fine Sea Salt
Recommended Ingredients
Take a look at my favourite Substitutions for different ideas!
The equipment
To make this recipe, you don't need any fancy equipment. Here's what you will need…
1lb Loaf Tin – This is the perfect size for this cake
Handheld Whisk

– Alternatively you can use a stand mixer or ballon whisk

Large Mixing Bowl
Baking Parchment
Silicone Pastry Brush
How to make the best lemon cake
Full measurements and instructions can be found on the printable recipe card
Now you've got the ingredients and equipment all sorted, it's time to crack on with the baking. Don't forget to check out my recipe notes and top tips as well!
Step 1: The cake batter
Melt the butter, then add into a large mixing bowl with the eggs, caster sugar, cream, rum and the zest of the lemons. Whisk everything together into thick and frothy.
Fold in the dry ingredients – flour, baking powder and salt – with a spatula until the cake batter is smooth.
TOP TIP: If available, use cake flour or fine-milled 00 plain flour, instead of regular plain or all-purpose flour. The finely milled flour has a lower protein content and will give you a softer, more tender cake sponge.
Step 2: Prepare the loaf tin and bake
Pour the cake batter into your lined loaf tin and place and level off with the back of a spoon.
Place the filled tin on to a baking sheet, just in case it decides to overflow, and bake until a skewer comes out clean – about 50 minutes.
Lift the cake out of the tin once it is out of the oven and let it cool on a wire rack. This helps any steam escape and gives you a lighter texture.
TOP TIP: I really recommend lining your loaf tin with baking parchment rather than just greasing it. The parchment helps you lift the cake out easily once it's baked.
Step 3: The lemon syrup
In a small bowl, mix together half of the lemon juice and caster sugar to make a simple sugar syrup.
As the cake cools, prick all over the top with a skewer and spoon over the syrup allowing it to soak into the warm cake.
Step 4: Glaze, ice and serve
Once the syrup has soaked in, warm the apricot jam in the microwave, being careful not to heat it too much.
Using a silicone pastry brush, coat all the sides and the top of the cake with the jam and leave to set.
Mix together the remaining lemon juice with icing sugar to make an icing. You are looking for a thick but still slightly runny consistency, so the icing will not just run straight off the cake.
When the cake is fully cooled, pour the icing over the cake and smooth with the back of a spoon or palette knife if needed.
Serve and enjoy!
Substitutions
There really isn't much you can do to improve this lemon cake recipe, but there are a few ways that you can mix it up…
Switch the fruits: Why not try switching the lemons for an orange drizzle or even a pink grapefruit drizzle? You can also use a shredless marmalade instead of apricot jam.
Gin & Tonic Drizzle: For a classic cocktail combo, add a touch of gin. Swap out the rum in the cake batter and add 50ml of gin into the lemon syrup.
Toppings: I've gone with a classic lemon sugar icing, but you could switch for a cream cheese frosting with a touch of lime zest for extra zing.
Serving: If you love a that zesty lemon taste, why not spread the cake with my favourite easy gin lemon curd.
Frequently asked questions
How size loaf tin should I use?
This recipe is best made in a 1lb loaf tin, or you can split the batter into a mini loaf tin pan to make individual servings. If you only have a 2lb loaf tin, you can use this but the cake will not be as deep.
How many does the cake serve?
The recipe will make 10-12 slices, depending on how thick you slice them.
How should I store the cake?
You can store the cake either as a loaf or in individual slices. Make sure that they are kept in an air-tight container.
How long will the cake keep for?
The cake will keep fresh for 3-4 days if stored in an air-tight container.
Can I freeze the cake?
Yes you can. You can either cut the cake into slices and freeze those individually, or allow the cake to fully cool and skip the apricot jam glaze. Make sure when freezing that you wrap the cake well in clingfilm. Keep in the freezer for up to 3 months and defrost thoroughly before eating.
Can I use this recipe for a layer cake?
I think this is best kept as a loaf cake, but you if you want to make this as a layer cake, you can do. This recipe would work to make two 8 inch layers and you will need to reduce the baking time to about 20-25 minutes at 180C/350F. Also remember we are using plain flour with only a pinch of baking powder so it will be quite a dense cake. I'd suggest adding an extra 1 teaspoon of baking powder, or swapping the plain flour for self-raising flour if available.
Recipe notes and top tips
Check out these handy hints to get the most delicious tasting lemon drizzle loaf cake every time and don't forget to check out my substitutions.
Use room temperature eggs – Using cold eggs can cause your cake batter to curdle. I can be fixed with dry ingredients, but if they are cold when baking, you'll be working first to bring the eggs up to temperature. If you forget to get your eggs out of the fridge in time, you can warm them up by popping them in a bowl of warm tap water for 10 minutes.
Invest in a microplane zester – Ever tried to zest a lemon on a box grater? Takes ages doesn't it. A microplane zester is quick and easy, and means you have more control. Remember you only want the yellow zest, not the the bitter white pith.
Let the cake cool out of the tin – Use the baking parchment to lift the loaf cake out of the tin once baked. This allows any steam to escape. If you leave the cake to cool in the tin, the steam will become trapped and make the cake heavier.
Line the tin with baking parchment – I really recommend this, it will make getting the cake out of the tin so much easier. Make sure you allow excess of parchment that overhangs at least the two long sides of your tin; you can just the overhang to the lift the cake out onto a wire cooling rack.
More lemon recipes to try
If you liked this lemon drizzle loaf cake recipe here are some other recipes that I think you'd enjoy…
Lemon Drizzle Loaf Cake
Luscious, tender and moist, this lemon drizzle loaf cake is quick and simple to make. Light and refreshing it's sure to become a favourite.
Ingredients
For the cake
3

Lemons

Juiced and Zested

100

g

Unsalted Butter

Melted

5

Eggs

Medium

120

ml

Double Cream

or Heavy Cream

300

g

Caster Sugar

or Superfine Sugar

25

ml

Dark Rum

Optional

250

g

Plain Flour

or All-Purpose Flour

1/2

tsp

Baking Powder
For the Syrup, Glaze and Icing
Instructions
To make the cake
Preheat oven to 180C/ 350F and line a 1lb loaf tin with baking parchment.

Melt the butter in the microwave in 30 second blasts or in a small saucepan over a low heat.Allow to cool slightly.

in a large mixing bowl, add the melted butter, eggs, caster sugar, double cream, rum and lemon zest, and using a handheld mixer whisk everything together until well combined. You are looking for a thick and frothy mixture.

Sieve together the plain flour, baking powder and fine sea salt, then gently fold into the butter and egg mixture, until you get a silky smooth cake batter..

Spoon the cake batter into the lined loaf tin and level off with an angled spatula or the back of a spoon. Place the filled loaf tin on a baking tray.

Bake the cake for 50 minutes to 1 hour until golden on top. Test the cake with a skewer, if it comes out clean the cake is ready; if not bake for a further 5 minutes and test again.

When the cake is baked, remove from the oven and using the baking parchment lift the loaf cake out of the pan straight away. Place on a wire rack to cool.
To make the syrup
While the cake is cooling, add half of the lemon juice from the zested lemons into a small bowl. Add in the caster sugar and mix together until the sugar dissolves, If needed add a drop more lemon juice to help dissolve the sugar.

Prick the top of the cake all over with a skewer or sharp knife, and spoon over the syrup. Allow the syrup to soak into the cake.

Warm the apricot jam, in the microwave or a small saucepan over a low heat, until runny. Do not overheat the jam as it will burn.

Using a silicone pastry brush, coat all the sides and top of the soaked cake with the warm jam and leave the cake to fully cool.
To make the icing
When the cake has cooled, add the icing sugar into a small bowl. Add the remaining lemon juice and mix together to form a thick but runny, shiny white icing.

If the icing is too runny add a tablespoon of icing sugar to thicken up. If it is too thick, add a tiny drop of cool water to loosen. it up.

Place the cake on a wire rack and pour the icing over the top. The rack will allow any excess icing to drip through. Allow the icing to set.

Slice the loaf cake to serve, and enjoy!
Nutrition
Calories:
371
kcal
Carbohydrates:
61
g
Protein:
5
g
Fat:
12
g
Saturated Fat:
7
g
Trans Fat:
1
g
Cholesterol:
100
mg
Sodium:
34
mg
Potassium:
115
mg
Fiber:
1
g
Sugar:
42
g
Vitamin A:
467
IU
Vitamin C:
15
mg
Calcium:
37
mg
Iron:
2
mg
DISCLAIMER
The nutritional information provided is approximate and is calculated using online tools. Information can vary depending on various factors, but we have endeavoured to be as accurate as possible.