This post comes with a warning… A warning that it is long and there are lots of photos, but it's worth it!
I'll hand on my heart admit before you go scrolling through for the photos of techniques and recipes, that what you are going to find is the stunning garden and some photos from the class. I was far to engrossed and in my element to stop every couple of minutes and get the beast of a camera out. My battery had died on my phone within an hour of arriving, thanks to an over eager Apple maps and a diversion that saw me take in the sunrise over the glorious Oxfordshire countryside.
I won't go into a complete blow by blow account of the day; if you would like to now exactly what went on I can only suggest you experience it for yourself!
But trust me, this has possibly been one of the most amazing experiences and I dare you not to fall in love with the beauty and elegance of Le Manoir aux Quat' Saisons.
I'd been beyond excited for my birthday treat to Le Manoir ever since I reserved my place, back in the middle of summer. If you can not spoil yourself every once in a while, when can you? This was going to be a 'Me Day' – something I wanted to do, a place I wanted to experience and class that would capture me. I knew I was going to leave at the end of the day wanting more, I just didn't know how much I would want it. My heart was captured from the moment I drove through the gates!
Leaving the darkest depths of the Cotswolds before sunrise, the sun coming up over the gardens set the mood for the rest of the day. (Seriously, I was bursting with excitement and I'd only just arrived in the car park).
Walking past the immaculate croquet lawn to reception, I was guided into one of Le Manoir's salons to join a nervously excited group of patisserie students-in-waiting for coffee, pastries and introductions. Strangers together but all with one aim; by the time we left we'd have mastered pastry! We were then joined by the fabulous Mark Peregrine, Head Tutor of the Raymond Blanc Cookery School at Le Manoir. Any nerves flew out the window, Mark made us feel relaxed and quietly confident that we could do this! Mark was Raymond's first apprentice at the original Restaurant Aux Quat' Saisons, and helping win the first of many Michelin stars. Mark's career has seen him work internationally, at the highest levels, teaching at the Cordon Bleu School, running his own pastry shop in London and collaborating with the Institute of Culinary Arts in the USA.
I've been asked a couple of times, did Raymond teach your class? No, he didn't. I wouldn't expect him to. Have you read his Twitter feed, I don't think he stands still for more than two minutes. If you're lucky, he might be at Le Manoir whilst you are there; and we were. Although I nearly unintentionally interrupted him during a meeting when heading to the 'Powder Room'. But I digress…
No Raymond does not teach the class; but with Mark's serious amount of accomplishments and credentials there is no one else better to guide you through patisserie!
Kitted up in our Raymond Blanc Cookery School Chef's whites and apron, we took our seats in the 'Rolls Royce' of kitchens. The school is nestled amongst the back kitchens that serve the main kitchen and the dining room, and you are immersed, at a safe distance, in the hustle and bustle of a busy fine dining kitchen, serving 300 guests a day. Did I mention, I was bursting with excitement? Can you imagine how I was excited at this point?!
Our menu for the day was to be:
Marquise au Chocolat
Lemon Butterscotch Sauce
Pear Tart Bourdaloue
Crème Patissiere
Vanilla Syrup
Pistachio Souffle with Bitter Cocoa Sorbet
Hazelnut Ice-cream
Liquorice Macaroons with White Chocolate Ganache
Lemon cake
Mark explains to us that patisserie is an exact science – timings, temperatures, weights etc, and it is no surprise that the class is planned down to a very precise timeline. We indeed have a lot to get through. A quick sigh of relief could be heard across the kitchen when Mark informed us we were not expected to do everything; that some of the elements for the dishes would be demonstrated to us, everything would be weighed ready for us, and that his second in command, Chef Marcus Pepper, and a lovely French lady, whose name escapes me, but Mark said was a 'magnificent Kitchen Fairy' would work around us, helping, clearing, cleaning etc, letting us focus on the matter in hand!
The morning was spent constructing a delicious marquise au chocolat to chill in the fridge, creating the most perfect pastry and almond cream, and poaching the pears for our pear tart bourdaloue; then popping our own version of Le Manoir's famous lemon cake into the Gaggenau ovens (complete oven envy).
All the time, every single one of us, was engrossed in Mark's teachings – the importance of good butter and fat content, working with pastry so as not to require flour for rolling out, and then the types of flour to work with, choosing the best chocolate and why although it's 70% cocoa it may not necessarily be a good quality chocolate, the secrets behind glucose and heating sugar for perfect caramelised hazelnuts! Fear not though, if you're thinking how I am going to retain all this information, each student is provided with a recipe and instruction pack that you can take away with you. Oh yes, you can recreate that lemon cake at home as well!
As lunch approached, and we were preparing our pear tart bourdaloue for the oven, literally behind our backs a transformation was taking place. Marcus had been preparing us a beautiful lunch which had been laid out for us – heritage tomatoes to Maman Blanc's recipe, beetroot from the gardens, smoked salmon, charcuterie, cheeses, chick pea salad celeriac remoulade and an array of fresh artisan breads. Also during the morning one of Le Manoir's Sommelier's had popped in during the morning to talk about the wine that would accompany our lunch. We may have been dining in 'the kitchen' but the service and presentation was nothing short of what you would expect in the dining room. Perfection!
Whilst we were sampling the delights of the garden, Mark demonstrated one of Le Manoir's signature dishes, pistachio soufflé with bitter cocoa sorbet. It was stunningly simple in presentation and pure heaven to taste. Because of the nuts I let the lady I was partnered with sample my serving as well; in the meantime, I tucked into the fruit bowl which itself was fabulous. We all agreed that the grapes were quite possibly the best we'd eaten!
After lunch, and it being such a glorious day, Mark took us on a tour of the famous gardens. They were a riot of autumnal colours, and I can imagine that regardless of the time of year they will always be captivating.
As an aside, as us students took to the garden in our whites, we were spied by the fantastic Critical Couple who were also at Le Manoir for a special birthday lunch.
Now I'm not known for my green fingers, but I can appreciate the time and work that goes into the creation and the sustainment of the gardens; from the ingenuis mushroom valley where a variety of mushrooms are grown for use in the restaurant, the topiary herb garden, the neatness of the micro-herb shoots, the terracotta cloches for rhubarb, to the bronzes that bring the garden to life.
Mark explained to us that the gardens are a labour of love for Raymond, and that 29 years ago (Le Manoir celebrates it's 30th anniversary next year) the gardens were a sprawling wilderness and it was Raymond's father who encouraged him to develop the land. The belief of working the fields to send produce to the plate was one instilled in Raymond from a very early age. Of all the produce grown, this will supply approximately 10-15% of the kitchen requirements a year; which may not sound a huge amount, but when you think of the number of guests that visit Le Manoir each year, it is a huge feat for the Gardeners.
I could keep lamenting about the gardens, but I think photos can only do it justice. I am determined to experience the gardens in every season; the changes would be spectacular to see.
So, you might be thinking, does it end there? Well, the simple answer is… no!
There is still plenty to go but the afternoon is not what I would call leisurely, but probably a little more sedate. The preparation work has been completed, tarts and cakes have been baked, marquises have been chilled, sauces have been created and it's now time to bring everything together; and possibly taste!
Whilst we've been gone, Marcus and our 'Kitchen Fairy' have transformed the kitchen back to a working kitchen, our pear tart bourdaloues have been whipped over with a blow torch to just add a finishing touch, and our lemon cakes have rested and cooled whilst we have been on our tour, ready for glazing and icing. We also finish off our Marquise au chocolat with a lemon butterscotch sauce and some of those perfectly caramelised hazelnuts.
During our afternoon coffee, we sample the delights of Mark's creations and get a taste of what we will be taking home with us. And as we wind down, there is still one last thing to do… Macaroons. And yes, that's a "roon" not a "ron", despite what Paul Hollywood may say, I think I'll go with Mark on that one!
Mark talks us through creating macaroons using the Italian meringue method, with boiling sugar. I must admit that I've always been nervous of this technique but Mark produced absolutely perfect macaroons that I'll only be using this way in future. Everyone piped their own macs, without a guide I hasten to add, and they all looked pretty much perfect in size and shape. We popped them back in the Gaggenau ovens (my oven envy had reached feverpitch) and watched their feet form. Perfection! Mark had also demonstrated a white chocolate and liquorice ganache earlier in the morning, and we used that to sandwich the macaroons together. Now for someone who 'doesn't like liquorice' I could have happily sit there and eaten everyone's.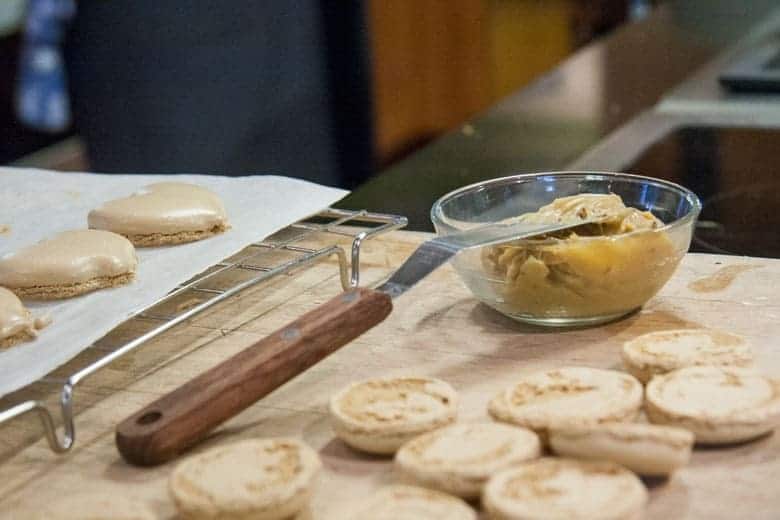 With that we all realised that this was the end of the day; or was is the beginning of our patisserie journey? We were all awarded a certificate of achievement and a Le Manoir goody bag with a Raymond Blanc saucepan, a file for our recipes and cooking information, as well as our chef jackets to take home.
But there was one last thing before we left, a kitchen tour. We'd been in the centre of the back kitchen all day and had seen everything going on around us, but a little quiet time before evening service we had opportunity to see the rest of the heart of Le Manoir and the patisserie kitchen. And then that was really it… *sad face*
As we walked back to our cars, there was lots of chatter about who was visiting who the following day armed with the delights they had created, that we'd all wear our Raymond Blanc Cookery School Chef's jacket with pride and how it was truly a day we'd never forget!
So then, if you've made it all the way through to the end, what would you like to know…
To be clear, I visited the Raymond Blanc Cookery School at Le Manoir of my own accord, and everything I've written is my own thoughts and feelings.
I would personally recommend the patisserie course; and would definitely say I thought that it was worth every penny. But I would hasten to add, it is a course that is specialised and I think  that you need to know why you would want to do the course. Yes, it is a nice thing to do, but I think you would get far more from Mark and the team's knowledge if you have an interest in patisserie. That said, one of the chaps on the course didn't really bake or have an interest but he thoroughly enjoyed himself and took so much from it.
There really is no one better to guide you through the course than Mark. So please don't be disappointed if you were thinking it would be Raymond. Mark is quite clearly 'The Master of Patisserie' and you will not find anyone more qualified and accomplished!!
I arrived home that night absolutely buzzing, the excitement of the morning, despite being a long day, was still with me. I paraded my creations before Ian and gave him a blow by blow account of my amazing day and went to bed dreaming of being a fully accomplished patisserie chef. It was a day that will never leave me, that words cannot describe.
I fell in love…
I fell in love with patisserie…
I fell in love with Le Manoir aux Quat' Saisons…
Further details:
Website – www.manoir.com
Le Manoir on Twitter – @lemanoir
Chef Mark Peregrine on Twitter – @RBCookerySchool
Le Manoir
Church Road
Great Milton
Oxford OX44 7PD
Telephone – 01844 278 881