Moist and flavourful, this classic vanilla marble bundt cake is anything but boring! With swirls of colour, this quick and easy from scratch cake is absolutely perfect for birthdays, celebrations or just as a slice of cake and cup of tea. Top with a sprinkling of icing sugar or with vanilla glaze and tuck in.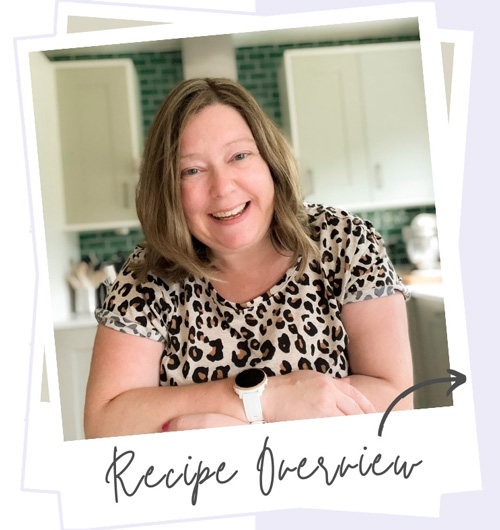 Lou's recipe overview
SKILL: Intermediate
TASTE: Rich, buttery vanilla cake
PROS: It's so pretty – look at those swirls
CONS: Be careful getting it out the pan
We've all got that one bake that brings back memories. The one that makes us feel nostalgic when we take a bite.
Whether it's the one you were first taught, one passed down through your family, or one that has a special meaning, I can guarantee when you make it so many feelings come rushing back!
For me it's my Granny's raspberry Victoria cake or a Cream Tea with freshly baked scones. But there's one other, that brings back vivid memories.
Memories of being a carefree 8 year old, visiting my Nanna and Grandad in Ireland and hunting Easter eggs dyed pink and green; then demolishing a marble Bundt cake swirled with the same colours.
And as I was invited to take part in an Instagram nostalgia bakes collab, I thought it was time to try and recreate Nanna's Bundt.
The recipe is long gone, but with the help of my Mum and Aunts I think I've got it, so now I'd like to share it with you.
If you want to skip the detail recipe information and tips for making this classic vanilla marble Bundt cake, then head down to the printable recipe card.
Why you'll love this vanilla bundt cake
Well you know I love this for the memories it brings back, but for you it's because…
Light and moist with a classic vanilla flavour
Perfect topped with either a dusting icing sugar or a simple vanilla glaze
Simple, no fuss and quick to make, ready for the oven in 20 minutes
Perfect to make for any occasion or an afternoon cake treat
What you need to make this recipe
View my Amazon shopping list with equipment and ingredients
There really isn't anything simpler to make than a good vanilla cake, and this one hits all the marks for a quick and easy bake without having to forage for special ingredients or equipment.
So when you're ready, here's what you'll need…
The Ingredients
All you need to make this classic vanilla bundt cake are just a few basic kitchen staples.
Plain Flour or All-Purpose Flour – You can also use cake flour, which will give you a much lighter cake due to how fine the flour is milled. I love Shipton Mill Soft Cake and Pastry flour which is milled locally to me.
Unsalted Butter – This should be at room temperature as it will be easier to mix, and will give a lighter cake. You can use salted butter if you prefer.
Salt – I prefer to use fine sea salt as table salt can be 'too' salty. If you are using salted butter, you can leave this out.
Natural Yoghurt – My secret ingredient for a lovely moist cake. If you don't have natural yoghurt, you can substitute for soured cream.
Eggs – Remember to take your eggs out of the fridge before you want to use them; 15 minutes should be plenty of time.
Caster Sugar or Superfine Sugar
Baking Powder
If you want to create colourful swirls in your cake, you'll also need food colouring. I highly recommend using RainbowDust colour gels as they give great colours and will not fade during baking.
The Equipment
Just like the ingredients, the equipment you need to make this Bundt cake is super simple too.
In fact, if you don't have a Bundt pan, you could make this in a 6-inch round cake instead. But I highly recommend you try it in a Bundt pan as it's such a great bake.
Here's what you'll need…
7 inch Bundt pan – This works out about 6 cup volume I use one that I picked up in Aldi a few years ago, but you can find a similar one on Amazon
Handheld mixer and a large mixing bowl or a stand mixer
Small mixing bowls to mix the coloured cake batter in
TOP TIP: Don't mess with melted butter and flouring your bundt pan. Get into all the nooks and crannies with this quick and easy homemade cake release.
How to make vanilla marble bundt cake
Full measurements and instructions can be found on the printable recipe card
I know, I know… I've told you so many times that this bundt couldn't be any easier to make. So you might be sat there wondering why do you need to read the full details?
Well, the thing is that while it's simple, there are a few hints and tips to make sure it turns out utterly divine. Therefore, I really do suggest it's worth taking the couple of extra minutes to go through the recipe.
Ready? Let's go!
Making the cake batter
Right start with your large mixing bowl and add in the flour, sugar and baking powder, gently combined everything together. I prefer to do this by hand with a spatula because I find the dry ingredients can spill out.
Next up, cut the softened butter into cubes and add to the dry ingredients, along with the natural yoghurt. Using a handheld mixer, mix everything together until they form a wet, sandy mixture.
Add the vanilla extract, then each of the eggs, one by one, and mix into the cake batter until it becomes smooth, thick and creamy.
TOP TIP: If your cake batter has curdled, add 1 tablespoon of plain or all-purpose flour to bring it back together.
Colouring the cake batter
Take 1 cup of cake batter and add to a small bowl. Mix in pink food colour gel until you get a bright shade of pink. Repeat with another cup of batter, and colour that one green.
If you prefer not to colour the cake, you can skip this step; or you can use different colours.
Baking the bundt cake
To start with you will want to add the uncoloured batter to the bundt pan until it's about half full. Make sure that you've greased your pan first; for best results give my homemade cake release a try.
With a smaller spoon, make a channel in the batter and add the coloured cake batter, starting with the pink then layer on top the green. Repeating until all the batter is used up.
Spoon the remaining uncoloured cake batter over the top and gently smooth it over. Be careful not to push down too much.
Pop the bundt cake into a preheated oven at 180C/350F for 40-45 minutes. Once baked, make sure to leave the cake to cool for 10-15 minutes before turning out.
How do I know what size my bundt pan is?
There is no definitive rule that says all 7-inch bundt pans are the same; that is because the volume can vary depending on the design. Therefore to figure out what size pan you have try one of these methods…
Use a measuring cup and fill your bundt pan with water until it's almost full. Take a note of how many cups it takes to fill the pan; this equals how much cake batter you will need.
Quite a lot of bundt pans, including NordicWare have the size and/ or volume of the pan stamped somewhere on the outside, near the edge. If your pan doesn't have a stamp, then use the measuring cup method.
How much batter does my pan need?
For this recipe, the batter will fill a 7-inch Bundt pan, which is approximately 6 cups in volume.
When you add the batter to your Bundt pan, make sure you fill it to at least two-thirds full, but no more than three-quarters full. You don't want the cake spilling over the sides when it bakes; trust me it will make a terrible mess in the oven if it does.
You should not have any cake batter leftover, but if you do pop it in a couple of cupcake cases and bake them at the same time.
What should I use to easily remove my cake from the pan?
With just about all my cake recipes on here, especially my Bundt cakes I recommend making my easy cake release recipe. It works out so much cheaper than store-bought and uses three simple ingredients.
Make sure you generously coat the increase of the pan, paying attention to all the details if you have a decorative Bundt pan. And don't forget to coat the centre tube too.
What should I top my bundt cake with?
The choice really is all down to your personal preference, or how quickly you want to get stuck into a slice. Here's my favourites…
Stay naked – As in go with nothing on top of the cake; it really is just a great bake all on it's own.
Give it a dusting – For me this is the best way to top your bundt cake. It let's the vanilla flavour of the cake come through, and adds just a little extra sweetness. It's also the quickest way to add that touch of decoration to your cake.
Add a glaze – If you're looking for something a little more icing-wise for your bundt, then a simple vanilla glaze or cream cheese glaze icing is a great addition. I love using the glaze from my lemon raspberry swirl buns.
Frequently asked questions
What size bundt pan do I need?
This recipe uses a 7-inch bundt pan, which equates to about 6 cups of batter. To scaale up the recipe fill your bundt pan with cups of water and measure how many to takes; that will be the same as your cake batter.
How many does the cake serve?
This recipe for a 7-inch bundt cake will serve between 10-12 slices.
How store the cake be stored?
The cake is best kept in an air-tight container at room temperature.
How long will the cake keep for?
If stored at room temperature in an air-tight container, the cake will keep fresh for up to 3 days.

Can you free the bundt cake?
Yes you can. Ensure the cake is completely cool first, then wrap in plastic wrap or clingfilm. The cake will keep for up to 2 months. Remember to defrost thoroughly before decorating and eating.
Top tips for making the best bundt
Use room temperature butter – Your butter should be nice and soft to start, but not too soft, otherwise it will be greasy. Room temperature butter is easier to cream with the sugar, incorporating air into the mix, helping your cake turn out light and fluffy. Take it out of the fridge the night before and it will be just right.
Make sure you grease the pan – This one is really important depending upon your pan design. The more intricate the pattern, the more you need to make sure you get into the edges; a silicone pastry brush is best for this. My homemade quick pan release recipe is perfect!
Let the cake cool in the pan – I know you'll want to turn it out as soon as it comes out of the oven, but be patient! Let the cake cool for 10-15 minutes first, then turn out. If the cake is too warm, you'll risk it breaking up as it comes out. Set a timer so you don't forget, as sometimes leaving it in the pan too long can also cause the cake to break up.
More bundt cake recipes to try
If you liked this vanilla marble bundt cake recipe here are some other recipes that I think you'd enjoy…
Vanilla Marble Bundt Cake
Moist and flavourful, this classic vanilla marble bundt cake is anything but boring! Quick and easy it is the perfect cake for all occasions.
Ingredients
200

g

Plain Flour

or All-Purpose Flour

180

g

Caster Sugar

or Superfine Sugar

2

tsp

Baking Powder

200

g

Butter

Softened

3

Eggs

Medium

1

tsp

Vanilla Extract

or Vanilla Bean Paste

100

g

Natural Yoghurt

1

tbsp

Full-Fat Milk

Optional
Instructions
To make the cake: Preheat the oven to 180C/350F and grease your bundt pan with cake release.

In a large mixing bowl add the plain flour, baking powder and caster sugar. Gently mix these together. Alternatively, use a stand mixer.

Add the softened butter to the dry ingredients. The butter should be very soft but not melted. If the butter is still solid, gently heat in a microwave for 10-20 seconds. Ideally take the butter out of the fridge, the night before you are baking and it will be softened.

Using a handheld mixer gently mix together the butter, yoghurt and dry ingredients until combined. Alternatively, use a stand mixer.

Add the eggs, one at a time, and mix well until fully incorporated. If you're cake batter feels stiff, add 1 tablespoon of whole milk to help loosen the mix.

Take 1 cup of cake batter into a small bowl. Add pink food colour gel and mix well. Repeat with another cup of cake batter and colour green.

Pour the cake batter into the greased bundt tin, until about 2/3s full.

Spoon the plain cake batter into the greased bundt tin, until about half full. Then using a teaspoon make a channel in the centre of the batter and spoon in the pink and green coloured cake batter. Spoon the remaining uncoloured cake batter over the top and gently smooth over.

Place the bundt pan on a baking sheet and bake at 180C/350F for 40-45 minutes or until an inserted skewer comes out clean.

When baked leave to cool for 10-15 minutes in the pan before turning out onto a wire cooling rack.

Sprinkle icing sugar over the top of the bundt cake and serve.
Notes
Cake Pan Release – whether you're a butter person or more of a release spray fan, I'll guarantee that you'll never use anything else again once you've tried this quick pan release recipe. Make a batch and keep it in the fridge, it's magic!
Fill about 2/3s full – don't be tempted to fill your bundt pan to the top, otherwise when you bake it you'll end up with an overflowing mess. For best releases don't fill it more than 2/3s full, and if you have any batter leftover pop it in cupcake liners for a little extra treat.
Let it cool in the pan – demolding the bundt when it's still warm in the tin risks it breaking or leaving pieces of your pan design between. So make sure you let the cake cool in the pan for 10-15 minutes, then turn out.
Think about the design – there are so many intricate cake pan designs out there, and it would be a shame to cover them up with frosting or a glaze. If you have a fancy design like a gingerbread house bundt pan, then just a dusting of icing sugar does the job.
Nutrition
Serving:
1
slice
Calories:
261
kcal
Carbohydrates:
29
g
Protein:
4
g
Fat:
15
g
Saturated Fat:
9
g
Trans Fat:
1
g
Cholesterol:
78
mg
Sodium:
140
mg
Potassium:
120
mg
Fiber:
1
g
Sugar:
16
g
Vitamin A:
486
IU
Vitamin C:
1
mg
Calcium:
53
mg
Iron:
1
mg
DISCLAIMER
The nutritional information provided is approximate and is calculated using online tools. Information can vary depending on various factors, but we have endeavoured to be as accurate as possible.