Never buy expensive cake sprays again with this super simple, three-ingredient homemade cake release. This amazing mixture takes seconds to make, lasts for months, and gets cakes out of pans cleanly and easily every single time. Whip up a quick batch and you'll never leave cake in the pan again – it's a little kitchen miracle!
Over the years I've tried all sorts of ways of preparing my cake pans, especially when it comes to Bundt cakes!
I've tried simple butter, a light dusting of flour, oil, and baking spray. All of them sort of worked, but it's only baking spray that has come close to doing the job reliably every time.
So we have a solution?
Not quite, there's a slight issue. Have you seen the price of baking spray? It's expensive, especially when you go through a can every couple of months.
But what if I told you that there's a far easier, cheaper, and no-fail solution to getting your cakes out of the pan. That's probably already in your kitchen?
The easiest, three-ingredient homemade cake release you'll ever make!
What is cake release?
Quite honestly, cake release is a little baking miracle for getting your cakes out of the pan with minimal effort and most importantly in one piece!
You can buy it in the supermarket as a baking spray that you spray your pans with, or from cake supply stores as a thick liquid that you brush onto your pans with.
Essentially it's just a mix of oil, flour, and fat. And that is 'the' reason that I decided to try making own version, see what results I could get.
While I'll admit that there is something quick and easy about a baking spray; who wants to pay £5 for something that is three basic ingredients that most of us will have in our cupboards?
And truthfully, I've had mixed results when trying to get my cakes out of the more detailed Nordicware Bundt pans. Leaving half the cake in the pan doesn't make for the most attractive looking cake to serve up for afternoon tea.
But it all changed when I started to make my own homemade cake release!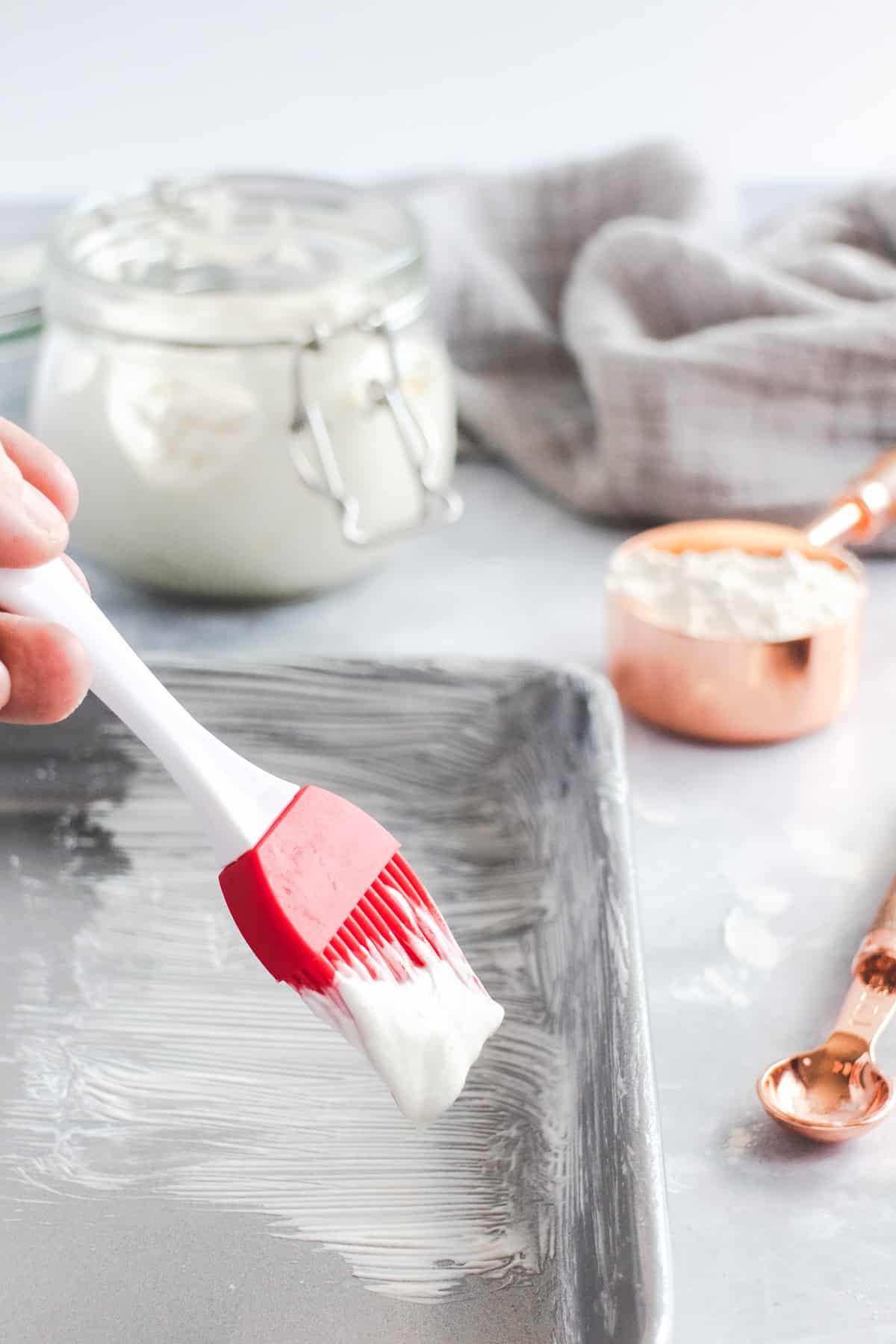 Homemade Cake Release vs Baking Spray
I've used a baking spray for so many years. It does the job and I've never had a cake stick with it. But, it never seems to last as long as I think it should. And, in my opinion, it's expensive.
If you're baking a lot, those cans will soon add up. That's why I have a totally new found love for making my own homemade cake release!
The ingredients are super simple, super cheap and you can make as much or as little as you need. No having to dash out to the supermarket late at night when you run out in the middle of a baking marathon.
And, if you've been using baking spray a lot; take a look at your pans. Have you noticed that you have a slight layer of baked on spray?
Mine certainly have. It doesn't taint the cakes, and it doesn't stop a new spray of release working; it just makes me feel that my pans aren't pristine. Scrubbing will get rid of it, but will harm your pans in the process.
This homemade release doesn't leave a residue, it doesn't taint the cake and it washes off nice and easily with hot soapy water. Bonus!
How to make cake release at home
There is no simpler recipe than this one!
All you need to do is measure equal quantities of each of the ingredients, blend them all together then store in an air-tight container.
That really is it!
Recommended Ingredients
Take a look in the fridge and your cupboards and grab each of the following ingredients:
Vegetable Oil – Stick to a light vegetable oil rather than a rapeseed oil or olive oil; both of these have a flavour that you don't want to transfer to your cake. Vegetable oil has a neutral flavour so will not taint the cake batter as it bakes.
Plain or All-Purpose Flour – Just a regular white flour works perfectly well here as it's just for mixing in with the other ingredients. If you wish to make a gluten-free version, substitute this for a free-form flour instead. When I bake for my in-laws, I use Doves Farm flour.
You'll also need a mixing bowl, balloon whisk and some arm power; or you can use a handheld mixer or stand mixer.
I whip up my cake release using my stand mixer and the balloon whisk attachment. It takes only a minute or so, and I pop it on whilst I'm getting the rest of my ingredients ready.
To store the cake release, grab a clean, sterilized jar. I use either a jam jar or a Kilner jar that has an air-tight seal.
View my Amazon shopping list with equipment and ingredients.
How to use homemade cake release
If you thought the recipe was super easy, then using your freshly made cake release is a breeze too.
There's no greasy over-spray coating everything within a 1-metre radius of your pan, or is there trying to scrape the last of the release out of the bottle.
Instead, storing your own version in a wide-necked Kilner jar means that there's plenty of room to dip a pastry brush in and get everything out. Not a drop wasted!
Preparing your cake pan
The easiest way to use your release is to use a silicone pastry brush. I prefer a silicone one, rather than a bristle brush as they have a tendency to shed and no one wants a cake with brush bristles in it!
Dip your brush in, load it up then spread the mixture around the pan. You'll need to dip in a couple of times to get a good coat all over. Don't forget that you'll want to make sure you coat the sides of the pan as well!
If you're using a more detailed pan, make sure to get into all the small, intricate places and give it a really good coat!
Should you line your cake pan?
I've tested this recipe with and without lining my cake pans, and it works perfectly. Although when I'm baking cake rounds, I do still place a piece of baking paper into the bottom of the pan.
It's a habit leftover from fully lining cake pans and continued to do so when using a baking spray. While I still line the base of my pans when using cake release; I use it on its own for sheet cakes and Bundt cake.
If you want to line your pans, it's down to your own personal preference!
Releasing your cake
Just as you would normally, allow your cake to cool in the pan for about 10 minutes before turning out. Your cake will start to pull away from the edges of the pan, and it's ready to take out.
Pop a wire cooling rack on top of the cake and while holding the rack and pan, turn them upside down. The cake will then pop out of the pan easily and cleanly.
No breaks!
What pans can you use the release with?
You can use the cake release with any cake pans.
I mainly use mine with my round, square or sheet pans. And when it comes to Bundt pans it's an absolute must. I've not had one fail on me yet!
You could also try the release if you are making muffins or cupcakes without liners.
TOP TIP: When storing your cake release, label your jar with the date you made it so you know when to change it.
Frequently asked questions
How long will the cake pan release last?
The cake release will last as long as the ingredients themselves. You can expect it to last for 3-6 months, possibly up to 1 year if kept in the fridge.
Can the cake release go bad?
Yes, it can. The release should have a neutral smell, but if it has gone off you will notice a rancid smell. Using fresh oil, flour and shortening will ensure that it lasts for as long as possible before the fat begins to go bad.
How should I store the cake pan release?
Store your cake release in an air-tight container in the cupboard at room temperature. Alternatively, keep the jar in the fridge and bring to room temperature before using. I prefer to keep mine in a small glass jar, like Mason jar, to make sure it is well-sealed.
What if the mixture separates during storage?
Over time the release mixture may start to separate out with the oil moving to the top. Don't panic, it's still ok to use. Just give it a good stir before using to combine everything back together again.
More baking tips to try
If you liked this homemade cake release baking tip here are some other tips that I think you'd enjoy…
Easy Homemade Cake Release
Never buy expensive cake sprays again with this super simple, three ingredient homemade cake release! This amazing mixture takes seconds to make, lasts for months.
Ingredients
100

g

Vegetable Shortening

Trex or Crisco

100

g

Plain Flour

or All-Purpose Flour

100

ml

Vegetable Oil
Instructions
Add the shortening, flour and oil into the bowl of a stand mixer fitted with the balloon attachment. Alternatively, you can use a large mixing bowl with a balloon whisk or handheld mixer.

Mix the ingredients together on low speed until the flour is just combined, then increase the speed to medium and continue whisking until you have a smooth paste. If using a stand mixer, the paste will be light and airy similar to a meringue.

Transfer the cake release into an airtight container such as a Kilner jar or jam jar, and label with the date.

Store the cake release at room temperature out of direct sunlight or in a cupboard. If the mixture separates during storage, stir together before using.

To use the cake release, dip a silicone pastry brush into the mixture and brush an even layer over your cake pan, then add the batter.
Notes
If you wish to make a gluten-free version, substitute this for a free-form flour instead. I prefer to use Doves Farm flour.
Nutrition
Serving:
1
Jar
Calories:
2110
kcal
Carbohydrates:
76
g
Protein:
10
g
Fat:
201
g
Saturated Fat:
107
g
Sodium:
6
mg
Potassium:
107
mg
Fiber:
3
g
Sugar:
1
g
Calcium:
15
mg
Iron:
5
mg
DISCLAIMER
The nutritional information provided is approximate and is calculated using online tools. Information can vary depending on various factors, but we have endeavoured to be as accurate as possible.