If you love Kit Kats then this wickedly delicious, no bake Kit Kat cheesecake is the dessert your dreams are made of! With a creamy, no-faff cheesecake filling, packed with chocolate wafer pieces and surrounded by Kit Kat fingers, you won't be able to resist having another slice. It's the perfect weekend dessert project!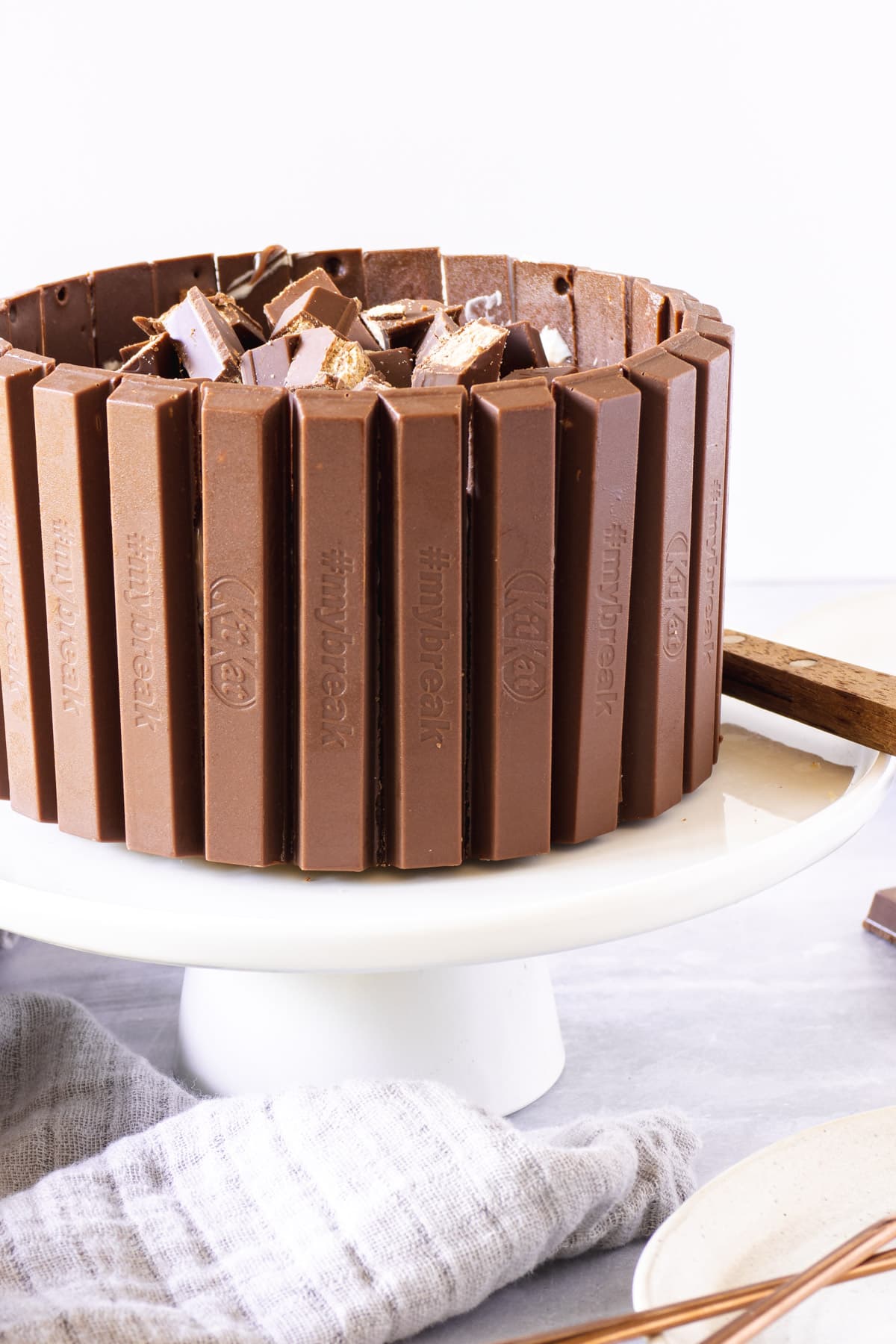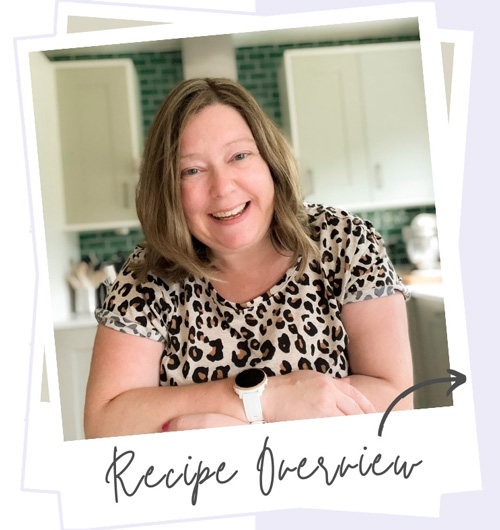 Lou's recipe overview
SKILL: Intermediate
TASTE: Smooth, creamy with ripples of chocolate
PROS: Its stuffed full of Kit Kats
CONS: That you'll have to share it!
Ever since I made my favourite no bake chocolate cheesecake with the chocolate fingers around the side, I just can't get enough of using biscuits as a crust for my cheesecakes. And it wasn't long before I just had to try it out with Kit Kat fingers.
You guys absolutely love my Kit Kat cupcakes so why not a cheesecake?
I mean just look at it. How utterly awesome does it look?
And it tastes pretty damn good as well!
In fact, its so good when I made it for my brother and his family who were staying with us, the following morning when he woke up and the first thing he said to my sister-in-law was he was craving another slice for breakfast.
This really is the cheesecake of dreams!
I absolutely love it as well, and it's giving the Cadburys chocolate cheesecake a run for its money as my most favourite cheesecake ever!
If you want to skip the essential recipe information and top tips then head on down to the printable recipe card.
The secret to setting a no bake cheesecake
"How does it set?" they ask.
"Ahaaa… it's magic" is my reply.
Actually, there's no magic and there's no secret except for making sure you use the correct ingredients.
Unlike regular cheesecakes and some not bake cheesecakes, there is no setting agent, no eggs and no gelatin. In fact, it's just simply the fat content of the cream cheese and the double cream, as well as making sure you properly chill the cheesecake, that make it set.
Here's my guide to making sure the cheesecake sets properly…
Always use full-fat cream cheese – A traditional cream cheese, either block or Philadelphia-style is ideal and full-fat is important to set the filling. There's no calorie-cutting here. Check out my cream cheese frosting tips for using the right one.
Whip double cream to soft peaks – Double cream is quite stable when whipped, but it can vary depending on the type of cream available in your country. Whipped cream has a higher fat content and can be used instead. Be careful not to overwhip as the filling as cream may split and the cream cheese slacken; meaning the filling may not set properly.
Whip the cream separately if needed – If you are concerned about the consistency of the filling, whip the cream in a separate bowl until it forms soft peak then fold the cream cheese in by hand.
Ingredients
Check out my shopping list for ingredients and equipment
This no bake Kit Kat cheesecake is made with simple, no faff ingredients. Here's everything you'll need to make this dreamy cheesecake…
Kit Kat Fingers – It doesn't matter if you get packs of 2-finger or 4-finger Kit Kats but you'll need about 36 individual fingers, and don't forget to add a couple for sneaky nibbling
Digestive Biscuits – I like digestives as they work well with the creamy filling and the Kit Kat fingers, but you can swap them for your favourite biscuit instead, chocolate digestives or bourbon creams would be a great alternative
Cream Cheese – It's super important that you use full-fat cream cheese to make sure you filling sets properly. Something like Philadephia cream cheese is ideal but if you can get block cream cheese, its not as readily available in the UK, that works perfectly. Make sure you allow the cream cheese to come up to room temperature, 15 minutes before you use it, to avoid lumps in your filling
Double Cream or Heavy Cream – Like the cream cheese, fat content is important for setting the cheesecake. If you can't get double or heavy cream, them whipping cream can be used
Icing Sugar or Powdered Sugar – To add a little sweetness
Milk Chocolate – For the super easy chocolate ganache
Unsalted Butter – To help hold the biscuit base together
Recommended ingredients
CONVERT TO CUPS: There is a cup conversion option in the recipe card to convert the ingredients. This is automatic and I can't guarantee the accuracy. For best baking results, I recommend using digital scales and weighing the ingredients.
Equipment you will need
These are the exact tools I use to make my cheesecakes…
Large Mixing Bowl
8-inch Springform Pan – Don't try making a cheesecake in anything else. You can easily remove your cheesecake without any faff
Angled Palette Knife – I highly recommend investing in one of these, the cranked handle makes it so much easier to get the perfectly smooth top to your filling
Digital Kitchen Scales – Don't start a recipe without them! These Salter scales are my favourite, they're a great investment
TOP TIP: I like to use a hand held mixer for speed and ease; but you can use a stand mixer or a balloon whisk to make the cheesecake filling if you prefer.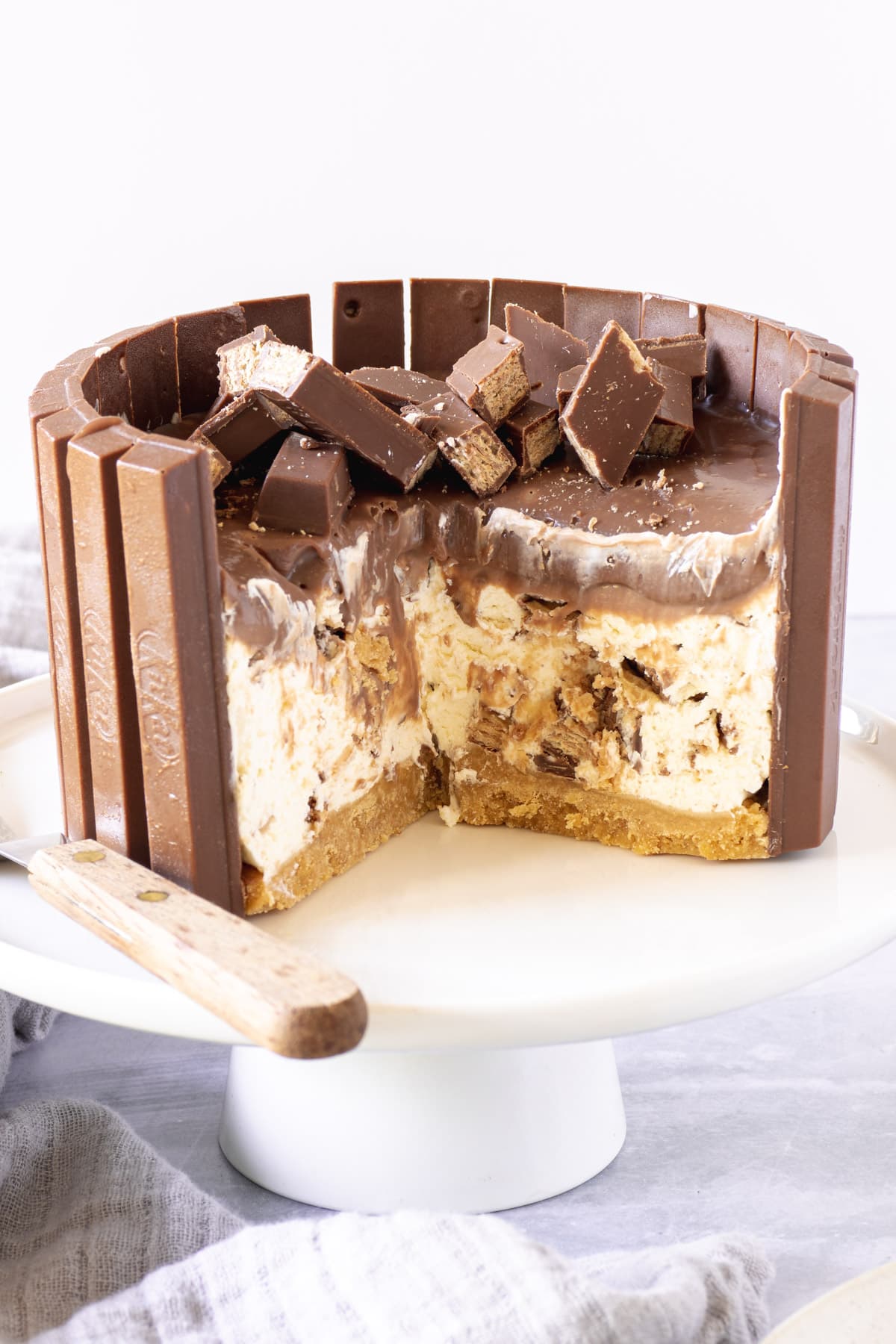 How to make no bake Kit Kat cheesecake
Full measurements and instructions can be found on the recipe card
With just a few simple steps and some patience while it chills, this Kit Kat cheesecake is deliciously easy to make! Here's everything you have to do…
The Kit Kat crust and biscuit base
Line the Kit Kat fingers around the inside edge of the springform pan to create a wall of Kit Kats
Crush the digestive biscuits to a sandy texture either using a food process or in a Ziploc bag with a rolling pin
Melt the butter and add to the digestive biscuit crumbs, mixing everything together until the mixture looks like wet sand
Press the crumb mixture into the bottom of the springform pan, making sure to press it up to the Kit Kat edge, then smooth with the back of a spoon
Chill the base in the fridge to firm up for 30 minutes to one hour
The Creamy Cheesecake Filling
It doesn't take long to make the filling so crack on with this while the base is chilling in the fridge and you'll have time to grab a cuppa too!
Gently mix together the icing sugar and cream cheese in a large mixing bowl, being careful not to over-beat as the cream cheese will slacken and the filling may not set
Add the cream and whisk with a hand held mixer. The cream will thicken into soft peaks and the filling with be thick but smooth enough to spread easily
Break up the remaining Kit Kat fingers into chunks and add to the cheesecake filling, folding through until evenly distributed
Pour the filling over the chilled biscuit base and level off with an angled palette knife or the back of a spoon
Chill the filling for at least 3 hours before adding the chocolate ganache
TOP TIP: If you are not adding the chocolate ganache topping make sure to chill the cheesecake for at least 6 hours or overnight before serving
The Easiest Chocolate Ganache
This is the easiest chocolate ganache you can make and it takes just minutes.
Gently the heat the double cream in a small saucepan over a low heat until to begins to simmer
Add the chocolate to a heatproof bowl and pour the warm cream over the top, stirring together until the chocolate has completely melted
Allow the ganache to cool before pouring over the chilled cheesecake
Chill the cheesecake and ganache for at least another 3 hours or overnight if possible, then serve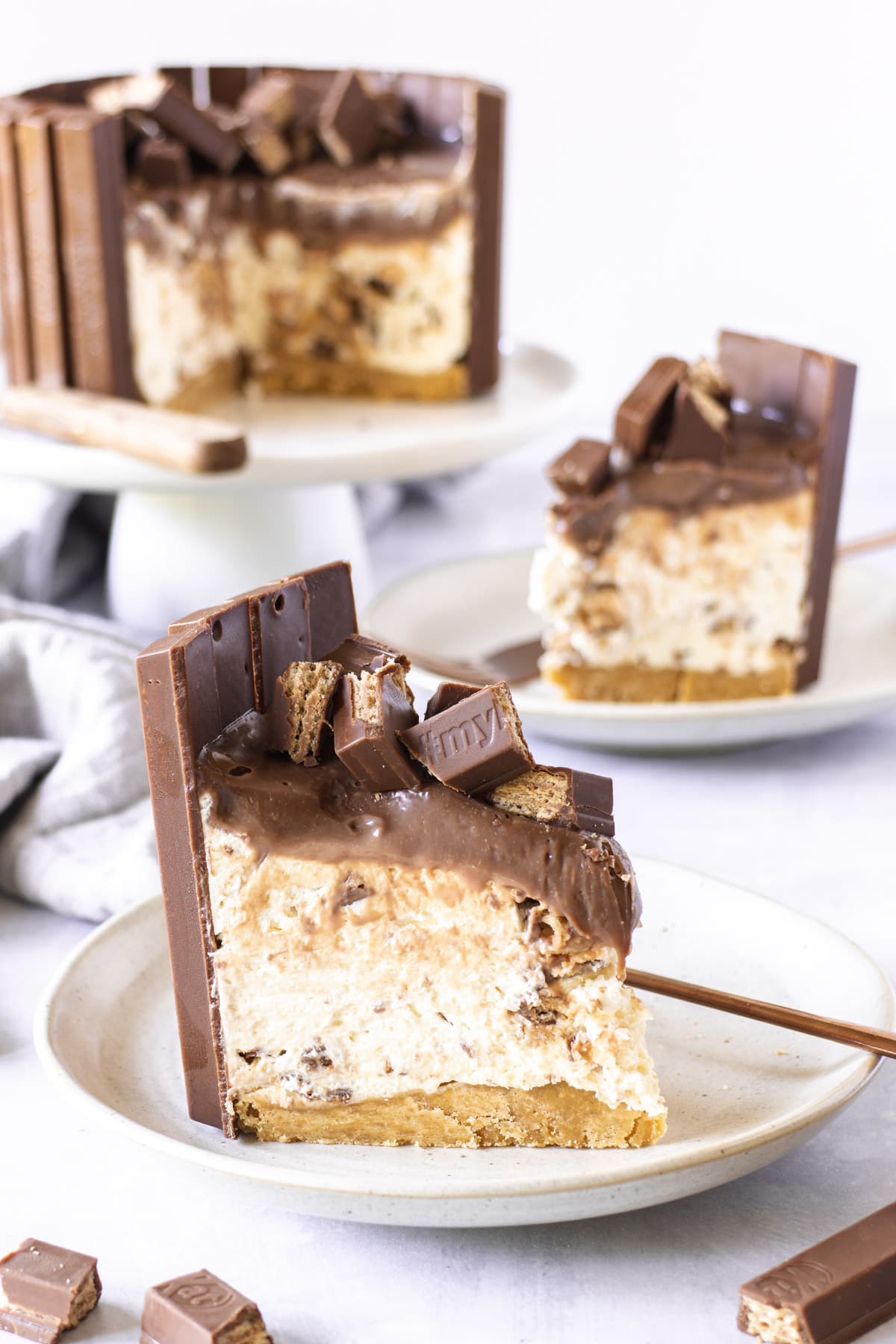 Tips for success
Although my cheesecake recipes are super easy and no-faff, there are a few things to do to make sure they're perfect every time. Here are a few tips for making this Kit Kat cheesecake…
Invest in a springform cake pan – Top tip for making any cheesecake! In fact don't even try it in any pan other than a springform one, you can easily release the cheesecake without the mess. Add a sheet of baking parchment over the base and clamp into place with the outer ring, it helps you easily slide the cheesecake onto a serving plate.
Crush the biscuits to a sandy crumb – To get a good biscuit base that doesn't fall apart when you cut into it, crush the biscuits with a food processor or in a Ziploc bag with a rolling pin. The biscuits should end up like sand with no big lumps. Any lumps in the base will cause it to break up when you slice into the cheesecake.
Start with room temperature cream cheese – We're after a smooth and creamy filling and if the cream cheese straight from the fridge, its too cold and you can end up with lumps in your filling. So make sure you take the cream cheese out of the fridge about 10-15 minutes before you're ready to use it for a smoother and creamier texture.
Don't over beat or under whip the cheesecake filling – Over-beating will cause the cream to become grainy and the cream cheese slacken and become and runny. And that said, don't under whip the filling either, else the cream will not thicken. Both can and will result in a runny cheesecake filling that will not stabilise and set properly. You're looking for the filling to be thick, creamy, but smooth enough to spread easily with a palette knife.
Let the cheesecake chill and set for at least a total of 6 hours – If you have time, it's even better to leave the cheesecake to chill overnight; that's my preferred option. As there is no additional setting agent, it's important that you let the filling set properly in the fridge. If you are adding the ganache, allow the cheesecake to set for 3 hours before pouring the ganache over then chill for a further 3 hours.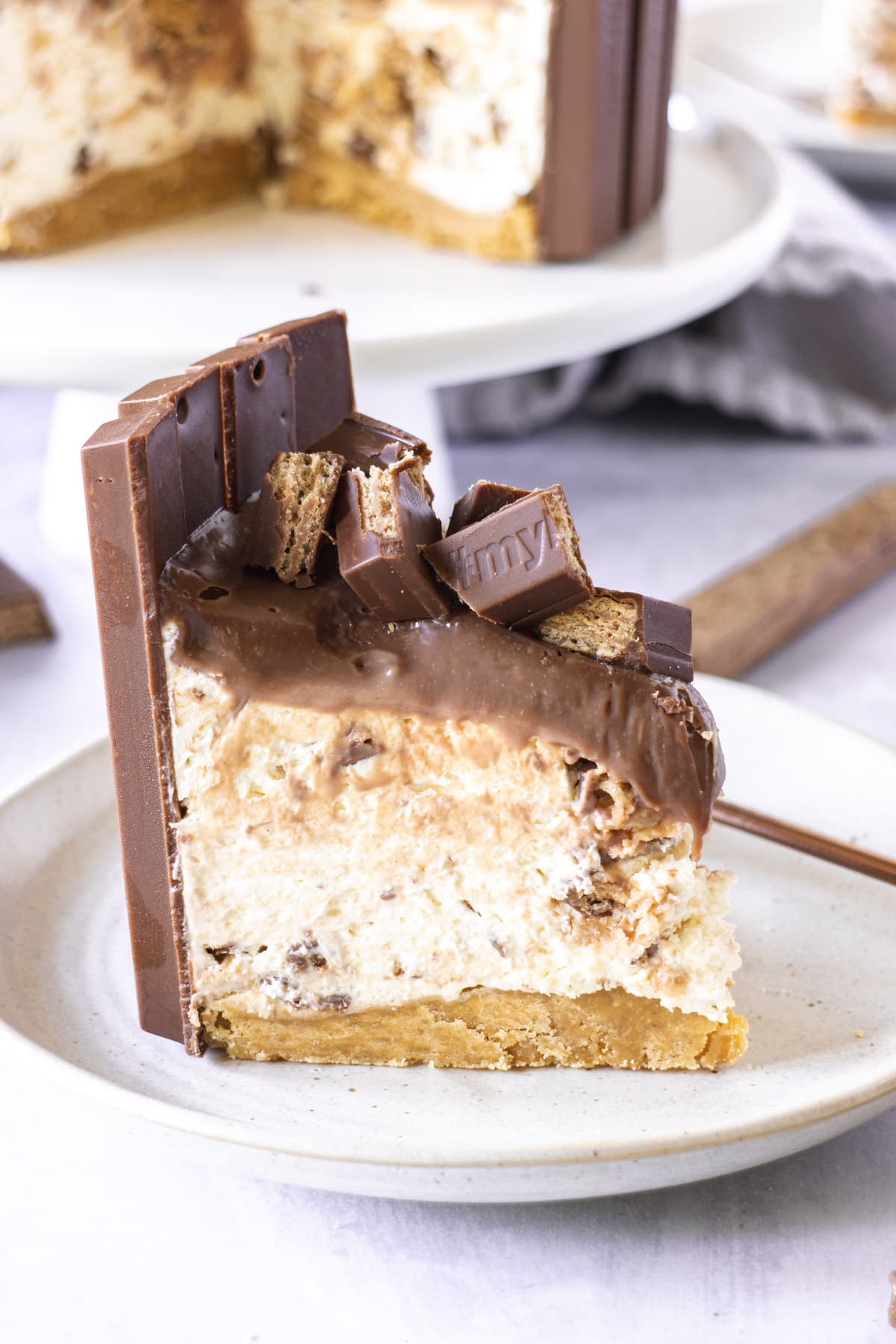 FAQs about Kit Kat cheesecake
How should I store the cheesecake?
After the cheesecake and ganache have set, loosely cover with cling-film and then keep refrigerated. Keep the cheesecake in the pan until you are ready to serve.
How long will the cheesecake keep for?
If stored correctly in the fridge, the cheesecake will keep for up to 3 days.
Can I freeze the cheesecake?
Yes it certainly is possible although I recommend making and eating them fresh for the best flavour. But if you are freezing, the cheesecake will keep for up to 3 months in the freezer. Make sure you wrap the cheesecake with cling film and a layer of kitchen foil to protect from freezer burn and reduce the potential for ice crystals forming in the filling. Remember to allow the cheesecake to defrost in the fridge before serving.
My cheesecake filling is runny, why has it not set?
There quite a few possible reasons the cheesecake filling has not set and it's not the easiest to diagnose over the internet. It could be anything from the ingredients to the weather but the most common reason is that the filling hasn't been whipped enough. Check out my top tips for more information.
More cheesecake recipes to try
If you liked this no bake Kit Kat cheesecake recipe here are some other recipes that I think you'd enjoy…
No Bake Kit Kat Cheesecake
Wickedly delicious, this no bake Kit Kat cheesecake is the dessert your dreams are made of and it's super easy to make!
Ingredients
For the Chocolate Ganache
Instructions
Make the biscuit base – Place the Kit Kat fingers around the inside edge of an 8 inch springform tin to form an outer wall.

Add the digestive biscuits into a food processor, and blitz until they form a crumb, then add to a large mixing bowl. Make a well in the centre of the biscuit crumbs, and pour in the melted butter.

250 g Digestive Biscuits,

60 g Butter

Mix together until well combined, and then pour into the springform tin. Press down onto the biscuit base, smoothing out to the edges of the Kit Kat finger wall.

Smooth over the base with the back of a spoon, then pop in the fridge to chill for at least 30 minutes to 1 hour.

Make the cheesecake filling – Add the cream cheese and icing sugar into a large bowl and gently combine with a spatula until smooth and creamy.

500 g Cream Cheese,

75 g Icing Sugar

Add the double cream and using a hand held mixer beat the mixture on low to medium until it forms soft, thick peaks.

Chop approximately 6 Kit Kat fingers into small pieces and fold through the cheesecake filling

Alternatively, use a stand mixer with the paddle attachment to make the cheesecake filling, following the same steps.

Assemble the cheesecake – Pour the mixture onto the chilled biscuit base, then smooth out to the edges and level. Chill the cheesecake in the fridge for at least 3 hours before pouring over the ganache.

Make the chocolate ganache – Break the chocolate into pieces and place in a heatproof bowl.

In a heavy bottomed saucepan, gently heat the double cream over a low to medium heat. When the cream starts to gently boil, pour over the chocolate and allow it to melt for 1 minute.

Gently stir together the chocolate and cream, then leave to cool for at least 30 minutes before pouring over your cheesecake.

Chill the cheesecake and ganache for a further 3 hours or overnight if possible.

Decorate the cheesecake – When ready to serve, remove the cheesecake from the springform pan and slice and scatter over the remaining Kit Kat fingers broken up into chunks.
Notes
Your cheesecake will keep for up to 3 days in the fridge and up to 3 months in the freezer. When freezing make sure you wrap it well with cling film or plastic wrap, and then a layer of aluminium foil to prevent ice crystals forming in the filling. Remember to allow the cheesecake to thaw before serving.
Use a springform cake pan so you can release your cheesecake without running the risk of damaging it in the process.
Full-fat cream cheese is a must – a traditional cream cheese, either a block or something like Philadelphia. Don't be tempted to overbeat your cream cheese, it will slacken and your filling won't set properly. 
Use room temperature cream cheese to avoid any potential lumps that you might get if it is too cold. 
Whip double or heavy cream so it forms soft, thick peaks, but be careful not to overwhip it. Double cream tends to be quite stable when whipped, but it can vary depending on the type of cream available in your country.
Too runny? – If your cream is not whipping up or seems too runny, try using less cream and more cream cheese. And remember don't overbeat your cream cheese!
Nutrition
Serving:
1
slice
Calories:
692
kcal
Carbohydrates:
57
g
Protein:
8
g
Fat:
50
g
Saturated Fat:
30
g
Polyunsaturated Fat:
3
g
Monounsaturated Fat:
14
g
Trans Fat:
1
g
Cholesterol:
117
mg
Sodium:
305
mg
Potassium:
244
mg
Fiber:
2
g
Sugar:
39
g
Vitamin A:
1324
IU
Vitamin C:
1
mg
Calcium:
120
mg
Iron:
2
mg
DISCLAIMER
The nutritional information provided is approximate and is calculated using online tools. Information can vary depending on various factors, but we have endeavoured to be as accurate as possible.