This easy chocolate Kit Kat cupcake recipe makes the most fluffy cupcakes, filled with Kit Kat pieces, and topped with a light, whipped Kit Kat buttercream frosting. These are so awesome, that you'll want to invite your friends over to help out!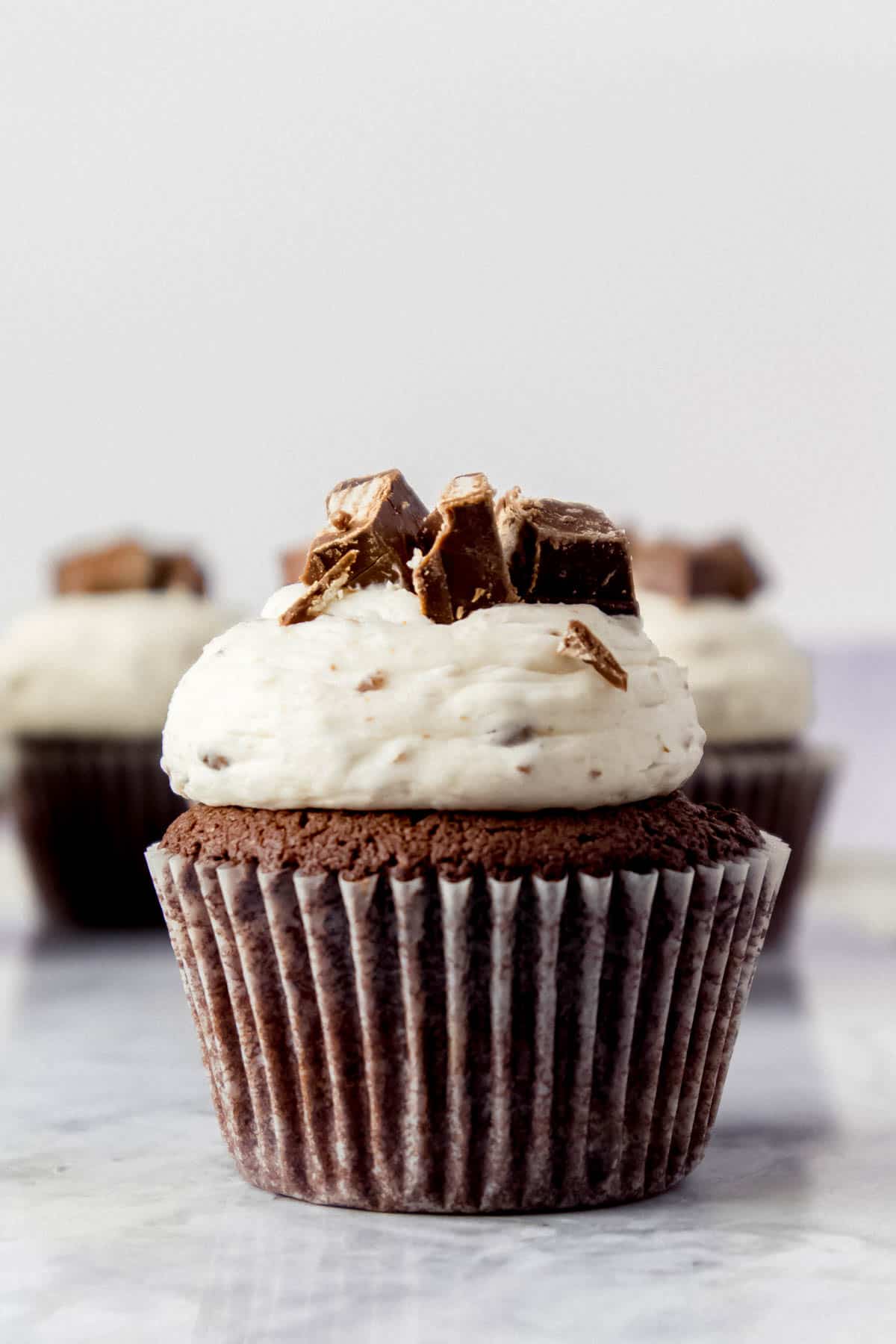 Take a break…
Whether your hot drink of choice is either tea or coffee, I'm going to let you into a little secret… chilled Kit Kat fingers!
Now don't sit there looking all confused, thinking what is she on about. Let me tell you, a chilled Kit Kat finger is perfect for stirring your coffee with. Go on try it!
The chocolate finger biscuit gets warm and a little melty on the outside, that when you take a bite that chocolate coating is smooth and silky but you get a perfect Kit Kat snap of the wafers (yes it's a thing).
And if you can get them, the 70% cocoa dark chocolate ones make the ideal coffee stirrers!
Now I've divulged my secret it should come as no surprise to you that there's always a packet of Kit Kat's hiding out in my fridge. So moving on from my Twix inspired layer cake, I thought I'd step up my chocolate bar baking game and try out a Kit Kat inspired version.
Going down the cupcake route was a no-contest idea really. As my mind conjured up a rich chocolate cupcake filled with chunks of Kit Kat and a whipped buttercream, the deal was done. They're utterly amazing!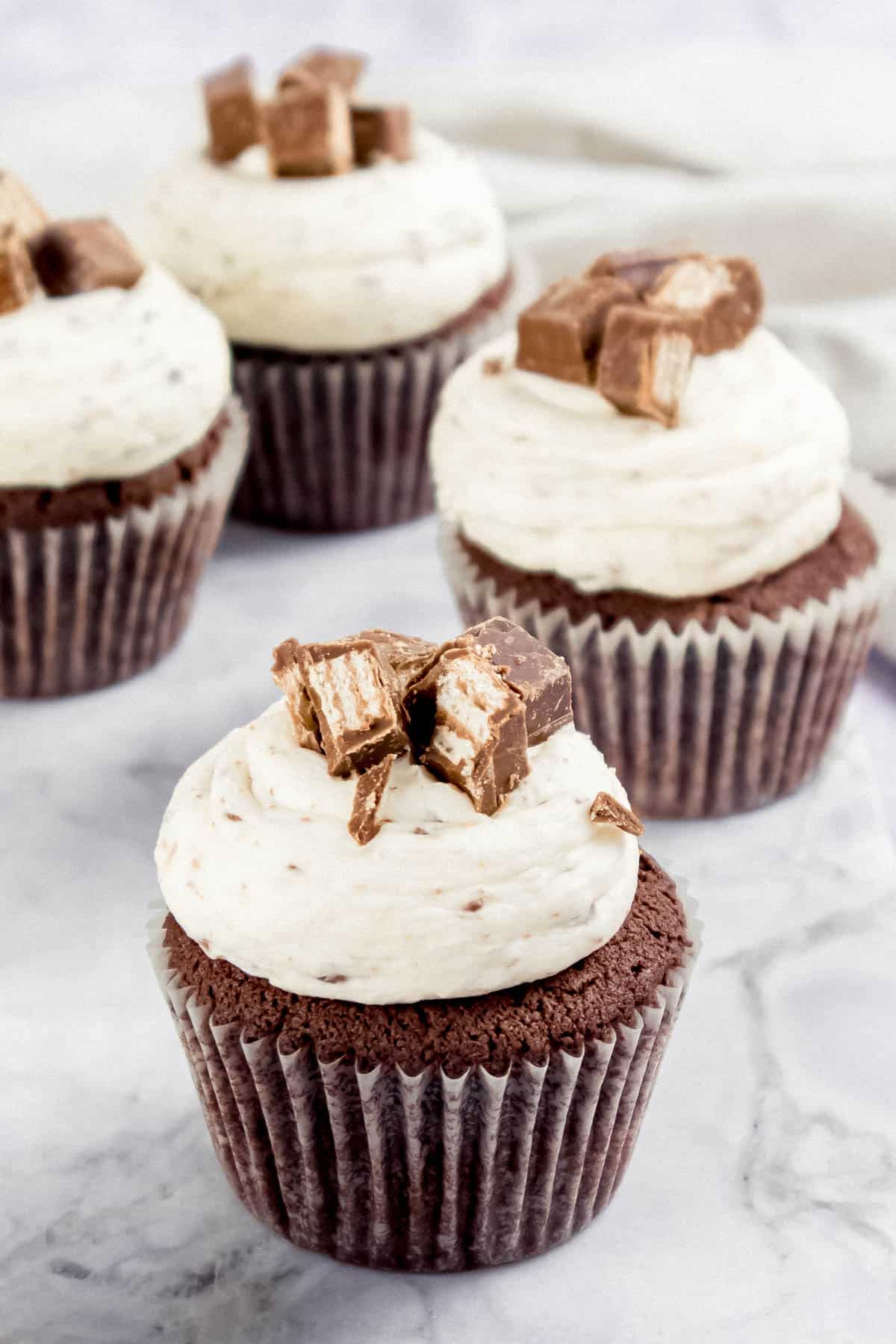 The BEST Kit Kat cupcake recipe
Full measurements and instructions can be found on the printable recipe card
I'll be honest and admit that these cupcakes didn't last 2 days in our house. They are just THAT awesome, a chocolate bar lover's dream come true.
But if you need an extra little persuasion, let's take a look at what make's these insanely delicious…
The Cupcake
Let's start with my go-to chocolate cupcake recipe that I use every time! It's never failed me and it gives the most perfect rich and fluffy cake that melts in your mouth.
And to take the cupcake to the next level, the batter is stuffed with chunks of Kit Kat, giving you signature Kit Kat wafers in every bite.
The Buttercream
If you've got a sweet tooth like me, you're going to love this one.
To compliment that decadent chocolate cupcake, I've paired it with what must be my most favourite buttercream ever – whipped vanilla Kit Kat!
A light and creamy vanilla buttercream speckled with crushed pieces of Kit Kat piped into perfect pillows, then topped with more candy bar chunks and drizzled with chocolate ganache!
Pro tips for totally amazing Kit Kat cupcakes
Chill your Kit Kat first – Not only are chilled Kit Kats great for stirring coffee; when you cut them up, to add to the cupcake batter, they hold their shape rather than crumbling. This way you'll end up with perfect chunks in your baked cupcakes.
Add a shot of coffee to bring out the flavour – It might sound a little strange, but adding a shot of cooled espresso to your chocolate cupcake batter will give you a beautifully rich chocolately taste, whilst still keeping your cupcakes light and fluffy.
Add sour cream to keep your cupcakes moist – A moist chocolate cake can sometimes be tricky even for the best baker. Adding sour cream to the batter mix helps keep your cupcakes moist without compromising on flavour.
Turn your tray halfway through – Keep an eye on your cupcakes as they bake. What you are looking for is nicely domed cakes with an even chocolate colour across the top. If you find some are cooking faster than others, turn the cupcake tray halfway through the baking time. My oven is hotter in the back left so by turning them all my cakes get an even bake.
Test your baked cupcakes – Check your cakes are baked by gently pushing a toothpick into the centre and if it comes out clean, they're ready. If there is cake batter on the toothpick pop them back in the oven for a few more minutes. Alternatively, gently press the cupcakes with your fingers – if the cake springs back it's ready. If you leave an indentation back in they go.
How long will the cupcakes last?
Trust me, you'll want to eat these as soon as they're made! But if you don't eat these all at once, the cupcakes will keep in an air-tight container for up to 3 days.
Alternatively, you can freeze then for up to 1 month. Make sure the cupcakes are placed in a freezer-proof box before freezing and defrost thoroughly before eating.
If you have any leftover buttercream, pop it in a sealed container in the fridge for up to 2 weeks, or the freezer for 3 months.
More cupcake recipes to try
If you liked this Kit Kat cupcake recipe here are some other recipes that I think you'd enjoy…
Kit Kat Cupcakes
Easy chocolate Kit Kat cupcakes filled with wafer pieces and topped with a whipped Kit Kat buttercream frosting.
Instructions
To make the cupcakes: Preheat oven to 180C/ 350F and line a deep muffin tray with cupcake cases.

Add the chocolate to a small heatproof bowl, place over a saucepan of simmering water. Make sure that the bowl does not touch the water. Heat until all the chocolate has melted. Alternatively, melt in the microwave. Set aside to cool.

Using a stand mixer with the paddle attachment, beat the butter until softened. Alternatively, you can make the cake batter, in a large mixing bowl, by hand or with an electric hand whisk.

Add the sugar to the softened butter and cream until light and fluffy. Add the soured cream and mix through.

Add the eggs, one at a time, to the creamed mixture. Beat well between adding each egg.

Add the cooled espresso coffee, and mix until well combined.

Sift the flour, cocoa powder and baking powder together, and add to the mixture. Gently mix together until the cake batter is soft and smooth.

Add the melted chocolate and mix through the batter until fully combined.

Cut the Kit Kat fingers into 1cm pieces and then gently fold through the cake batter.

Use an ice cream scoop to divide the batter between the cupcake cases, approximately 1 scoop per case.

Bake for 18-20 minutes, or until a toothpick inserted comes out clean. Leave to cool on a wire rack.

To make the Kit Kat buttercream: Using a stick blender with the knife attachment or a food processor, blitz the Kit Kat fingers to form crumbs. Alternatively, add them to a food bag, seal and crush with a rolling pin.

In a large bowl or stand mixer, beat the butter until soft. Add half of the icing sugar and beat until smooth. Add the remaining icing sugar and beat until smooth.

Add the Kit Kat crumbs to the buttercream and fold through until they are well distributed.

To decorate: Fill a piping bag fitted with a round nozzle (Wilton 1A) with the buttercream.

Pipe the frosting onto the cupcakes and then decorate with any leftover Kit Kat pieces.
Nutrition
Serving:
1
cupcake
Calories:
540
kcal
Carbohydrates:
65
g
Protein:
5
g
Fat:
30
g
Saturated Fat:
19
g
Cholesterol:
104
mg
Sodium:
238
mg
Potassium:
190
mg
Fiber:
2
g
Sugar:
48
g
Vitamin A:
782
IU
Calcium:
74
mg
Iron:
1
mg
DISCLAIMER
The nutritional information provided is approximate and is calculated using online tools. Information can vary depending on various factors, but we have endeavoured to be as accurate as possible.