Deliciously easy and fun to make, you're going to love these Jaffa Cake Cupcakes, they're the perfect treat for any occasion. Fluffy, zesty cupcakes, filled with an orange marmalade and topped with a smooth and creamy orange chocolate buttercream frosting. The only question is who will you share them with?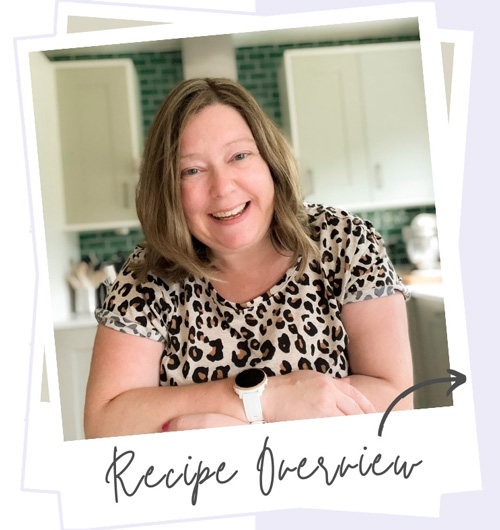 Lou's recipe overview
SKILL: Intermediate
TASTE: Light and fluffy, with smooth and creamy buttercream
PROS: That amazing Jaffa Cake combo!
CONS: Waiting for them to bake
Once upon a time cupcakes were my world. They started my baking career, they defined my bakery shop 'Cirencester Cupcakes' and they literally kept me going through long wedding cake weekends…
I mean who can't resist a fluffy sponge piled with dreamy buttercream as a pick-me-up to keep on keeping on.
But it dawned on me recently that I seemed to be neglecting these little cake parcels of joy and I hadn't eaten one, let alone baked a cupcake. And that needed to be remedied quickly…
Just like my mint chocolate cupcakes and strawberries and cream cupcakes, Jaffa cake cupcakes were one of those absolute sell-out hits that my customers just couldn't get enough of. So I thought it's about time I brought them to you guys as well.
Keep reading for lots of recipe tips, ingredient and equipment information, frequently asked questions and the full printable recipe.
You'll love this recipe because…
Trust me if you're a orange chocolate or chocolate orange fan, then these cupcakes are going to be a huge hit!
And let's be honest, any cake piled high with smooth buttercream frosting never fails to raise a smile.
Or maybe it's because…
Perfectly moist, light and fluffy sponge which you can adapt for other cupcake recipes
They use my no no-fail chocolate buttercream frosting with a switch for orange chocolate
They're filled with orange marmalade for an extra zesty hit
And the recipe can easily be adapted for small batches
I hope you love these as much as I do! And if you're in any doubt about how awesome an orange chocolate combo is then check out my Jaffa Cake brownies, orange chocolate NYC style cookies or no bake chocolate orange cheesecake!
What you'll need to make this recipe
View my Amazon shopping list with equipment and ingredients
The Ingredients
Ok so if I've persuaded you to give these cupcakes a go then here's what you're going to need to grab to make them.
Unsalted Butter – I add ¼ teaspoon of fine sea salt as well as the salt brings out the creaminess in the butter. You can use slightly salted if you prefer.
Caster or Superfine Sugar
Plain or All Purpose Flour – You can also use self-raising flour if you prefer to use it that already has the raising agents added. Just leave out the baking powder from the ingredients list.
Whole Eggs – Make sure the eggs are at room temperature before adding into the cupcake batter. It is easier to whisk them up and incorporate plenty of air.
Orange Extract – I'm using a Neilsen Massey extract, but you can also use the zest of an orange if you have one available.
Milk – I'll use whatever I have in the fridge, which is usually semi-skimmed; so use whatever you have on hand.
Terry's Chocolate Orange – Alternatively you can use orange flavoured chocolate or milk chocolate and add orange extract
Icing or Powdered Sugar
TOP TIP: If you decide to use fresh orange zest rather than an extract, make sure to only take the orange peel not the bitter white pith underneath the skin.
The Equipment
For all my cupcake recipes, you only need a basic set of equipment; there's nothing fancy here. Which means there's less mess, less washing up and the recipe is super easy to make. So here's what I use:
Handheld mixer or stand mixer with a balloon whisk attachment
Large mixing bowl
Deep muffin or cupcake pan
Cupcake liners
CHECK OUT: If you want to know more about my top 10 essential baking tools, including my secret tool for perfect cupcakes, then check out this video
How to make Jaffa Cake cupcakes
Full measurements and instructions can be found on the printable recipe card
I use the same technique for pretty much all of my cupcake recipes; it's one I've tried and tested so many times over 1000s of cupcakes, everyday when I was baking for my bakery. So I know that it just works, here we go…
Making the Batter
Combine the sugar and butter – Beat together the sugar and butter until light and fluffy. The mixture should be smooth and creamy in texture.
Add in the eggs and extract – Beat in each egg into the mixture, one at a time, making sure everything is well combined. Add the extract and mix again.
Combine the dry ingredients – Sift together the flour, baking powder and salt, and add into the batter mixture, folding together until all the dry ingredients are incorporated.
Fill the cupcake liners – Line a cupcake pan with liners, then using an ice cream scoop divide the cupcake batter equally between each liner, until 2/3s full.
Bake the cupcakes – Pop the cupcakes in a preheated oven for 16-18 minutes and allow them to completely cool before filling with marmalade and decorating.
TOP TIP: If your cupcake batter feels too thick and heavy, add a tablespoon of milk and mix in well to loosen slightly. Don't add too much otherwise the mixture will become too wet and runny.
Make the chocolate orange buttercream
The buttercream frosting is really easy to make, takes less than 5 minutes and uses an adapted version of my no-fail chocolate buttercream recipe.
You can find all the details in the full step-by-step recipe, but here's my top tips and how to adapt it for these Jaffa Cake cupcakes.
Switch out the cocoa powder for orange chocolate – to adapt the recipe, the easiest way is to leave out the cocoa powder and add 150g of melted chocolate orange.
Alternative buttercream adaption – if you don't want to use melted chocolate, you can keep the recipe as is with the cocoa powder and add 1 teaspoon of orange extract instead.
Always start with softened or room temperature butter – this is the key for a light and airy buttercream frosting that's easily to pipe.
Test the softness of the butter – To make sure your butter is just right for making frosting, you should be able to leave an indentation in the butter with your fingers. It shouldn't be too hard that you have to push down, nor too soft that your fingers go straight through.
Frequently asked questions
How many cupcakes will the recipe make?
The recipe makes between 12-16 cupcakes, depending on how much batter you put in each of the cupcake liners. An ice cream scoop is ideal for getting even cupcake sizes.
How should the cupcakes stored?
The cupcakes should be stored in an air-tight container at room temperature.
How long do they keep for?
The cupcakes are best eaten when they are freshly made, but if stored correctly they will last up to 3 days.
Can I freeze the cupcakes?
Yes, the un-iced cupcakes can be frozen and iced when defrosted. Pop the un-iced cupcakes in a sealable freezer/ Zip-loc bag and freeze for up to 1 month. Remember to defrost thoroughly before using.
Can I substitute the eggs?
I'm asked this question a lot and as I'm not an eggless baker I don't want to give you dud information. Instead head on over to Gemma at Bigger Bold Baking who has a great post on egg substitutes in baking.
Recipe notes and top tips
Use room temperature butter – This will make your baking life SO much easier. It will whip up and incorporate plenty of air for a lovely light and creamy buttercream. So take the butter out of the fridge the night before, or 4-6 hours before you want to make the buttercream frosting. Just make sure it's not too soft otherwise the frosting will be greasy.
Invest in an ice cream scoop – Trust me, this is one of my top 10 must have baking tools! If you want to make sure all your cupcakes are the same size, then give an ice cream scoop a try. You will need about 1 scoop of cupcake batter per liner; so it's about ¾s full.
Turn your tray halfway through – What you are looking for is nicely domed cakes with an even chocolate colour across the top. If you find some are cooking faster than others, turn the cupcake tray. My oven is hotter in the back left so I turn them halfway through the baking time.
Test your baked cupcakes – Check the cupcakes are baked by gently pushing a toothpick into the centre; if it comes out clean, they're ready. If there is cake batter on the toothpick, pop them back in for a few more minutes. Alternatively, gently press the cupcakes with your fingers – if the cake springs back it's ready. If you leave an indentation back in they go.
Use an apple corer for removing the cupcake centre – The best way to core out the centre of a cupcake to add a filling. Keep the cored cupcake and pop it back in the top of the cake, or they're baker's offcuts perfect for taste testing.
More cupcake recipes to try
If you liked these Jaffa Cake cupcakes here are some other recipes that I think you'd enjoy…
Jaffa Cake Cupcakes
Deliciously easy and fun to make, these Jaffa Cake Cupcakes are filled with an orange marmalade and topped with a smooth and creamy orange chocolate buttercream frosting
Ingredients
For the Chocolate Cupcakes
250

g

Butter

Unsalted

250

g

Caster Sugar

or Superfine Sugar

4

Eggs

Medium

2

tsp

Orange Extract

250

g

Plain Flour

or All Purpose Flour

2

tsp

Baking Powder
For the Peppermint Buttercream
200

g

Butter

400

g

Icing Sugar

or Powdered Sugar

150

g

Orange Chocolate

or Terry Chocolate Orange
Instructions
To make the cupcakes: Preheat oven to 180C and line a deep muffin tray with cupcake cases.

Using a stand mixer with the paddle attachment, beat the butter until softened. Alternatively, you can make the cake batter, in a large mixing bowl, by hand or with an electric hand whisk.

Add the sugar to the softened butter and beat together until light and fluffy.

Add the eggs, one at a time, to the creamed mixture. Beat well between adding each egg. If the mixture begins to curdle, add a teaspoon of flour.

Add the orange orange and mix until well combined.

Sift the flour and baking powder together and add to the mixture. Gently mix together until the cake batter is soft and smooth.

250 g Plain Flour,

2 tsp Baking Powder

Use an ice cream scoop to divide the batter between the cupcake cases, approximately 1 scoop per case.

Bake for 18-20 minutes, or until a toothpick inserted comes out clean. Leave to cool on a wire rack.

To make the buttercream: Add the chocolate to a small heatproof bowl, place over a saucepan of simmering water. Make sure that the bowl does not touch the water. Heat until all the chocolate has melted. Alternatively, melt in the microwave. Set aside to cool.

In a large bowl or stand mixer with the balloon attachment, whip the butter until pale and creamy. Start on low speed for 2-3 minutes, increasing to medium/high for 4-5 minutes. Alternatively use a hand held mixer.

Add the icing sugar a 2-3 tablespoons at a time, and gently beat in. Continue until all the icing sugar is combined and the butercream is light, airy and smooth.

Add the melted chocolate to the buttercream and mix through the batter until fully combined.

To decorate: Using a small sharp knife or an apple corer, remove the centre of the cupcake and fill with the orange marmalade. Replace the remove cupcake core to seal in the filling.

Fill a piping bag fitted with a piping nozzle with the buttercream. I used a Wilton 2D open star nozzle. Pipe the frosting onto the cupcakes and then decorate with Jaffa Cake.
Notes
The cupcakes are best kept in an air-tight container at room temperature.
The cupcakes will keep fresh for up to 3 days.
You can freeze the un-iced cupcakes in a sealed freezer bag for up to 1 month. Remember to defrost thoroughly before eating.
If you have any buttercream leftover, pop it in a sealed container in the fridge for up to 2 weeks, or the freezer for 3 months.
Nutrition
Serving:
1
cupcake
Calories:
528
kcal
Carbohydrates:
67
g
Protein:
5
g
Fat:
28
g
Saturated Fat:
17
g
Polyunsaturated Fat:
1
g
Monounsaturated Fat:
8
g
Trans Fat:
1
g
Cholesterol:
126
mg
Sodium:
237
mg
Potassium:
131
mg
Fiber:
1
g
Sugar:
47
g
Vitamin A:
825
IU
Vitamin C:
1
mg
Calcium:
46
mg
Iron:
2
mg
DISCLAIMER
The nutritional information provided is approximate and is calculated using online tools. Information can vary depending on various factors, but we have endeavoured to be as accurate as possible.