Spread a little sunshine, rainbows and sprinkles with easy, individual no bake unicorn cheesecake, perfect for unicorn celebrations for all ages!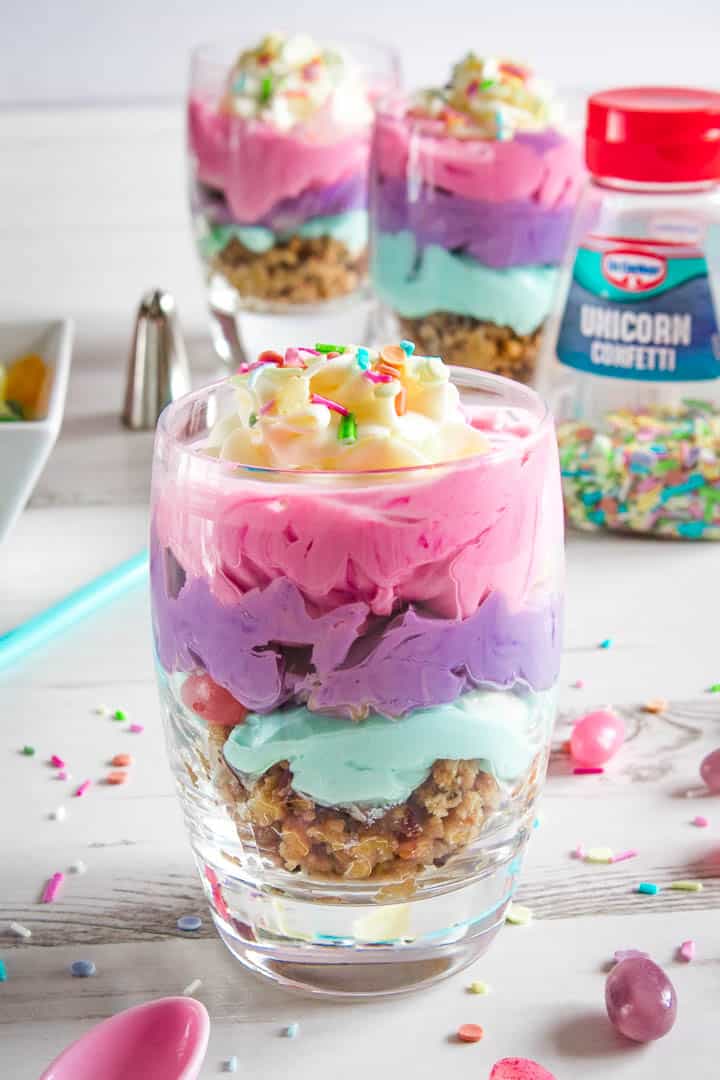 Sweet Dreams…
It's not the first time that I've dreamt of food and woke up with a weird and quite possibly bizarre flavour combination whirling around my brain, as I try and drag my butt out of bed to the dulcet tones the morning radio.
I'm sure the dreams that lead to the chocolate and caramel tart were a little different to my latest dream-induced recipe. Because let's be honest, unicorns and sprinkles only really belong in, well, dreams with unicorns, rainbows and lots of colour!
Are made of…?
The thing with these dream recipes is, that I really need to keep a notebook near the bed so I can write them down when I wake up.
So instead, I found myself staring at the shelves on another Sunday morning food shop trying to remember what was needed…
It was the candy aisle that triggered the deja-vu, jellybeans more to be precise!
Small, shiny, colourful beans of yumminess and they were about to be nestled in all their different flavours between layers of unicorn cheesecake, with a buttery choc chip cookie base to dig deep down into.
The no effort cheesecake
Full measurements and instructions can be found on the printable recipe card at the bottom of the page
Just imagine the dream that this unicorn cheesecake came out of?
That has to be some weird stuff going on, not that I can remember it. But what I did remember was, it was quick and simple and absolutely no-baking was required.
I love a good cheesecake and it's even better when it's bright and colourful and you never know what flavour you're going to get in the next spoonful. Topped off by absolutely zero requirements to bake it!
Do you need to set these cheesecakes?
The first question I get asked about no-bake cheesecakes is "how do you set them?"
It's pretty simple, there's no faffing around with gelatin – just a mixture of whipped double cream, full-fat cream cheese (don't use half fat as it goes too runny) and some icing sugar for a little sweetness. Then chill in the fridge until ready to serve. Simple, right?
Top tips for awesome unicorn cheesecakes
Gently whip the cream – Make sure you whip the double cream to nice soft peaks but don't over-whip them as the cheesecake mixture will be too stiff. Not soft enough and the mixture will be too runny – if it is, stick it in the freezer to firm up a bit.
Use full-fat cream cheese – Half-fat or even lower than lower-fat cream cheeses have high water content and when you're beating it into the whipped cream, it will cause the mixture to slacken.
Make individual servings – Set the cheesecake in individual glasses to serve or for a larger dessert, try a 6″ springform tin.
Use food colour gels – For fabulous colours, I use colour gels rather than liquids and swear by Progels from Rainbow Dust – the colours are immense and you only need a tiny speck for amazing colour.
Looking for more inspiration?
If easy and no faff desserts are your sort of thing and you fancy something other than unicorns and sprinkles, check these other cheesecake recipes out…
No Bake Unicorn Cheesecake
Spread a little sunshine, rainbows, and sprinkles with these simple to make individual no-bake unicorn cheesecakes. Perfect for unicorn celebrations for all ages.
Instructions
Make the cookie base: Crush the cookies in a sandwich bag, with a rolling pin.

Add into a bowl with the melted butter and mix together.

Divide mixture into glasses, press down and chill in the fridge for 30 minutes.

Make the cheesecake filling: Using a hand mixer, or a stand mixer with the balloon whisk attachment, whip the cream cheese and icing sugar until soft peaks.

Add vanilla extract and whip. Then add the cream and whip until fully combined.

Split the mixture into 4 bowls, and colour 3 of the mixtures with the food gels.

Assemble the cheesecakes: In small glasses, layer the cheesecake filling mixes, scattering jelly beans between each layer, and alternating colours. Top off with a swirl of cream cheese mix and sprinkles.

Chill for 1 hour before serving.
Notes
The cheesecakes can be keep in the fridge for up to 3 days, but are best served from cold and on the day they are made. 
If you don't fancy playing flavour roulette with jelly beans, you could swap them out for layers of fruit or a swirl of fruit puree instead.
Nutrition
Serving:
1
Serving
Calories:
388
kcal
Carbohydrates:
31
g
Protein:
3
g
Fat:
29
g
Saturated Fat:
16
g
Cholesterol:
82
mg
Sodium:
191
mg
Potassium:
99
mg
Fiber:
1
g
Sugar:
21
g
Vitamin A:
935
IU
Vitamin C:
1
mg
Calcium:
50
mg
Iron:
1
mg
DISCLAIMER
The nutritional information provided is approximate and is calculated using online tools. Information can vary depending on various factors, but we have endeavoured to be as accurate as possible.