How cute are these Rice Krispie Pumpkins and they're super easy to make. They take just 5 minutes and use a few simple ingredients. They're perfect for Halloween treats or even Thanksgiving gifts. Such a fun little Halloween trick or treat to make with little ones!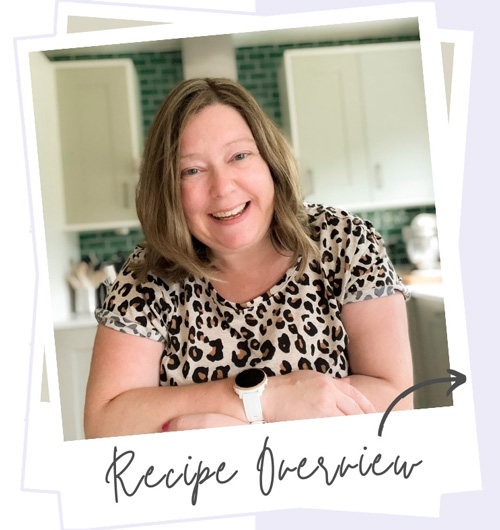 Lou's recipe overview
SKILL: Beginner
TASTE: Marshmallowy just like Rice Krispie Treats
PROS: Super quick, super easy, super cute
CONS: The sticky bit… but there's a top tip for that!
Every year your guys go mad for my Rice Krispie Christmas Puddings! I mean who can resist that most wonderful combo of crispy cereal, chocolate and marshmallow.
And every year I get lots of messages about how you've adapted them for all different occasions; from birthday treats to wedding favours. You really have taken these little treats to the next level.
So this year, inspired by one of my colleagues adaptions with her kiddos for Halloween with pumpkins, ghosts and vampires, I decided it was finally time to add my spooky touch to them as well.
Here they are… Halloween Rice Krispie Pumpkins! What do you think?
How cool would these be to serve up to your treat or trickers along with my ever popular Halloween Gingerbread Skeletons and the Jack Skellington Marshmallow Pops?
Or what about with the centrepiece of my Halloween dessert table, the pumpkin piñata cake and my mini pumpkin spice cupcakes?
However you decide to serve them, they'll go down an absolute storm; that's if you don't eat them all before its time for your trick or treaters to call!
Ingredients and substitutions
Check out my shopping list for ingredients and equipment
These Rice Krispie pumpkins are made with simple ingredients. Here's everything you'll need to make these spooky treats…
Mini Marshmallows – If you haven't got mini marshmallows you can use larger ones just cut them up into smaller pieces; it makes them easier to melt
Unsalted Butter
Recommended ingredients
Substitutions
These Rice Krispie pumpkins are naturally gluten-free but double check your rice cereal just in case.
If you want to make sure they are free from gluten, use a specifically gluten-free cereal option such as Nestle's Go Free Rice Pops – these are a firm favourite with my family who have a gluten-free diet.
CONVERT TO CUPS: There is a cup conversion option in the recipe card to convert the ingredients. This is automatic and I can't guarantee the accuracy. For best baking results, I recommend using digital scales and weighing the ingredients.
Equipment you will need
You don't need a lot of tools to make these pumpkins. These are the ones that I use in my kitchen…
Recommended Equipment
How to make Rice Krispie pumpkins
Full measurements and instructions can be found on the recipe card
With just five simple steps, these Rice Krispie pumpkins are super easy to make! Here's everything you have to do…
Start by melting the chocolate and butter together in a large saucepan or in the microwave; then add the marshmallows. Give the mixture a little more heat for 30 seconds and stir everything together until the marshmallows have melted and you have a thick mixture.
Add a few drops of the orange food colour gel to the marshmallow mixture and stir through until evenly coloured.
In a large mixing bowl, add the Rice Krispies and pour over the marshmallow mixture. Mix everything all together until well coated.
Allow the mixture to chill while you make leaves and stalks from the coloured sugar-paste, You can either use the leaf cutter or shape them using your fingers.
Using a teaspoon, scoop out some of mixture and roll into bite-size pumpkins, about 1-inch in diameter and place onto a baking sheet lined with baking parchment. Add the decorations and then chill in the fridge for at least 30 minutes.
TOP TIP: Dampen your hands with a little cold water before you start to roll the pumpkin balls, it helps prevent the mixture sticking.
Step-by-step live video
Tips for success
Although this is an easy recipe, there are a few tips that can make it even easier! Here you go…
Don't overheat your chocolate – When heating the chocolate and butter, be careful to not to let it get too hot. You want enough heat to melt the butter and chocolate without overheating. If mixture becomes too hot the chocolate can seize and become grainy. You're after a nice and smooth texture.
Gently heat the marshmallows – If you find your Rice Krispie mixture is very very sticky, then it is possibly because the marshmallows were overheated while you melted them. Have a little patience and melt them over a low heat instead and they will be more stable. I prefer to melt my marshmallows on the hob rather than in the microwave so I can control the mixture more easily.
Dampen your hands – Add a little water to your hands before rolling out your Christmas Puddings; it helps them to not stick to your fingers. Alternatively give your hands a very quick spritz with spray oil, it will let you mold the puddings without everything sticking together.
If in doubt, why not cheat – This is a really simple recipe, but if you don't want to get stuck into a sticky mixture then cheat! You can use readymade Rice Krispie Squares, no one will know the difference!
FAQs about Rice Krispie pumpkins
How many pumpkins does the recipe make?
Depending on their size, the recipe will make 18-24 Rice Krispie pumpkins. I recommend making the pumpkins about 1 inch in diameter.
How should I store the pumpkins?
They are best stored in an air-tight container at room temperature if you plan on eating them straight away. If you want to keep them for longer, pop the pumpkins in a a containers and store in the fridge. Allow the pumpkins to come up to room temperature before eating.
How long will they keep for?
If you can resist eating them all at once, the pumpkins will keep for up to 3 days at room temperature or 2 weeks in the fridge, if stored correctly.
Can I make the pumpkins ahead and freeze them?
Yes you can freeze the pumpkins. I recommend freezing the Rice Krispie pumpkin balls undecorated, then finish them off when you are ready to serve. Store the pumpkins in an air-tight, freezer-proof container and put greaseproof paper between them. They will freeze for up to 8 weeks. Remember to allow them to come up to room temperature before decorating and serving.
More Halloween recipes to try
If you liked these Rice Krispie pumpkins here are some other recipes that I think you'd enjoy…
Rice Krispie Pumpkins
How cute are these Rice Krispie Pumpkins and they're super easy to make. They take just 5 minutes and use a few simple ingredients.
VIDEO
Instructions
Make the Rice Krispie pumpkins: Add the chocolate and the butter into a saucepan, and gently melt over a low to medium heat. Then add the mini marshmallows and gently stir until they've melted and combined. Alternatively, melt the chocolate and butter in the microwave, then add the marshmallows. Blast for 30 seconds and stir until fully melted.

200 g White Chocolate,

180 g Mini Marshmallows,

50 g Butter

Add the orange food colour gel to the melted chocolate mixture and stir through to get an even colour. The food colour gel is concentrated so you will only need a small amount.

In a large mixing bowl, add the Rice Krispies. Pour over the melted marshmallow and chocolate mixture and stir together until fully coated. Leave the mix to cool slightly.

Using a tablespoon divide the mixture into equal amounts, and roll each into a pumpkin ball. Dampen your hands a little before rolling, it helps stop your pumpkins sticking to your hands.

Place the pumpkins on to a baking sheet lined with baking parchment and allow the pumpkins to chill in the fridge for 30 minutes.

Make the decorations: Melt the white chocolate. Add the chocolate to a small heatproof bowl, place over a saucepan of simmering water. Make sure that the bowl does not touch the water. Heat until all the chocolate has melted. Alternatively, melt in the microwave. Place in a piping bag or freezer bag, and set aside to cool.

Colour white sugarpaste with brown and green food colouring gels, or use ready coloured sugarpaste, Use the green sugarpaste for the pumpkins leaves, and roll the brown sugarpaste into small sticks for the pumpkin stalks.

Pre-coloured Sugarpaste,

Orange Food Colour Gel

To assemble the pumpkins: When the pumpkins are chilled, snip the end off the piping bag or freezer bag and add a dot of white chocolate onto the top of the pumpkins. Stick the pumpkin leaves and stalk on top of the chocolate, as it sets it will hold the decorations in place.

Serve the pumpkins for your little trick or treaters and enjoy!
Notes
The puddings will keep in the fridge for up to a week.
Dampen your hands a little before rolling out your Christmas Puddings; it helps them to not stick to your hands.
The mixture can be a little stiff so if you prefer a softer Rice Krispie treat, cut down on the chocolate to 100g instead.
When heating the mixture, gentle, low heat will give your soft and chewy treats. Too high and you'll end up with rock hard puddings.
Be careful when heating the butter and chocolate as overheating the chocolate can cause it to cease. It should be nice and smooth.
Dampen your hands a little before rolling out your Christmas Puddings; it helps them to not stick to your hands.
Nutrition
Serving:
1
pudding
Calories:
100
kcal
Carbohydrates:
15
g
Protein:
1
g
Fat:
4
g
Saturated Fat:
3
g
Polyunsaturated Fat:
1
g
Monounsaturated Fat:
1
g
Trans Fat:
1
g
Cholesterol:
6
mg
Sodium:
50
mg
Potassium:
30
mg
Fiber:
1
g
Sugar:
10
g
Vitamin A:
332
IU
Vitamin C:
3
mg
Calcium:
18
mg
Iron:
1
mg
DISCLAIMER
The nutritional information provided is approximate and is calculated using online tools. Information can vary depending on various factors, but we have endeavoured to be as accurate as possible.