The days of longing for an ice cream machine are over with this silky smooth and utterly simple no-churn mint choc chip ice cream. The best flavour ever!
What's your dream gadget?
Is there one gadget that you just know deep down in your heart that you can't live without?
Most people will automatically think about their phone.
It's probably the same for me, my phone is now so integral to my life – it is my diary, my communication, my health, my fitness…
If I'm honest, whilst the latest smartphone sets my geeky heartstrings off, there is one gadget that I have lusted after for years, long before the iPhone was even on Steve Jobs' to-do list… an ice-cream maker!
Trust me, if Apple were to release one, you can bet I'd be right at the front of the queue.
Another Kitchen Gadget…
When we talk ice cream makers, I'm not talking about one that you have to bury deep in the freezer amongst the fish fingers and bags of peas, to chill it, before filling with a custard that will eventually churn into something that you hope is edible.
Nope!
I'm talking about a no freezing the bowl, built-in refrigeration, proper job ice cream machine; that takes up the majority of the kitchen work surface and will sit gathering dust for 10 months out of the year.
Can you see why I haven't got one yet?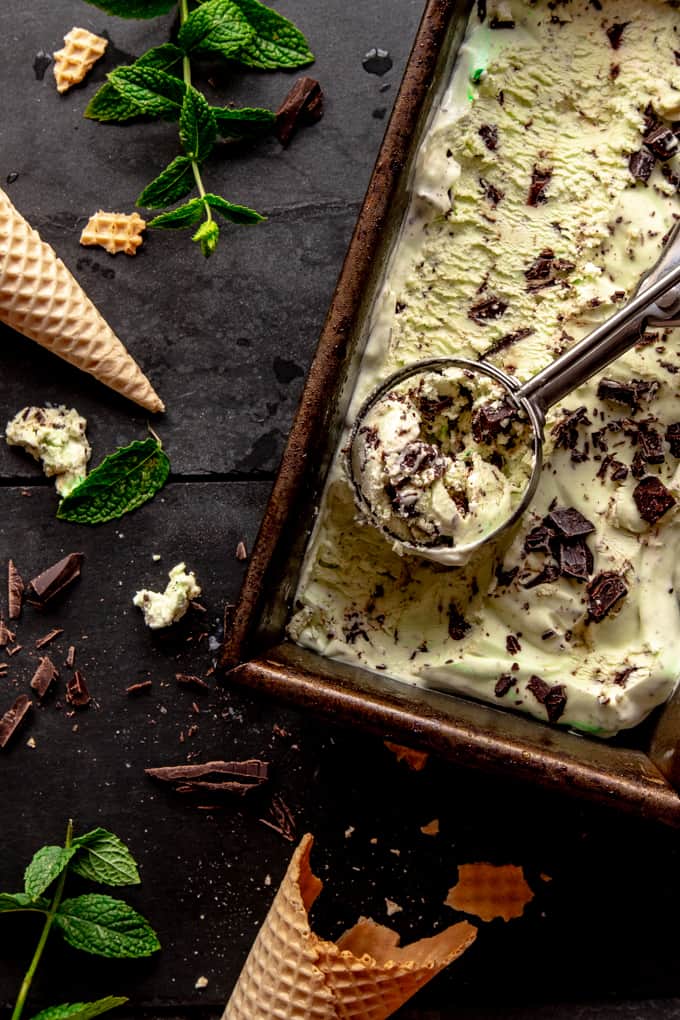 Everyone loves ice cream
Like most people I know, I love ice cream.
In fact, I've never met someone who didn't. I do absolutely love it.
Give me a soft-serve cone with a flake and strawberry sauce and I'll savour every lick, or how about three perfect scoops, covered in sprinkles? I'm such a happy bunny.
I don't stop there though, I want to make ice cream as well and on occasion, I have done. I can vividly remember my first attempt, 25 years ago, and being left disappointed. It put me off making ice cream for years.
I blame Delia Smith!
Adventures into ice cream making
Before the days of Delia teaching us how to boil an egg, she published a summer recipe book with, in my eyes, the holy grail of ice cream – lemon meringue!
She sold to me a picture-perfect summer ice cream, with a zingy lemon curd, chewy meringue pieces and a smooth and creamy lemon ice cream.
Naively, what I wasn't expecting was the mix, freeze, mix, freeze, mix, freeze pattern for hours, breaking up ice crystals, and in turn mushing up the meringue.
After a night of tending to my beautiful ice cream, when I finally got the chance to proudly present it to the rest of the family it tasted like a scratchy, lemony mess rather than that silky smooth blissful mouthful that Delia had promised.
From that day on I vowed never to make ice cream without a machine… and so my yearning for a lump of metal to take over the kitchen work surface began.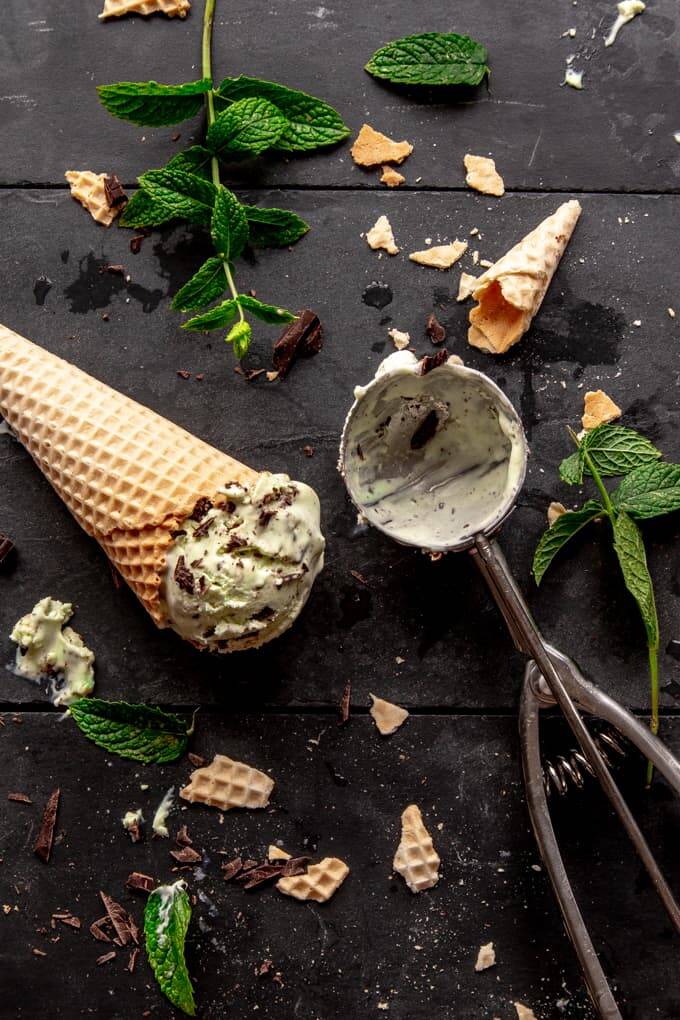 The wonder of no-churn ice cream
Fast forward a significant number of years, much older, a little wiser but with the power of Pinterest at my fingertips. Being in the middle of the longest UK heatwave I can remember, making ice cream became my latest food obsession again; but still no machine.
As if it could read my mind, Pinterest started popping up ice cream recipes, all sorts of techniques and flavours, but the ones that caught my eye were no-churn ice cream recipes. So I merrily pinned them thinking that no-churn really couldn't live up to the hype…
That was until we ran out of ice cream and the freezer section of the supermarket was bare. Shock horror!
Not one to be defeated, I decided now was the time to give no-churn ice cream a go.
Could it really be that simple?
Would it be another disappointment after a promise of frozen heaven?
There was only one way to find out.
It really is that simple!
I gave it a try, and another, and another. And maybe another for good luck and to make sure it wasn't just a fluke.
It wasn't.
I'll stake a claim that with a few tries and tweaks, no-churn ice cream is possibly the best ice cream I've made… with no machine.
It really is so simple, quick and versatile that there is no excuse to give it a go.
Top tips for no-churn mint choc chip ice cream
This recipe is possibly the simplest ice cream recipe that I've ever made, but there's a few things to take it from simple and ok, to simple and amazing; here's my top tips…
And…
If that all still sounds like too much hassle, or like me you can't resist another kitchen gadget… then I've got this one on my Amazon wishlist!
Go ahead and try some mint choc chip ice cream
So there you have it…
No expensive machine, no trying to find space in the freezer to squeeze in a bowl to chill, and no more forgetting to break up those ice crystals every hour or so.
Believe me when I say no-churn ice cream really is that simple. You'll wonder how you ever got by without knowing about the easiest ever ice cream recipe.
And the best thing is, that if you strip out the peppermint and chocolate, and add vanilla bean paste you've got stunning creamy vanilla no-churn ice cream as a blank canvas for new ideas. Drop me a comment below with your no-churn ice cream flavour suggestions.
More mint chocolate recipes to try
But if you're a bit of a mint choc fan like my other half, my sister-in-law and nephew, then here a couple of other fresh and minty ideas you might want to try…
Mint Choc Chip Ice Cream – No churn
The days of longing for an ice cream machine are over with this silky smooth and utterly simple no churn ice cream, in the best ever flavour, mint choc!
Instructions
Using a hand mixer, or a stand mixer with the balloon whisk attachment, whip the double cream until it reaches soft peaks. Make sure not to over whip the cream. If your cream is too stiff, add a tablespoon of milk and whisk in to loosen it up.

With a spatula gently fold the condensed milk into the cream.

With a knife roughly chop the chocolate into small pieces and shards for texture.

Add the peppermint extract and chocolate and stir into the cream mixture.

Using a cocktail stick, add the green food colouring, a little at a time until you get the colour you'd like.

Put the mixture into a freezer-proof container, cover, and place in the freezer for at least 8 hours or overnight. No stirring necessary!

When you're ready to serve, let the ice cream soften slightly before scooping.
Notes
You can use the cream and condensed milk as a base, and add any flavour combinations you want to try or just vanilla extract for a basic ice cream recipes.
Instead of using liquid food colouring, I recommend using the food colour gels as they will not dilute the mixture and a little goes a long way.
Nutrition
Serving:
1
scoop
Calories:
136.1
kcal
Carbohydrates:
10.63
g
Protein:
1.52
g
Fat:
9.83
g
Saturated Fat:
6.12
g
Cholesterol:
31.8
mg
Sodium:
24.88
mg
Potassium:
52.1
mg
Fiber:
0.18
g
Sugar:
9.7
g
Vitamin A:
335.63
IU
Vitamin C:
0.38
mg
Calcium:
49.13
mg
Iron:
0.1
mg
DISCLAIMER
The nutritional information provided is approximate and is calculated using online tools. Information can vary depending on various factors, but we have endeavoured to be as accurate as possible.