Perfectly pillows of chocolate cake, filled with fresh mint buttercream, these delicious and no fuss, easy to make mint chocolate whoopie pies are perfect for grabbing when you need a cake on the run.
Hands up if you love cake? Hands up if you love easy cake?
Are your hands up? Then do I have a recipe for you. Let me present… whoopie pies!
These perfectly pillowy cake cookies are sandwiched together with a creamy buttercream frosting; and quite frankly, are the simplest cakes you'll ever make.
And when you taste them you'll find out that they are also the simplest cakes to eat as well… I can't stop at one, especially when it's a mint choc whoopie pie!
What is a Whoopie Pie?
Whilst whoopie pies aren't as big a deal in the UK as they are in the US, that's not to say that we don't know what they are. And as you might have already guessed, they're one of my favourite treats!
The simplest way to describe a whoopie pie is a mini cake sandwich. You're going to take two round cake "cookies" and stick them together with a light and fluffy frosting. See, simple!
In my opinion they are the underrated cousin of the cupcake. There's no cake liners or muffin trays required; and you don't even need a piping bag and nozzle!
Traditionally, the frosting is more of a marshmallow filling, a bit like Marshmallow Fluff; but there's nothing saying that you have to use it Personally, Marshmallow Fluff is pure addiction to my sweet tooth, and the jar wouldn't last long enough for me to get that heavenly goo between my cakes.
For the cake, anything goes; although what you are looking for is a slightly thicker than normal batter, a cross between a brownie batter and a cake batter. So that when they bake, the cakes will keep their shape and height, rather than spreading out across your baking sheets in the heat of the oven.
How to Make Mint Chocolate Whoopie Pies
Like I mentioned, whoopie pies are easy to make, and over the years I've tried and tested lots of different recipes. Some look amazing but the taste just isn't there, whilst others completely fail in the looks department but hit the taste jackpot. But in the end I kept coming back to a more traditional cake batter giving the ultimate taste and look.
Ssssh, there's a secret ingredient
Just like a 'normal' cake batter, the whoopie pie cake cookies are made by creaming together butter and egg, before adding an egg and the dry ingredients. However, there's one additional ingredient, that I swear, gives the cakes a perfect, melty texture and stops them from drying out. Soured cream!
Lots of recipes out there call for using buttermilk, however I find that the consistency of the soured cream gives a thicker batter, without giving a dense cake when baked. And remember, we want to keep the batter slightly thicker than normal to prevent it from taking over the baking sheet when baking.
Back to the mint chocolate whoopies…
If you're anything like me or my sister-in-law, the combination of mint and chocolate is pure cake heaven. The more chocolatey the chocolate is, the better.
For this recipe, I tend to use both unsweetened cocoa powder and melted dark chocolate for full chocolate impact. As well as swapping out some of the caster sugar for a dark muscovado to give the whoopies that deep, rich chocolate taste that works so perfectly with the mint frosting.
Oh and if you fancy a little more chocolate, you can go ahead and throw a handful of chocolate chips into the batter as well.
Let's get them in the oven
If you've been reading the blog for a while now, you'll know that one of my favourite and recommended pieces of equipment for cakes, cupcakes and cookies is an ice cream scoop. I cannot sing its praises enough. This simplest of gadgets is a complete must for dividing your batter into equal amounts, each and every time.
Best. Hack. Ever!
Just remember to scoop and turn them out onto lined baking sheets with parchment paper, so that they can be easily removed after they cool completely.
A few more top tips for mint chocolate whoopie pies
Before you head off and give the recipe a go, check out these hints for getting perfect mint choc whoopie pies.
If you're not in a hurry, pop the baking tray with the batter scoops, into the freezer for 30 minutes before baking. This will help the cake cookies keep their shape whilst baking.
If you're feeling a little 'eek' about freestyle baking the cake cookies, then you can use a whoopie pie tray to help contain them. I've used one of these before, and it really helps keep the cookie shape.
Switch out your whoopie pie flavours
Mint chocolate isn't everyone's favourite flavour combo, so if you're not a fan, here's an alternative for you.
Why not try swapping out the mint filling one of these:
But, if you're one of those rare people who doesn't like chocolate (gasp), you might want to try changing the flavour of your cake cookies for something a little more unusual. I love the sound of like these pumpkin whoopie pies with brown butter cream cheese frosting from Blue Bowl. How about these pretty in pink strawberry milk whoopies from Sprinkles Bakes?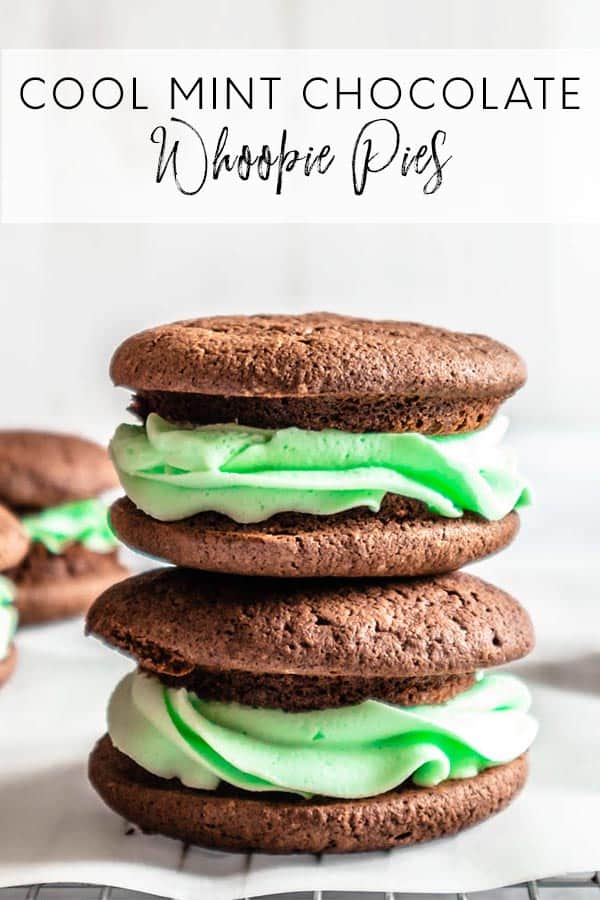 Looking for more inspiration?
If you're with me and a mint chocolate fan, go and check out some of these favourites…
Mint Chocolate Whoopie Pies
No fuss, fluffy chocolate whoopie pies, sandwiched with a cool mint buttercream frosting.
Instructions
Make the chocolate cakes: Preheat oven to 180C/ 350F and line two baking sheets with parchment paper, or use a whoopie pie tray.

Melt the chocolate and set aside to cool.

Using a stand mixer with the paddle attachment, beat together the butter, muscovado sugar and caster sugar until light and fluffy. Alternatively, in a large mixing bowl, by hand or with an electric hand whisk.

Add the egg to the creamed mixture and beat well, then mix in the melted chocolate and soured cream.

In a separate bowl, sift the flour, cocoa powder and baking powder together, and then gently fold the flour mixture into the cake batter until combined.

If adding chocolate chips, add these to the batter now.

Use an ice cream scoop to divide the batter into equal amounts, about 1 to 1.5 tablespoons on the baking sheets, and allow enough room for the cake cookies to spread as they bake.

Bake for 10-12 minutes or until an inserted skewer comes out clean. Allow to completely cool on a wire rack.

Make the filling: Add the butter, cream cheese, icing sugar and peppermint extract into a large bowl and beat with a stand or hand mixer, until smooth and creamy. Be careful not to overbeat the frosting as the cream cheese will slacken and maybe runny when piping.

Assemble the whoopie pies: On the flat side of half the cooled cake cookies spread or pipe the mint frosting over the flat side, then top with an unfrosted cake cookie. Push the top down slightly so the frosting spreads to the edge.
Notes
Store an airtight container for up to 3 days or well-covered in the fridge for up to a week. Serve at room temperature.
Nutrition
Serving:
1
Whoopie Pie
Calories:
491
kcal
Carbohydrates:
74
g
Protein:
5
g
Fat:
20
g
Saturated Fat:
13
g
Cholesterol:
58
mg
Sodium:
59
mg
Potassium:
220
mg
Fiber:
2
g
Sugar:
53
g
Vitamin A:
535
IU
Vitamin C:
0.1
mg
Calcium:
84
mg
Iron:
2.3
mg
DISCLAIMER
The nutritional information provided is approximate and is calculated using online tools. Information can vary depending on various factors, but we have endeavoured to be as accurate as possible.