Perfectly fudgy and rich mint chocolate chip brownies. Layered with a smooth and creamy peppermint frosting and decadent chocolate ganache.
I wasn't sure what to call this post, but in the end this seems rather apt, with the Kermit the Frog green frosting in these brownies, and that I had really been somewhat of a muppet the weekend I made them.
Having driven the 100 miles to my Mum's on the Sunday to take her car back, locking the car, double checking it was locked and posting the key through the letterbox, I then realised my iPhone was sat in full view flashing away… Argh!
Queue a very apologetic Lou and a very humpfy husband, who had to drive to my Brother's 30 miles away to pick up the other spare house key, to go back again to retrieve the car key, get my phone and then return the spare key.
All this before heading off to the NEC for Cake International and Ikea. I'm sure I'm not the only one who has done it, so I hope you can empathise with my 'muppet moment'.
I'd already decided to make these brownies to take with us to Coventry, so the frosting is coincidental. And we were going to stop by my Brother's as well, it just didn't work out the way round I'd planned. But the brownies did!
Full measurements and instructions can be found on the printable recipe card
No visit to see my family is complete without cake.
My little nephew has just discovered the wonders of sugar. He's not allowed to eat too many sugary things, but he's definitely inherited the family 'sweet tooth; and he knows that Aunty Lou Lou usually comes armed with something on the sugar scale.
I haven't made mint choc-chip cupcakes for ages; they were always one of the acquired tastes in the shop. But if I decided not to make a batch one day, you could guarantee lots of people would ask for them.
They were also a particular favourite of my Sister-in-Law, so as my Brother was off playing in a golf match, I thought it was Sara's turn for a treat.
I could have made cupcakes, but the full size ones are still a little too big for my nephew, although I'm sure he'd make a jolly good go at it, so I thought brownie bites would give the best of both worlds… a minty, chocolate sugar hit and big enough for a 2 and 1/2 year old to demolish!
I do make a devilishly, fabulous brownie… rich, chocolately and fudgy, just the way a brownie should be. I love a dense chocolate slice, not a dry, cakey one, it has to be nice and moist and a little gooey still.
This recipe is a great base for adding to or just simply eating as it is with a chocolate sauce, or warm with a scoop of vanilla ice cream. I do like adding dried sour cherries to the mix, they give a little sharpness that cuts through the chocolate.
However, with the cupcakes still in mind, I decided that once the brownie had cooled, I'd whip over some peppermint frosting, a chocolate ganache and some choc-chips.
You could use any flavour frosting, a fresh raspberry one would go perfectly with the chocolate, or maybe a milk chocolate frosting or a straight vanilla.
If you added crushed cookies into the brownie batter, you could use a cookie dough frosting. Really the possibilities at endless, the main thing is having a good brownie base to start with.
These went down really well with my Sister-in-Law, and my nephew loved them. I wasn't sure if the peppermint might have been a bit too much of an adult taste for him, but he took himself off into the corner (away from the dog who hoovers up his crumbs) and ate the lot. It looks like we've got a 'Little Sugar Fiend' in the family!
Looking for more recipe inspiration?
Then check out these other deliciously easy mint chocolate recipes…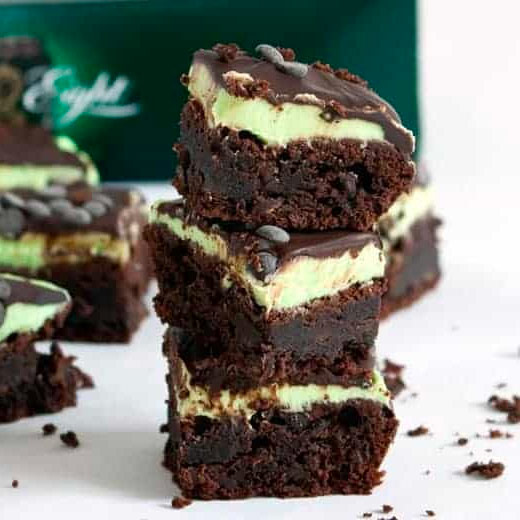 Mint Choc Chip Brownies
Perfectly fudgy and rich mint chocolate chip brownies. Layered with a smooth and creamy peppermint frosting and decadent chocolate ganache.
Ingredients
For the Ganache
100

g

70% Cocoa Chocolate

142

ml

Double cream

1

tbsp

Caster sugar
Instructions
For the Brownies
Preheat oven to 180C or 160C (fan) and line a brownie tray or 8 inch square cake tin, with baking parchment.

Add unsalted butter and 100g of chocolate to a small heatproof bowl, place over a saucepan of simmering water. Make sure that the bowl does not touch the water. Heat until all the butter and chocolate have melted. Alternatively melt in the microwave. Set aside to cool.

In a large mixing bowl, add caster sugar, eggs and vanilla extract, whisk together.

Add melted butter and chocolate to the whisked egg mixture, and whisk well.

Sift flour and cocoa powder to the chocolate mixture and fold in until well combined.

Fold in chocolate chips.

Pour brownie mixture into lined baking tin and spread evenly with a palette knife.

Bake for 25 minutes, or until a toothpick inserted comes out with a crumb. This should be moist but not sticky.

Leave to cool completely in the tin before frosting and cutting.
For the Frosting
In a large bowl or stand mixer, beat the butter until soft. Add half of the icing sugar and 1 tablespoon of whole milk. Beat until smooth.

Add the remaining icing sugar, milk, peppermint extract and green food colouring, to the desired colour. Beat until smooth.

If the buttercream is too stiff, add a tbsp of whole milk and beat until smooth.

Add a layer of frosting on top of the brownie, smooth using a large palette knife.
For the Ganache
Chop 100g chocolate into small pieces and add to a medium bowl

Add double cream and caster sugar into a small saucepan, and gently heat until beginning to boil.

Remove from heat and pour warm cream over the chocolate, allowing the heat from the cream to melt the chocolate. Stir until all chocolate is melted.

Set ganache aside to cool for 20 minutes, then pour over frosted brownie and sprinkle with chocolate chips.
Notes
These brownies can be kept in an airtight container for up to 1 week, or can be frozen for 1 month.
Nutrition
Serving:
1
brownie
Calories:
443
kcal
Carbohydrates:
49
g
Protein:
5
g
Fat:
26
g
Saturated Fat:
15
g
Polyunsaturated Fat:
8
g
Cholesterol:
96
mg
Sodium:
21
mg
Fiber:
3
g
Sugar:
37
g
DISCLAIMER
The nutritional information provided is approximate and is calculated using online tools. Information can vary depending on various factors, but we have endeavoured to be as accurate as possible.