Take just five minutes and three ingredients, and you can make this easy Malteser fudge. Perfectly smooth and utterly delicious, all you need is chocolate, condensed milk and everyone's favourite chocolate malt balls! It's completely fool proof, you'll be making it over and over again!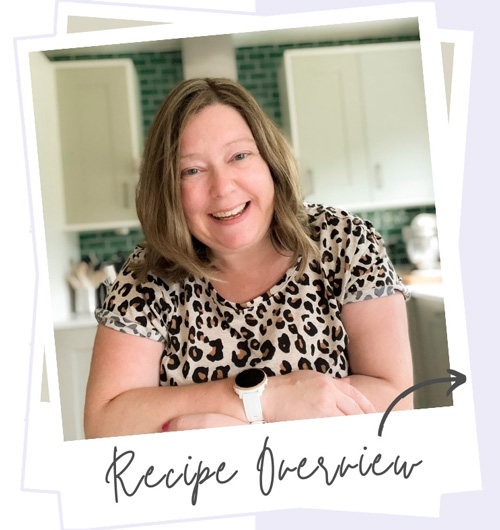 Lou's recipe overview
SKILL: Beginner
TASTE: Smooth, chocolately and packed with malt balls
PROS: Everything – 3 ingredients, 5 minutes. Super easy!
CONS: Absolutely none!
Let me welcome you to a recipe that has changed this dessert obsessed baker's life…
If you've got left over sweetened condensed milk from a no churn ice cream, then I've got the perfect recipe for you. Trust me, this 3 ingredient fudge is incredible!
It's super smooth, awesomely chocolatey and packed with everyone's favourite chocolate malt balls. There's nothing better than that hit of chocolate naughtiness and those crunchy Maltesers, and you know how much I love Maltesers, especially in my favourite cheesecake!
And believe it or not this recipe is so easy to make, I promise you you can do it. Before you say, come on Lou what's the catch, let me let you, there's absolutely no caramel making or boiling sugar here. It's quick and simple, and there's only one pan to wash up.
Sound good? Let's go!
You'll love this easy fudge because…
Well this one is an easy answer for me, it's jam packed full of Maltesers so there's no way I'm turning down a piece of this fudge! How about you? Need a bit more convincing, then what about that…
3 ingredients, 5 minutes and 1 saucepan – less washing up bonus
No worrying about making caramel – just melt, stir and set
Super smooth, rich and creamy fudge pieces
Easily adaptable, swap the Maltesers for your favourite add-ins
Perfect homemade, sweet treat gifts all year round
Heck, just having one saucepan to wash up sells it for me every time. Are you feeling it? Yes? OK then, let's go!
What you need to make easy fudge
View my Amazon shopping list with equipment and ingredients
The Ingredients
Getting started with this easy Malteser fudge is really quick, you just need three ingredients:
Milk and Dark Chocolate – I prefer to swap some of the milk chocolate for an equal quantity of dark chocolate; this just brings a more chocolately taste. All milk chocolate gives you a more creamy chocolate taste, and all dark chocolate will give your fudge a rich, deep flavour.
Sweetened Condensed Milk – This gives the fudge its smooth texture and the sweetness; whereas the chocolate helps the fudge stabilise and set. Be careful to make sure you use condensed milk rather than evaporated milk; they are very different and your fudge will not work
Maltesers – I absolutely love Maltesers, with that light crispy malt centre and they work so well, especially when you get a whole one in a fudge piece. Jackpot! I use crushed Maltesers on the top of the fudge as well, to add a little texture. If you're in the US, Hershey Whoppers can be used instead.
Recommended Ingredients
The Equipment
I absolutely love this recipe not just because of its super simple ingredients but also because there is hardly any washing up; totally win-win!
To make the fudge, you'll need something to make the mixture in and something to set it in:
Large heavy bottomed saucepan
8 x 8 inch square cake pan
You will also need greaseproof parchment to line your baking pan and also a rubber spatula to mix everything together and spread the mixture with.
TOP TIP: If you want a thicker, deeper fudge use a smaller cake pan
How to make Malteser fudge
Full measurements and instructions can be found on the printable recipe card
Ok, so we're ready to make fudge! And remember there is absolutely no fuss or faff here. So follow these easy steps or check out the video for all my hints and tips, and you'll soon have the easiest fudge ever chilling in the fridge!
Add the condensed milk and chocolate into a large saucepan and place over a low heat. Keep stirring until the chocolate has melted. Do not let the mixture boil!
Pour half the mixture into a lined baking tin and level off with a spatula or the back of a spoon.
Scatter over a layer of Maltesers, then pour over the remaining fudge mixture and gently level off again
Finish off with another layer of Maltesers and some crushed Maltesers. You may need to push these into the fudge a littler.
Pop the fudge in the fridge to chill for at least 2 to 4 hours or overnight before slicing up and enjoying!
I told you it was super simple! Now check out the video before all my recipe hints as well and you'll be making ultimately easy fudge in no time!
Step by step video
Frequently asked questions
What size tin do I need?
I recommend using an 8 x 8 inch square cake pan, but you can use any size or shape pan you prefer. The smaller the pan, the deeper the fudge.
How many fudge pieces does the recipe make?
Depending on the size tin you use and how large you want the fudge pieces to be, the recipe will make between 16 and 28 pieces.
How should I store the fudge?
The fudge is best kept in an air-tight container in the fridge. If stored at room temperature the fudge will become very soft, so in the fridge is best!
How long does the fudge keep for?
The fudge will keep well for up to one week in the fridge. The longer it's kept chilled, the firmer it will become, so you may need to let it soften a little. The Maltesers will begin to soften after a few days, so if you want the crunchy texture get stuck in sooner!
Can I make this in the microwave instead?
Yes you can! Instead of heating the condensed milk and chocolate in a saucepan, give them quick 30 second blasts in the microwave and stir well in between, until you get the thick fudgy mixture.
Recipe notes and top tips
The beauty of this fudge is its simplicity, but there are a few notes and top tips that make this recipe even better…
Chill for at least 2 to 4 hours – It is the chocolate in the mixture that helps the fudge set, so you do need to let it set properly before trying to slice it up. Two hours is the bare minimum, if you are eating straight away. Four hours is even better. But if you are gifting or want that perfect fudge texture, then chill over night for perfect results.
Use a mixture of milk and dark chocolate – For me, a mix of milk or dark chocolate gives that perfect chocolate flavour. If you prefer a richer chocolate taste, use all dark chocolate, or a creamier taste all milk chocolate.
If prefer a softer fudge, add 25ml of double cream – If you find you fudge mixture is too thick or you prefer a softer fudge, stir in 1 or 2 tablespoons of double/ heavy cream. The fudge will remain smooth and have a softer bite.
Switch out the Maltesers – Once you've mastered the base recipe, why not try swapping out the Maltesers for your favourite chocolate bars or cookies. Oreos and my next go-to fudge filling!
More sweet treat recipes to try
If you liked this easy Malteser fudge recipe here are some other recipes that I think you'd enjoy…
Easy Malteser Fudge
All you need is 3 ingredients and 5 minutes to make this easy Malteser fudge. Perfectly smooth and utterly delicious, you'll make it over and over again!
Instructions
Line a 8 x 8 inch square cake pan with greaseproof parchment paper. Make sure to let the sides overhang the pan as this helps lift out the fudge when it is set.

Place the condensed milk and chocolate into a large saucepan and place over a low, gentle heat. Heat the condensed milk until the chocolate is fully melted. It is important to keep stirring all the time for a smooth fudge texture. Do not let the mixture boil.

Pour half the fudge mixture into the lined pan and level off with the back of a spoon or rubber spatula.

Add a layer of Maltesers on top of the fudge, scattering over to get a good, even coverage. Reserve 2 handfuls of Maltesers for the top of the fudge.

Pour over the remaining fudge mixture and gently level off again; being careful not to move the Maltesers around.

Crush half of the remaining Maltesers and scatter these over the top of the fudge and add the remaining whole Maltesers. Make sure you have an even coverage all over.

Chill the fudge in the fudge for at least 2 to 4 hours until firm. For best results, chill overnight.

When the fudge is firm, take the fudge straight from the fridge and slice into pieces with a sharp knife.

Store the fudge in an air-tight container, in the fridge, until you are ready to serve.
Nutrition
Calories:
95
kcal
Carbohydrates:
13
g
Protein:
1
g
Fat:
6
g
Saturated Fat:
3
g
Polyunsaturated Fat:
1
g
Monounsaturated Fat:
2
g
Cholesterol:
2
mg
Sodium:
11
mg
Potassium:
68
mg
Fiber:
1
g
Sugar:
11
g
Vitamin A:
19
IU
Vitamin C:
1
mg
Calcium:
24
mg
Iron:
1
mg
DISCLAIMER
The nutritional information provided is approximate and is calculated using online tools. Information can vary depending on various factors, but we have endeavoured to be as accurate as possible.