Super quick and deliciously easy to make, this no bake Biscoff Rocky Road is going to hit all the right notes to satisfy the sweetest of tastebuds. Packed full of Biscoff biscuit chunks, Biscoff spread, bouncy marshmallows and crunchy caramel popcorn, you won't be able to resist going in for a second slice. So grab your ingredients and read on for the the easy step-by-step recipe and video. You'll be whizzing up your very own Biscoff rocky road in no time at all!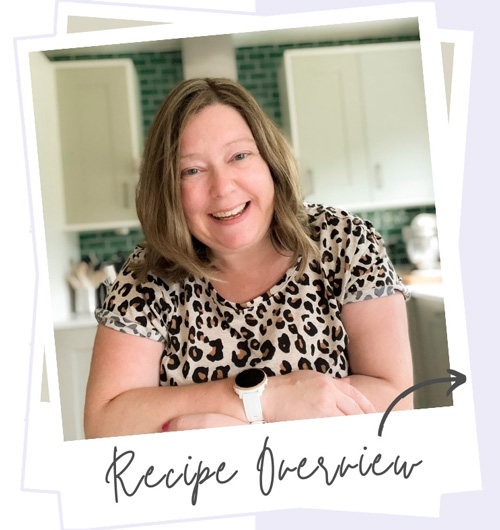 Lou's recipe overview
SKILL: Beginner
TASTE: Sweet caramel with a touch of spice
PROS: Super quick, no-bake and the kids can join in too
CONS: Just waiting for it to chill and set
Oh hello there, you utter hunk!
Yes I'm looking at you Biscoff Rocky Road. I see you packed to the brim with those Biscoff biscuits, marshmallows and popcorn pieces. And let's not forget that robe of white chocolate and a swirl of Biscoff spread.
I mean, how could anyone resist you?
Just like my Crunchie Rocky Road, this Biscoff version is SO much fun to make and eat, and as it takes only 5 minutes, you'll wonder why you've never given it a try before.
So are you tempted?
If you want to skip the essential recipe information and handy tips for the best ever Biscoff Rocky Road then head down to the recipe card.
Why you need to make this rocky road
Go on, take another look at that chunk of perfection. Check out those Biscoff pieces, that caramel chocolate, the squidgy marshmallows, the Biscoff pieces again… do I really need to persuade you to give this recipe a go?
If I do, then here it goes a little extra convincing…
Biscoff overload is an understatement… this is Biscoff heaven
Super quick, super simple and absolutely no baking required

Utterly divine, tried and test recipe so you know its going to be the BEST EVER

Great to get children involved in the kitchen – let them go wild with the fillings
Makes a great gift for all occasions and keeps for up to 2 weeks
Once you've given rocky road a try and see just how simple it is and how much you can do with it, I know you'll be hooked!
What you'll need to make it
View my Amazon shopping list with equipment and ingredients
To make the rocky road, you'll need to grab the ingredients and equipment below. You'll probably have everything you need all ready in the cupboard, so give it a try.
The Ingredients
The beauty of a rocky road recipe is that it's completely adaptable. So if there's an ingredient you're not keen on or you don't want to use a particular brand or you're on a budget, then everything can be switched out really easily.
Here's what I used…
Biscoff Biscuits – It would be Biscoff rocky road without the Biscoff biscuits. You can switch these for store own-brand varieties or specaloos cookies.
Biscoff Spread – I prefer to use the smooth spread for melting and adding into the rocky road, but you can use the crunchy version if you want to. You can also swap out the Biscoff spread for your favourite cookie butter instead.
Caramilk Chocolate – This has only just arrived in the UK and it's divine! It you can't get hold of Caramilk, then you can also use Caramac or swap out completely for white chocolate instead.
The Equipment
Now you really don't need that much equipment to make this! In fact all you really need is a large mixing bowl, a rubber spatula to stir everything together with and a cake pan to set the rocky road in.
For the cake pan, this recipe works well in either of the following:
How to make the rocky road
Full measurements and instructions can be found on the printable recipe card
Right then, get ready for super easy to make recipe! Grab those ingredients, your equipment and any little bakers that are getting involved too. And if they are… keep an eye on those ingredients, they have a tendency to go missing while making the rocky road, ha!
So here's what you need to do…
Gently melt the butter, chocolate and Biscoff spread together. You can do this using a small saucepan over low heat or in the microwave in 30-second blasts. Just be careful not to overheat or burn the mixture.
Break up the Biscoff biscuits into bitesize chunks and add into a large mixing bowl.
Add in the marshmallows and caramel popcorn, then give everything a really good stir so it's all mixed together.
Pour over the melted chocolate mixture and give it another good stir, making sure everything is well-coated.
Fill a lined brownie pan with the rocky road mixture and gently press down gently with the back of a spoon to pack it together.
Optional: Melt some extra white chocolate and pour over the top of the rocky road, then stir in some melted Biscoff spread.
Pop the rocky road in the fridge to chill for 6 hours or overnight.
When set, slice up these naughty little treats into bite-sized pieces. Or big slices if your sweet tooth prefers.
RECIPE VARIATION: How you tweak the recipe is only limited by your imagination, but why not try my Crunchie version, Gingerbread version, Malteser version or why not try Twix chunks, caramel and fudge pieces instead!
Step by step live video
Frequently asked questions
What size pan should I use?
It really depends on how thick you want your rocky road slices to be. I recommend a 9-inch square cake tin or brownie pan for 1-inch thick slices.
How many slices does the recipe make?
A 9-inch square cake tin or a 10 x 7-inch rectangle pan will make between 20-25 slices.
How should the rocky road be stored?
Once cut into slices the rocky road should be stored in an air-tight container in the fridge or a cool place. Keeping it in the fridge will help make the rocky road last longer as it won't soften up so quickly.
Can the rocky road be frozen?
Yes the rocky road is easily frozen. Make sure to wrap the slices up well using baking parchment, then either wrap in clingfilm or place in a sealable freezer-proof container. Remember to defrost thoroughly before eating.
How long will it keep for?
If kept in the fridge, the rocky road will keep up to 1-2 weeks, or up to 1 month if frozen.
Recipe top tips and notes
This rocky road really is the one of the easiest desserts you'll ever make, but here are a few of my top tips that I've learnt along the way. Stick with these and I promise you'll make the best ever Biscoff rocky road every time.
Go for bite-sized biscuit chunks – It's tempting to crush the biscuits, but don't break them up too much otherwise you won't get those crunchy pieces we're after. Just break them into pieces, don't crush!
Give everything a good stir – Before you pour over the chocolate, make sure to give all you fillings a really good stir together to make sure they're evenly distributed. This will give you a mix of everything in every bite.
Pack the mixture into the cake pan – The key with making rocky road is to ensure that there are no gaps in the slices and everything is well packed together. If there's gaps the rocky road will fall apart easily. So when adding to you tin, make sure to press down firmly with the back of a spoon or spatula.
Allow it to chill for at least 6 hours – I know you're going to want to get in there sooner, but you want to make sure the rocky road sets firm. So 6 hours or overnight if you can is the perfect setting time.
Choose budget-friendly ingredients – The beauty of rocky road is anything goes! For example if you can't get Caramilk then switch out for white chocolate instead – you can pick up store own-brand versions really cheaply. Next time you're shopping see what's on the shelves and give them a try.
More rocky road recipes to try
If you liked this Biscoff rocky road recipe here are some other recipes that I think you'd enjoy…
Biscoff Rocky Road
Super quick to make this no bake Biscoff Rocky Road packed full of Biscoff spread and biscuit chunks, marshmallows and caramel popcorn
VIDEO
Instructions
Add the butter, white chocolate, Caramilk and half the Lotus Biscoff spread into a heatproof bowl and place over a saucepan of simmering water; as a double boiler. Gently melt everything together until melted. Stir together then leave to one side to cool slightly.

Alternatively, you can melt them in a microwave in 30-second blasts.

200 g White Chocolate,

200 g Carmamilk,

125 g Butter,

50 g Lotus Biscoff Spread

In a large mixing bowl, break up the Lotus Biscoff biscuits into bite-sized pieces, being careful not to make them too small. Then add the mini marshmallows and caramel popcorn, and stir everything together until evenly mixed.

250 g Lotus Biscoff Biscuits,

50 g Mini Marshmallows,

50 g Caramel Popcorn

Pour the melted chocolate mixture over the top of the dry ingredients and mix together well, making sure everything is well coated.

Line a brownie pan or 9-inch square cake tin with baking paper and spoon the mixture into the pan. Gently press down on the mixture with the back of a spoon to pack it together.

Optional: If you want a smooth top to your rocky road, melt the additional white chocolate over a double boiler or in the microwave. Pour the melted chocolate over the top of the rocky road and decorate with Lotus Biscoff crumbs.

Put the Biscoff rocky road in the fridge to chill and set for at least 6 hours or overnight. Once set, you can cut the rocky road into bite-sized pieces.
Notes
The Biscoff Rocky Road should be stored in an air-tight container in the fridge. It can also be frozen, make sure to wrap it up well and seal in an air-tight container.
The rocky road will keep for up to 1-2 weeks in the fridge place, or up to 2 months if frozen.
Allow it to chill for at least 6 hours or overnight you want to make sure the rocky road sets firm before slicing it up.
Nutrition
Serving:
1
piece
Calories:
208
kcal
Carbohydrates:
21
g
Protein:
2
g
Fat:
13
g
Saturated Fat:
7
g
Polyunsaturated Fat:
1
g
Monounsaturated Fat:
4
g
Trans Fat:
1
g
Cholesterol:
17
mg
Sodium:
113
mg
Potassium:
62
mg
Fiber:
1
g
Sugar:
14
g
Vitamin A:
144
IU
Vitamin C:
1
mg
Calcium:
39
mg
Iron:
1
mg
DISCLAIMER
The nutritional information provided is approximate and is calculated using online tools. Information can vary depending on various factors, but we have endeavoured to be as accurate as possible.