Delicious and decadent, this no bake tiramisu cheesecake gives a twist your favourite Italian dessert. With coffee soaked sponge fingers, covered in a rich creamy mascarpone filling, sat on top of a chocolate biscuit base; every bite is total yumminess! And the best thing, it's super easy to make!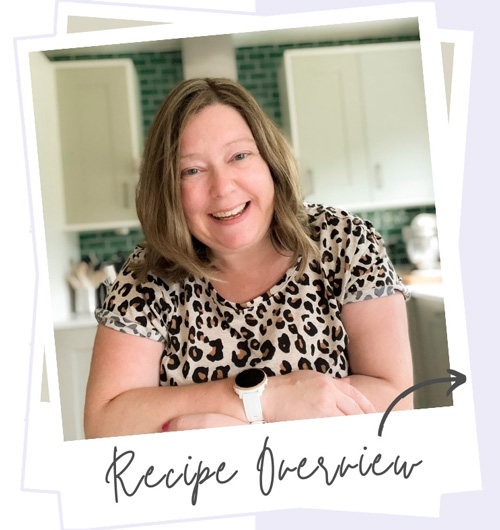 Lou's recipe overview
SKILL: Intermediate
TASTE: Classic Italian chocolate and coffee flavours
PROS: Smoothy, creamy and completely moreish
CONS: Be careful not to oversoak the sponge fingers
Move over Malteser cheesecake, there's a new cheesecake on the block and it's fast becoming my absolute favourite! I'm sure I say that every time I make another no bake cheesecake but this time I really mean it!
Is there anything that screams Italian dessert more than tiramisu? Those layers of coffee, cream, mascarpone and of course, sponge fingers; the best bit in my opinion.
And with all that flavour and creaminess, I couldn't wait to put them into a no bake cheesecake.
I love tiramisu! I mean how can you not love a dessert that when translated literally means 'cheer me up'. In my book, every dessert should cheer you up and one taste of this cheesecake, you'll break out into the biggest smile.
Yes I know that sounds really cheesy but it's true, and if you need any more convincing then let me that about the…
Creamy and velvety smooth cheesecake filling with a ripple of coffee
Sponger fingers soaked in fresh coffee layered in the cheesecake
Thick buttery dark chocolate biscuit base that works perfectly with the filling
It takes less than 15 minutes to make and there's no faffing with water baths
It is as good as baked cheesecake; in fact, it's better
And it's the perfect dessert to cheer you up! What are you waiting for, get stuck in!
Ingredients and substitutions
Check out my shopping list for ingredients and equipment
When it comes to desserts, you know my motto – 'deliciously easy' and the simpler they are to make, the better. And this cheesecake certainly lives up to that motto. So here's everything you'll need to make it…
Mascarpone Cheese – For a true tiramisu cheesecake, you'll want to use mascarpone. You can get lighter versions in the supermarket, but always go for the full-fat version, this helps your cheesecake set.
Full-fat Cream Cheese – If you are able to buy cream cheese in blocks, then this is perfect and gives a beautiful creamy texture. In the UK, block cream cheese isn't always readily available, so I use Philadelphia which works and tastes just as good. It is stable enough for baking and mixing without becoming slack and runny.
Sponge Fingers or Savoiardi – You'll usually find these in the baking aisle or near the custard as they're often used in trifles or Charlotte russe.
Tia Maria or Coffee Liqueur – This is optional, and you can leave it out if you prefer.
Dark Chocolate Digestive Biscuits – If you can't get hold of dark chocolate Digestives, any other chocolate biscuit would work, even Oreos.
Unsalted Butter
Double Cream or Heavy Cream
BUDGET FRIENDLY: If you're on a budget you can swap out most of the ingredients for store own-brands and budget supermarkets now stock good quality dupes that work just as well
Recommended ingredients
CONVERT TO CUPS: There is a cup conversion option in the recipe card to convert the ingredients. This is automatic and I can't guarantee the accuracy. For best baking results, I recommend using digital scales and weighing the ingredients.
Equipment you will need
I absolute love making no bake cheesecake! They are super easy and quick to make and you don'y need any special ingredients or tools. This is what I use to make my cheesecakes…
How to make no bake Tiramisu cheesecake
Full measurements and instructions can be found on the recipe card
If you've tried any of my no bake cheesecake recipes, you'll know just how easy they are to make. You'll find detailed steps and my top tips here that will give you the perfect cheesecake every time. Here's what you have to do…
The biscuit base
Crush the dark chocolate digestive biscuits to a sandy texture either using a food process or break them into smaller pieces, place in a Ziploc bag and bash with a rolling pin
Melt the butter and add to the digestive biscuit crumbs in a large bowl, mixing everything together until well combined and the mixture looks like wet sand
Press the biscuit crumb mixture into the bottom of the springform pan, making sure to make sure it is it well packed, then smooth with the back of a spoon
Chill the base in the fridge for 30 minutes to one hour to firm up
TOP TIP: Make sure your biscuits are finely crushed, if you have large lumps in your base when you slice the cheesecake they can cause the base to shatter into pieces
The cheesecake filling
While the biscuit base is chilling in the fridge, make the cheesecake filling.
Gently mix together the icing sugar and cream cheese in a large mixing bowl, being careful not to over-beat as the cream cheese will slacken and the filling may not set
Add the cream and Tia Maria and whisk with a hand mixer. The cream will thicken into soft peaks and the filling will become thick but should still be smooth enough to spread easily
TOP TIP: Don't be tempted to leave the sponge fingers soaking in the coffee; they will quickly become very soggy and fall apart. Soggy sponge fingers could also cause the cheesecake filling to split when layered. So just dip for a few seconds on either side!
Assemble the cheesecake
When your filling is ready and the biscuit base has chilled, it's time to assemble.
Pour half the cheesecake filling over the chilled biscuit base and level off with an angled palette knife or the back of a spoon
Add the instant coffee to cooled boiled water and pour into a shallow dish
Dip the sponge fingers, one at a time, into the coffee and soak for a few seconds on either side. Place the soaked sponge fingers on top of the cheesecake filling layer until it is completely covered.
Pour over the remaining cheesecake filling and level off with an angled palette knife
Chill the filling for at least 3 hours before sprinkling cocoa powder over the top
Tips for success
Although no bake cheesecakes are super easy to make, here are my top tips to give you the best cheesecake every time you make it.
Ingredients and equipment
Use a springform cake pan – I can't recommend this enough – it really is my Number 1 top tip! Using a normal loose bottom cake pan for cheesecakes will just end up in a sticky, creamy mess. What a waste of cheesecake. Instead use a springform cake pan that you can easily release without the mess. I add a layer of baking parchment beneath my biscuit base so I can easily slide the cheesecake onto a serving plate.
Start with room temperature cream cheese – For a smooth and creamy texture, make sure you take the cream cheese out of the fridge 10-15 minutes before you want to use it. Cold cream cheese can give you lumps in your filling. Room temperature cream cheese will also give you a lighter creamier texture as when you whisk it with the cream it easily incorporates air into the mixture.
Use full-fat cream cheese – My second top tip that you really must do and I can't say this one enough. Using full-fat cream cheese is super super important as it helps the filling stabilise and set. It's best to use either a block-style cream cheese if available or Philadelphia cream cheese.
Use double, heavy or whipping cream – Just like cream cheese, the fat content of your cream is important to set the filling. The higher the fat content, the thicker you can whip the cream which is needed to hold the filling together.
Making the cheesecake
Don't over beat the filling – Be gentle when it comes to your cheesecake filling. If you beat the filling too much, the cream will become grainy and the cream cheese will become slack and runny. You're looking for a thick and creamy texture, that's smooth enough to spread easily with a palette knife.
Don't under beat the filling – And on the other hand, don't under whisk the filling. If you don't beat the filling enough, the cream will not thicken up which will result in a runny cheesecake filling that will not stabilise and set properly.
Be patient and let it chill – It's vital that you let the cheesecake chill in the fridge for at least 6-7 hours before serving. Remember you can always make the cheesecake the day before, and chill overnight.
FAQs about no bake Tiramisu cheesecake
What size pan do I need to use?
The cheesecake is best made in an 8-inch springform cake pan.
How many does the cheesecake serve?
The cheesecake will serve 10-12 portions, depending on the size you slice them.
How should I store the cheesecake?
Once the cheesecake has set, loosely cover either with cling film or kitchen foil. The cheesecake should be keep chilled in the fridge. I recommend keeping the cheesecake in the tin until you are ready to serve.
How long will the cheesecake keep for?
If stored correctly, the cheesecake will keep for up to 3 days.
Is it possible to freeze the cheesecake?
Yes, you can freeze the cheesecake for up to 3 months. Before freezing, make sure to wrap the cheesecake with cling film and a layer of kitchen foil. This helps protect the cheesecake from freezer burn and reduces the potential for ice crystals forming in the filling. Remember to allow the cheesecake to defrost in the fridge before serving.
My cheesecake is runny, why has it not set?
There are a number of possible reasons your cheesecake has not set and it's hard to diagnose over the internet. It could be anything from the ingredients to the weather but the most common reason is that the filling hasn't been whipped enough. Check out my recipe tips for my no-bake Neapolitan cheesecake to find out how no bake cheesecakes set and how to prevent runny filling.
More cheesecake recipes to try
If you liked this Tiramisu cheesecake here are some other no bake desserts that I think you'd enjoy…
No Bake Tiramisu Cheesecake
Delicious and decadent no bake tiramisu cheesecake with classic coffee and chocolate flavours gives your favourite Italian dessert a twist.
Ingredients
250

g

Dark Chocolate Digestive Biscuits

or Oreo Cookies

60

g

Butter

Unsalted, Melted

200

g

Cream Cheese

Full-fat

300

g

Mascarpone Cheese

75

g

Icing Sugar

or Powdered Sugar

300

ml

Double Cream

or Heavy Cream

50

ml

Tia Maria

or Coffee Liqueur

3

tsp

Instant Coffee

10

Sponge Fingers

or Savoiardi

1

tbsp

Cocoa Powder
Instructions
Make the biscuit base
Add the digestive biscuits into a food processor, and blitz until they form a crumb, then add to a large mixing bowl. Make a well in the centre of the biscuit crumbs, and pour in the melted butter.

250 g Dark Chocolate Digestive Biscuits,

60 g Butter

Mix together until well combined, and then pour into an 8 inch springform tin. Press down onto the biscuit base and smooth out to the edges. Chill in the fridge for at least 30 minutes to 1 hour.
Make the cheesecake filling
Using a stand mixer with the paddle attachment, beat the icing sugar, cream cheese and mascarpone cheese on low until just combined. Alternatively, you can make the cheesecake filling, in a large mixing bowl, by hand or with an electric hand whisk. Remember – do not overbeat the mixture as the cream cheese will slacken.

200 g Cream Cheese,

75 g Icing Sugar,

300 g Mascarpone Cheese

Add the double cream and Tia Maria, then beat the mixture on low to medium until the mixture thickens and forms soft, thick peaks.

300 ml Double Cream,

50 ml Tia Maria
Assemble the cheesecake
In a jug, mix the instant coffee powder with 150ml of cool boiled water. Make sure the coffee powder is completely dissolved.

Pour half the mixture over the top of the chilled biscuit base, then smooth out to the edges and level.

In a shallow dish, pour in the cooled coffee. Dip the sponge fingers in one at a time, for a few seconds on either side. Don't leave them in for too long otherwise they will become too soggy; they should still hold their shape. Add the soaked sponge fingers on top of the cheesecake filling layer, until the layer is covered.

Pour over the remaining cheesecake filling and level off with an angled palette knife.

Chill in cheesecake in the fridge for at least 6 hours or overnight for best results.
Decorate the cheesecake
When ready to serve, use a small sieve and scatter the cocoa powder over the top of the cheesecake until you have an even layer, then serve.
Notes
Your cheesecake will keep for up to 3 days in the fridge and up to 3 months in the freezer. When freezing make sure you wrap it well with cling film or plastic wrap, and then a layer of aluminium foil to prevent ice crystals forming in the filling. Remember to allow the cheesecake to thaw before serving.
Use a springform cake pan so you can release your cheesecake without running the risk of damaging it in the process.
Full-fat cream cheese is a must – a traditional cream cheese, either a block or something like Philadelphia. Don't be tempted to overbeat your cream cheese, it will slacken and your filling won't set properly. 
Use room temperature cream cheese to avoid any potential lumps that you might get if it is too cold. 
Whip double or heavy cream so it forms soft, thick peaks, but be careful not to overwhip it. Double cream tends to be quite stable when whipped, but it can vary depending on the type of cream available in your country.
Too runny? – If your cream is not whipping up or seems too runny, try using less cream and more cream cheese. And remember don't overbeat your cream cheese!
Nutrition
Serving:
1
slice
Calories:
473
kcal
Carbohydrates:
32
g
Protein:
5
g
Fat:
36
g
Saturated Fat:
23
g
Polyunsaturated Fat:
2
g
Monounsaturated Fat:
5
g
Trans Fat:
0.2
g
Cholesterol:
95
mg
Sodium:
176
mg
Potassium:
118
mg
Fiber:
1
g
Sugar:
20
g
Vitamin A:
1072
IU
Vitamin C:
0.2
mg
Calcium:
86
mg
Iron:
1
mg
DISCLAIMER
The nutritional information provided is approximate and is calculated using online tools. Information can vary depending on various factors, but we have endeavoured to be as accurate as possible.