Indulge in the creamy bliss of this no bake Oreo cheesecake! This irresistible dessert boasts a cookies and cream cheesecake filling on top of a rich Oreo cookie base, and the best part? It's a breeze to make, taking just 15 minutes of prep time. Whether for family gatherings, dinner with friends, or a delightful treat for the kids to help with, this cheesecake is sure to steal the show. Dive into the deliciousness today!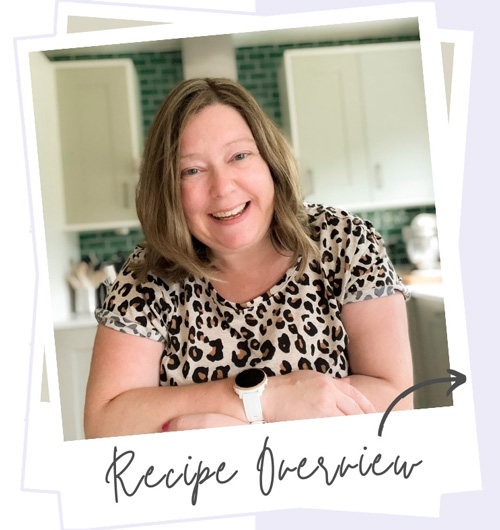 Lou's recipe overview
SKILL: Beginner
TASTE: Cream & blissful, classic cookies & cream flavour
PROS: Simple ingredients, simple to make, what could be easier!
CONS: Waiting for it to set
Please forgive me! Forgive me for sitting on this recipe for so long and keeping it all for myself. I really don't know how or why I haven't shared my absolutely no-fail, no bake Oreo cheesecake recipe yet. But, it's time to make what's wrong right especially as I know how much you all love a no bake cheesecake. Your taste buds won't want to miss this delectable journey!
Picture this: a lusciously creamy cheesecake packed full of the irresistible allure of cookies and cream, all nestled on top of a heavenly Oreo cookie base. Every bite is filled with that smooth and creamy flavour, with just a hint of chocolate, whisking you back to carefree times of sneaking cookies from the cookie jar and dunking them into ice cold milk. And with an extra sprinkling of cookie crumbs on top; the result is next level deliciousness!
If you love simple show-stopping recipes as much as I do, to share with family and friends, then this is going to be a recipe you don't want to miss. Here's why…
It's unapologetically delicious – the rich Oreo cookie base balances with the creamy cheesecake filling, that's blended with cookie crumbs. You'll be going back for seconds and thirds!
It's beautifully smooth – the whipped cheesecake filling is super light and airy, and is packed with finely crushed cookie crumbs, coming together without any effort at all.
It's super easy – there's absolutely no messing around with water baths and keeping your fingers crossed, hoping that it doesn't crack, so you can whip this up, let it chill without the worry.
It uses basic ingredients – there's no faff with special ingredients or equipment, and it's easy to swap for store-own brands or ingredient dupes.
So if you're a cookies and cream fan, keep reading. And if you're not, then why not give the recipe a go. You might just change your mind.
Ingredients
Get ready to whip up the Oreo cheesecake with ease, as this delectable treat requires just a handful of simple, store cupboard ingredients. Plus, there's no fancy gadgets, you only need basic kitchen equipment, so there's nothing to hold you back. Here's everything you'll need to make it…
Full-fat Cream Cheese – If you are able to buy cream cheese in blocks, then this is perfect and gives a beautiful creamy texture. In the UK, block cream cheese isn't always readily available, so I use Philadelphia which works and tastes just as good. It is stable enough for baking and mixing without becoming slack and runny.
Oreo Cookies – If you don't want to use Oreos, then any chocolate biscuit will work. Why not try Bourbon biscuits or dark chocolate digestives instead.
Unsalted Butter
Double Cream or Heavy Cream – You can also use whipping cream if you prefer, but avoid single or light cream. Just like the cream cheese, the high fat content in cream is vital to help the cheesecake filling set.
CONVERT TO CUPS: There is a cup conversion option in the recipe card to convert the ingredients. This is automatic and I can't guarantee the accuracy. For best baking results, I recommend using digital scales and weighing the ingredients.
Equipment you will need
I absolute love making no bake cheesecakes; they're quick and easy and you don't need any special ingredients or tools. This is what I use to make my cheesecakes…
Springform Cake Pan – My absolute must-have for making cheesecakes. The clamp release side makes removing your cheesecake from the pan so much quicker and easier, with no mess. For this recipe, you'll need an 8-inch pan.
Handheld Mixer – This Breville handmixer is my new favourite piece of kit. I absolutely love the soft grip, the power and the softening function if you need it.
Food Processor – I love my Magimix for if I have to blitz large quantities of biscuits, but you can also use a mini chopper for that perfect sandy texture. Alternatively you can bash them with a rolling pin if you prefer.
Angled Palette Knife – For that really smooth finish to the top of your cheesecake invest in an angled palette knife – it's one of my top 10 essential pieces of baking equipment!
How to make no bake Oreo cheesecake
Full measurements and instructions can be found on the recipe card
So you've got simple ingredients, simple equipment; what could be even better? Well, there's no faff or need for culinary wizardry, and there's absolutely no baking required. In just 15 minutes, you can whip up and assemble this Oreo cheesecake, ready to chill – making it the ultimate hassle-free dessert for any occasion. Here's everything you need to do…
Making the Oreo cookie base
Crush the Oreo cookies to a sandy texture either using a food processor or mini chopper. Alternatively you can break them into smaller pieces, place in a Ziploc bag and bash with a rolling pin – great for kids to do. Make sure you crush the Oreos properly, any large cookies chunks in the cheesecake base, will cause the base to shatter when you slice and serve.
Melt the butter and add to the Oreo cookie crumbs in a large bowl, mixing everything together until well combined and the mixture looks like wet sand.
Press the cookie crumb mixture into the bottom of a lined springform pan, making sure to make sure it is it well packed, then smooth with the back of a spoon.
Chill the base in the fridge for 30 minutes to one hour to firm up. If you're in a rush, it's ok to just chill the base while you make the cheesecake filling.
TOP TIP: Springform tin bases have a lip so to help you slide the cheesecake off the base, line it with some greaseproof paper. Cut a square of greaseproof paper about 1 to 2cms larger than the tin base. Place the paper on top of the base and place the springform ring on top, clamping it in place as normal. When you come to serve your cheesecake, you can easily slide it off the base onto your serving dish.
Making the cheesecake filling
While the biscuit base is chilling in the fridge, make the Oreo cheesecake filling.
Gently mix together the icing sugar and cream cheese in a large mixing bowl with a rubber spatula. Be careful not to over-beat as the cream cheese will slacken and the filling may not set properly.
Add the double cream and whisk together with a hand mixer. The cream will thicken into soft peaks and the cheesecake filling will become thick but should still be smooth enough to spread easily.
Add the remaining Oreo crumbs and fold together with a rubber spatula until everything is well combined.
HOW IT SETS: This Oreo cheesecake does not contain gelatine or eggs, and uses full-fat cream cheese and double cream to set the filling. Some recipes suggest gelatine, but I prefer the simplicity of this recipe and the smooth and creamy texture it gives the cheesecake
Assembling the Oreo cheesecake
When your filling is ready and the cookie base has chilled, it's time to assemble.
Pour the cheesecake filling over the chilled cookie base and level off with an angled palette knife or the back of a spoon
Chill the cheesecake for at least 6 hours before serving. If you have time, it's best to allow the cheesecake to set overnight.
When your cheesecake is set, it's ready to decorate. You can decorate however you prefer, maybe with chocolate sauce, but I like to pipe whipped cream around the top and pop on some more Oreo cookies and any leftover cookie crumbs. Then get ready to get stuck in!
Tips for success
Although this is an easy recipe, making sure you get the cheesecake filling the right consistency can be challenging . Here are a few tips for making this no bake Oreo cheesecake…
Invest in a springform cake pan – Ever tried to get a cheesecake out of a normal cake pan? My first top tip is don't even try; what a mess! Instead try a springform cake pan; I can't live without mine for making no-bake cheesecakes. The outer ring unclips and lets you release the cheesecake without having to turn it out.
Use full-fat cream cheese – I can't stress this one enough! As the recipe does not use gelatine to help the filling set, it's super important to use full-fat cream cheese. The high fat content will help the filling set and will give you the smooth, creamy texture you're after.
Start with room temperature cream cheese – Before you start making the cheesecake, take your cream cheese out of the fridge; at least 5-10 minutes before. Fridge-cold cream cheese can be prone to lumps and you'll want to avoid those; also, it whips to a creamier texture.
Whip the cream to soft peaks – To help your filling set, whip the cream up so that it forms thick, soft peaks; but be careful not to over-whip it. Double cream is quite stable when whipped but it can vary depending on the type of cream available in your country. You can swap for whipped cream, but avoid single or light cream as they just won't work.
Too runny? – If your cream is not whipping up or the filling seems too runny, try adding more cream cheese. Just remember to not over-whip it, as the cream cheese will slacken and the filling will not set fully.
Make sure to set the cheesecake for at least 6 hours – As there is no setting agent like gelatine in the recipe, you really do need to let the filling set properly in the fridge for a minimum of 3 hours, or preferably 6 hours and even better overnight if you can.
FAQs about no bake Oreo cheesecake
How many does the cheesecake serve?
The recipe is for an 8-inch round springform tin which will serve 10-12 slices.
How should I store the cheesecake?
Once the cheesecake has set, loosely cover either with cling film or kitchen foil. The cheesecake should be keep chilled in the fridge. I recommend keeping the cheesecake in the tin until you are ready to serve.
How long will the cheesecake keep for?
If stored correctly, the cheesecake will keep for up to 3 days.
Is it possible to freeze the cheesecake?
Yes, you can freeze the cheesecake for up to 3 months. Before freezing, make sure to wrap the cheesecake with cling film and a layer of kitchen foil. This helps protect the cheesecake from freezer burn and reduces the potential for ice crystals forming in the filling. Remember to allow the cheesecake to defrost in the fridge before serving.
My cheesecake is runny, why has it not set?
There are a number of possible reasons your cheesecake has not set and it's hard to diagnose over the internet. It could be anything from the ingredients to the weather but the most common reason is that the filling hasn't been whipped enough. Check out my recipe tips for my no-bake Neapolitan cheesecake to find out how no bake cheesecakes set and how to prevent runny filling.
More cheesecake recipes to try
If you liked this no bake Oreo cheesecake recipe here are some other recipes that I think you'd enjoy…
No Bake Oreo Cheesecake
Indulge in this irresistible no bake Oreo cheesecake with a cookies and cream cheesecake filling on top of a rich Oreo cookie base, and the best part? It's a breeze to make, taking just 15 minutes to prep.
Ingredients
For Decoration (Optional)
100

ml

Double Cream

or Heavy Cream

50

g

Cream Cheese

Full-fat
Instructions
Make the cookie base
Line an 8-inch springform cake pan with baking parchment, by clamping a square of parchment in place.

Add the Oreo cookies into a food processor, and blitz until they form a sandy-like crumb. Add the cookie crumbs to a large mixing bowl and make a well in the centre then pour in the melted butter. Save 50g of the cookie crumbs for later.

250 g Oreo Cookies,

60 g Butter

Mix together until well combined until the crumb mixture is like a wet-sandy texture. Then pour the mixture into the lined springform pan.

Level-off the crumb mixture with the back of a spoon, pressing down to compact the base and smooth out to the edges. Chill in the fridge for at least 30 minutes.
Make the cheesecake filling
Using a hand mixer and a large mixing bowl, whisk the icing sugar and cream cheese until combined. Don't overbeat the mixture, otherwise the cream cheese will slacken. Alternatively, you can make the cheesecake filling with a stand mixer with the balloon attachment or by hand with a balloon whisk.

500 g Cream Cheese,

75 g Icing Sugar

Add the double cream to the cream cheese mixture, and whisk with a hand mixer until the mixture is thick and creamy but still easily spreadable.

Add the rest of the cookie crumbs to the cheesecake filling and fold together with a rubber spatula until well-combined. Save some of the cookie crumbs for sprinkling over the finished cheesecake.
Assemble the cheesecake
Pour the Oreo cheesecake mixture over the top of the chilled cookie base, and smooth out to the edges with the back of a spoon and level with an offset spatula.

Chill the cheesecake in the fridge for at least 6 hours or overnight before serving.
Decorating the cheesecake (optional)
When ready to serve, remove the cheesecake from the springform cake pan and place on a serving dish.

Whisk the rest of the double cream and cream cheese together until it is thick and smooth, and pipe on top of the cheesecake with a piping bag and nozzle

100 ml Double Cream,

5 Oreo Cookies,

50 g Cream Cheese

Decorate with Oreo cookies, sprinkle over the remaining cookie crumbs and serve.
Notes
Read my Top Tips and FAQs in the post above for some really helpful hints and tips to make this recipe successfully.
Your cheesecake will keep for up to 3 days in the fridge and up to 3 months in the freezer. When freezing make sure you wrap it well with cling film or plastic wrap, and then a layer of aluminium foil to prevent ice crystals forming in the filling. Remember to allow the cheesecake to thaw before serving.
Use a springform cake pan so you can release your cheesecake without running the risk of damaging it in the process.
Full-fat cream cheese is a must – a traditional cream cheese, either a block or something like Philadelphia. Don't be tempted to overbeat your cream cheese, it will slacken and your filling won't set properly. 
Use room temperature cream cheese to avoid any potential lumps that you might get if it is too cold. 
Whip double or heavy cream so it forms soft, thick peaks, but be careful not to overwhip it. Double cream tends to be quite stable when whipped, but it can vary depending on the type of cream available in your country.
Too runny? – If your cream is not whipping up or seems too runny, try using less cream and more cream cheese. And remember don't overbeat your cream cheese!
Nutrition
Serving:
1
slice
Calories:
454
kcal
Carbohydrates:
28
g
Protein:
5
g
Fat:
37
g
Saturated Fat:
21
g
Polyunsaturated Fat:
2
g
Monounsaturated Fat:
11
g
Trans Fat:
0.2
g
Cholesterol:
95
mg
Sodium:
285
mg
Potassium:
154
mg
Fiber:
1
g
Sugar:
19
g
Vitamin A:
1234
IU
Vitamin C:
0.2
mg
Calcium:
73
mg
Iron:
3
mg
DISCLAIMER
The nutritional information provided is approximate and is calculated using online tools. Information can vary depending on various factors, but we have endeavoured to be as accurate as possible.