Perfectly fudgy Jammie Dodger Blondies, with a delicious sweet, caramel taste and packed full of white chocolate chips, shortbread biscuit chunks, swirled with fruity raspberry jam. These blondies are super easy to make and are a sure to be a hit with kids and adults. They are simply irresistible!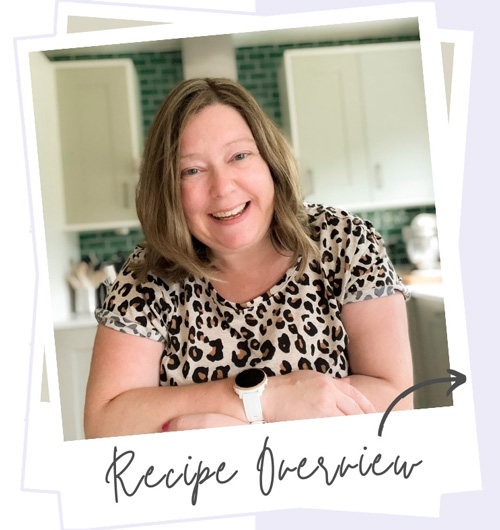 Lou's recipe overview
SKILL: Beginner
TASTE: Sweet raspberry and white chocolate fudginess
PROS: Quick and easy, all in one recipe
CONS: Don't overbake them!
Ever wondered how to get blondies to be that vanilla, caramel, fudgy, gooey state? Well I'm going to show you how…
And hands down these are the most easy to make, absolutely delicious recipe of all time – Jammie Dodger Blondies!
Well, if I'm honest they come in as a very close tie for my favourite, with my Custard Cream blondies.
You see I LOVE blondies, even more than I love brownies; yes even my Rolo brownies or my Jaffa cake ones. It's that sweet vanilla, caramel smell as they bake. Heaven!
I just can't get enough of them especially when they are stuffed with my favourite biscuits. My Party Ring blondies have been on baking repeat in the kitchen over the last few months; they are so much fun with mini marshmallows added in there as well.
I know you're desperate to get stuck in and bake these guys, so let's crack on….
What is a Jammie Dodger?
First things first, if you've never hear of a Jammie Dodger before, then let me welcome you to an icon of the British biscuit tin for over 60 years. These guys are a take on the classic Austrian Linzer cookie.
Voted Britain's best kids biscuit and with 40% of all Jammie Dodgers being devoured by adults; you are never too old to get stuck into a packet!
With their two golden, buttery shortbread biscuits, or cookies, sandwiched with a sweet raspberry jam, and a cute little heart cut out on top, these Dodgers are calling out to be stuffed into a blondie.
You'll love this recipe because…
Just look at these guys! How adorable are they with that little jammy heart? What more could you want for from a blondie than one that shows you how much it loves you, ha!
But really, apart from the fact these Jammie Dodger blondies are packed with one of our most-loved biscuits, they are also…
Absolutely delicious, vanilla and caramel flavours, bursts of raspberry jam
Perfectly thick and fudgy with that ultimate blondie centre
Super easy to make in one bowl with no fancy ingredients
Easily adaptable recipe – swap in your favourite biscuit or cookie instead
Surprise your true love with a freshly baked batch for Valentines Day
Ingredients
Check out my shopping list for ingredients and equipment
The recipe really is that simple and there are no fancy ingredients, so go and grab these:
Jammie Dodger Biscuits – I'm using a mix of mini and regular sized Jammie Dodgers as they look great mixed together on the top of the blondie. You can use all mini or all regular if you prefer. If you can't get hold Jammie Dodgers, jam and cream biscuits or Linzer cookies work well.
Caster Sugar or Superfine Sugar
Soft Light Brown Sugar – This is one of my top tips for the perfectly fudgy blondie with a beautiful caramelly taste. If you're looking a darker, richer flavour than switch for a soft dark brown sugar instead.
Plain Flour or All-Purpose Flour
White Chocolate Chips – I love using Callebaut chips rather than chunks of white chocolate; they taste so creamy! Also they mix through the blondie batter more easily and you get a better distribution with the Jammie Dodger pieces.
Eggs – Make sure that these are at room temperature; trust me it will be a lot easier to whisk them up.
Butter – I'm using an unsalted butter with a pinch of fine sea salt, so I can regulate how much salt I'm adding. If you prefer you can use a slightly salted butter instead, just leave out the extra salt.
TOP TIP: If you can't get Jammie Dodgers, switch them for shortbread biscuits and add extra swirls of raspberry jam or try Linzer cookies
Recommended ingredients and equipment
Equipment
Just with all my blondie and brownie recipes, I love that I can make these all in one bowl so there is minimal washing up!
I make the blondie batter by hand with a balloon whisk and a large mixing bowl. You can also use a handheld mixer or stand mixer if you want to.
To bake the blondies you will need something to put the batter in. This recipe will work in any of the following:
I prefer to use a square cake pan with a loose base as it has high sides for my blondies to rise up. But whatever pan you use, make sure it is at least 1-inch deep, otherwise your blondie batter will escape when baking.
How to make Jammie Dodger blondies
Full measurements and instructions can be found in the recipe card
Make the blondie batter
Start off by melting the butter; you can do this over a pan of simmering water as a double boiler or in 30 second blasts in the microwave. Pop the butter to one side to cool slighty.
Add the caster and soft brown sugars into a large mixing bowl, giving them a stir (1). Then add in the melted buter. Mix everything together until the sugar has dissolved into the butter (2).
Next add the eggs, one at a time, whisking well between each one. The batter mixture will become smooth and runny (3). Then sieve the flour and fold into the batter (4).
Add in the white chocolate chips and the chopped Jammie Dodgers and fold everything together until evenly mixed (5 and 6).
Assemble the blondies
Line your cake pan or brownie pan with parchment paper. If you make sure the parchment overhangs the sides it makes it easier to lift the blondies out later (7).
Pour the blondie batter into the lined pan and level off with an angled palette knife or the back of a spoon (8). Add spoonfuls of raspberry jam on top of the batter and swirl through the batter (9).
Place the remaining Jammie Dodger biscuits on the top of the batter, pushing them into the batter slightly so they don't pop out when baking (10).
Step by step video
Frequently asked questions
What size cake pan does the recipe fit?
This blondie recipe works best in a 9×9 inch square cake pan or brownie pan. It will also work in a 10×7 inch rectangle pan.
How many blondies does the recipe make?
The recipe will make between 9 and 16 blondies, depending on how big you slice them.
How should the blondies by stored?
Once cooled and sliced, the blondies should be kept at room temperature in an air-tight container.
How long with the blondies keep for?
The blondies are best eaten within 3 days, but will keep up to 5 days if stored correctly.
Can I freeze the blondies?
It is possible to freeze the blondies, the best way is to slice them up before freezing and wrap in baking paper. Place the wrapped blondies in an air-tight, freezer-proof container and freeze. They will keep for up to 1 month and remember to defrost properly before eating.
Recipe notes and top tips
Swap Jammie Dodgers – Linzer cookies… try making your own; I love this recipe from Gemma at Bigger Bolder Baking.
Don't overbake the blondies – This is cruial for getting that fudgy but holding together centre. If you overbake the blondies will become dry and cakey; underbake and they will still be liquid in the centre.
Test the blondies with a skewer – I recommend testing 5 minutes before the bake time is up and if you need longer bake in 5 minute blocks. Test the edge of the blondies with a skewer, they should be firm and only have a few crumbs on. The centre of the blondies should have a little jiggle to them.
Let the blondies fully cool down – I know that they smell amazing but you've got to let these guys cool properly. When baked, leave them in the pan to cool for about 10-15 minutes then lift out onto a wire rack to fully cool; then you can slice them up.
More blondie and brownie recipes to try
If you liked these Jammie Dodger blondies then here are some other recipes that I think you'd enjoy…
Jammie Dodger Blondies
Perfectly fudgy Jammie Dodger Blondies, with a sweet, caramel taste, packed with white chocolate chips, shortbread biscuit chunks, swirled with fruity raspberry jam.
Instructions
Preheat the oven to 180C/350F, and line a 9×9 cake pan or brownie tin with baking parchment.

Melt the butter in a saucepan over a low heat or in a microwave in 30 second blasts. Allow to cool for 5 minutes.

In a large mixing bowl, add the caster sugar and soft brown sugar. Mix together making sure there are no lumps. Then pour over the melted butter and mix together with a balloon whisk until well combined. The mixture should not be grainy, and the sugar should have dissolved into the melted butter.

Add the eggs one at a time and whisk between adding each one. Whisk until the mixture is smooth and thick. Add the vanilla extract and stir through. You can use a handheld mixer or stand mixer if you prefer.

Sieve the flour into the blondie mixture and gently fold together with a spatula until everything is well combined. Make sure there are no pockets of unmixed flour.

Add in the white chocolate chips or chocolate chunks and fold into the blondie mixture.

Cut the mini Jammie Dodger biscuits into chunks, then add into the mixture. Save at least 9 biscuits to decorate the top of the blondies.

Pour the batter into the lined brownie tin, and level with an offset spatula or the back of a spoon. Place the remaining regular Jammie Dodgers on top of the blondie batter, pushing them down slightly.

Bake for 30-35 minutes, until firm but still a soft in the centre. Leave the blondies to cool in the tin before lifting them out. Allow the blondies to completely cool on a wire rack before slicing.
Nutrition
Serving:
1
slice
Calories:
444
kcal
Carbohydrates:
49
g
Protein:
4
g
Fat:
17
g
Saturated Fat:
11
g
Polyunsaturated Fat:
1
g
Monounsaturated Fat:
5
g
Trans Fat:
1
g
Cholesterol:
79
mg
Sodium:
147
mg
Potassium:
80
mg
Fiber:
1
g
Sugar:
33
g
Vitamin A:
478
IU
Vitamin C:
1
mg
Calcium:
38
mg
Iron:
1
mg
DISCLAIMER
The nutritional information provided is approximate and is calculated using online tools. Information can vary depending on various factors, but we have endeavoured to be as accurate as possible.