This caramel popcorn cheesecake slice is so quick and easy to make; best of all it's no bake. Made with a buttery Digestive biscuit base, a creamy caramel cheesecake filling, all topped off with fluffy popcorn and drizzled with caramel. Totally yum!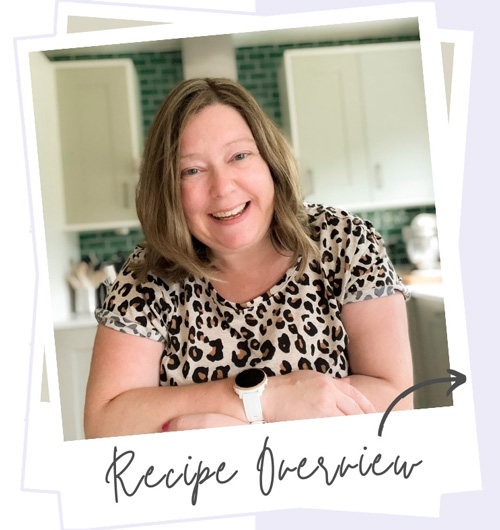 Lou's recipe overview
SKILL: Beginner / Intermediate
TASTE: Buttery biscuit, velvet smooth cheesecake, hints of caramel
PROS: Perfect for when you don't want a whole cheesecake
CONS: None, what are you waiting for!
I know, I know I say this a lot but, say hello to pure deliciousness!
One of the things I'm really missing at the moment is a night at the movies. Curled up in the dark, with a great movie and a bucket full of popcorn; that I've usually have half way through before the trailers finish.
I love a cheesecake; that buttery biscuit base, the velvety smooth filling and whatever flavour you fancy. But sometimes you really don't want to make or eat a whole one.
That's were these slices come in. Just like regular no bake cheesecakes, these are super easy to make, with the simplest of ingredients and absolutely-zero faff.
And what I really love about this recipe is that sweet caramel flavour, not sure from the popcorn but in the cheesecake filling as well. I often find that baked caramel cheesecakes dull the flavour a little. But as this is no bake, the caramel flavour ripples all the way through
I just know you are going to need no convincing to make these cheesecake slices.
If you want to skip the recipe information and top tips for making this totally yum caramel popcorn cheesecake slice, then head down to the printable recipe card.
Homemade or Store-bought Popcorn?
The choice is absolutely yours! You can use either homemade or store-bought popcorn, depending on which you prefer.
For this recipe I used a toffee popcorn and then added extra caramel sauce.
Making your own popcorn at home is nice and simple. It also allows you to play around with the flavours and add any extras into the mix, such as chocolate chips.
Also if you're like my Other Half and come home with half a bucket of popcorn from the cinema, why not top use the leftovers instead?
What you'll need to make this recipe
View my Amazon shopping list with equipment and ingredients
Everytime I post a no bake recipe, I tell you how simple it is and how it uses basic ingredients, and to be honest I'm going to say exactly the same thing for this recipe.
Honestly can you think of anything simpler than whipping up some cream cheese and cream, and then bash biscuits until they are crumbs. Not only is it one of the easiest recipes I make, it's also a great stress reliever, ha!
The Ingredients
Here's what you'll need to make this caramel popcorn cheesecake slice:
Full-Fat Cream Cheese – Full-fat is important for the cheesecake to set properly and a velvety smooth texture. Use either a block cream cheese or Philadelphia cream cheese. Allow it to come up to room temperature, 15 minutes before you use it, to avoid lumps in your filling.
Digestive Biscuits – A classic choice for cheesecake biscuit bases.
Double or Heavy Cream – The high fat content is vital for the cheesecake filling set. If you can't find double or heavy cream, use whipping cream instead.
Toffee Popcorn – I used a pre-popped store-bought bag of popcorn for this recipe, but you can always make your own popcorn at home if you prefer. You could also go for a slightly salted popcorn for a salted caramel style slice.
Caramel Sauce – Again you can use a store-bought caramel, or you can make your own using my easy caramel sauce recipe.
Icing or Powdered Sugar
Butter
The Equipment
The thing that I really love about all the no bake cheesecake recipes I make is that they don't use any fancy equipment.
So first up, grab a large mixing bowl and a handheld mixer. You could also use a stand mixer or a balloon whisk, if you prefer.
You'll also need a rectangle brownie pan or a traybake sheet to set the cheesecake slice in. It is best to line the pan with baking parchment to help remove it once set.
If you wanted to make this into a regular cheesecake, you would need a springform cake pan instead, and a 6-inch diameter one would be best.
How to make caramel popcorn cheesecake slices
Ok, so if you're ready to make these totally yum cheesecake slices here's what you'll need to be. Don't forget you can find the full recipe at the end of the post and some of my top tips too.
The Biscuit Layer
Break the biscuits up into pieces and blitz into fine sandy crumbs, using a food processor. You can also just a hand blender with the chopper attachment, or pop them into a Ziploc bag and crush with a rolling pin.
Add the melted butter to the biscuit crumbs and mix together, then pour into a lined rectangle brownie pan. Press down on the mixture to level it out in and smooth with the back of a spoon.
Pop in the fridge for 30 minutes to an hour for the biscuit base to firm up.
The Cheesecake Layer
Right then, so while the base is chilling, let's go on and make the cheesecake filling.
Grab a large mixing bowl and a hand mixer, or you can use a stand mixer, and bring together the cream cheese, icing sugar and caramel sauce. Then add the cream and beat everything together until the filling becomes smooth and thick.
Pour the cheesecake filling over the chilled biscuit base and level off using an offset spatula.
The Popcorn Layer
Before setting the cheesecake layer, cover the top with a layer of toffee popcorn. Press down slightly to help the popcorn to 'stick' to the top. Then pop back in the fridge for at least 6 hours or over night.
When the cheesecake is all set, remove from the pan and carefully cut into slices. Drizzle with caramel or toffee sauce to finish off.
Frequently asked questions
How many does the recipe serve?
This recipe will serve 12-16 slices, depending on how big or small you cut the slices. I went for rectangle slices and make 12 slices.
How to store the cheesecake slices?
Once made and set, the cheesecake slices must be kept chilled in the fridge. Once sliced, keep the slices in an air-tight container, or cover with cling film and keep in the fridge.
How long will the cheesecake slices keep for?
The cheesecake slices will keep for up to 3 days in the fridge.
Can I freeze the cheesecake slices?
Yes you can. I recommend freezing without the popcorn topping but with or without it, the slices will keep for up to 3 months in the freezer. The slices are best kept in an air-tight container when freezing. Remember to allow the cheesecake slices to fully defrost in the fridge before serving.
How do the cheesecake slices set?
The recipe uses full-fat cream cheese and double or heavy cream to set the filling. Some recipes suggest using gelatine, but I prefer the simplicity of this recipe and also the smooth and creamy texture it gives the cheesecake filling.
My cheesecake filling didn't set, what happened?
There could be a number of reasons ranging from the ingredients to the weather but the most common reason is that the filling hasn't been whipped enough. It's important that you whip the filling so it is smooth and thick but spreadable Check out my top tips below for how to prevent this
Top and tricks for totally yum cheesecake slices
Just like my other cheesecake recipes, this one is nice and easy, and quick to make. But there are a few key things to follow that will ensure you absolutely ace it every time.
Use full-fat cream cheese – This is really important as full-fat cream cheese helps the filling stabilise and set firmer. Low-fat cream cheese has a higher water content so it will be looser and can could 'flop'. I prefer to use either a block-style cream cheese if available or Philadelphia cream cheese.
Use double, heavy or whipping cream – Just like cream cheese, the fat content of cream is an important factor in helping the filling set. The higher the fat content, the thicker you can whip the cream which is needed to hold the filling together.
Make sure to whip the filling well – You want the filling to be thick and creamy, but smooth enough to spread easily with a palette knife. If you don't whisk the filling enough, the cream will not thicken up. Then you end up with a runny cheesecake filling that will not stabilise and set properly. So don't cut corners and make sure to whip the filling properly.
Be patient and let it chill – This is the easy part, just pop the cheesecake in the fridge to chill for at least 6 hours before slicing and serving. I usually leave mine overnight.
For clean slices – To make sure you get perfectly straight and smooth edge slices, use a large sharp knife. Run the blade under hot water and dry it off, before slicing. Remember to wipe it off between slices.
More slice recipes to try
If you liked this caramel popcorn cheesecake slice recipe here are some other recipes that I think you'd enjoy…
Caramel Popcorn Cheesecake Slice
This caramel popcorn cheesecake slice is quick, easy to make and it's no bake. With a Digestive biscuit base, a caramel cheesecake filling, all topped off with popcorn and drizzled with caramel.
Instructions
Make the biscuit base – Add the biscuits into a food processor, and blitz until they form a crumb, then add to a large mixing bowl. Make a well in the centre of the biscuit crumbs, and pour in the melted butter. Mix together until well combined.

Line a brownie pan with baking parchment, then pour in the biscuit crumb mix. Press down the biscuit base with a spoon and smooth out to the edges. Chill in the fridge for at least 30 minutes to 1 hour.

Make the cheesecake filling – Using a stand mixer with the balloon whisk attachment, gently combine the icing sugar, cream cheese and 2 tablespoons of caramel sauce. Add the double cream and whisk together until the cream thickens and the filling is smooth and thick.

Alternatively, you can make the cheesecake filling, in a large mixing bowl, by hand or with an electric hand whisk.

Assemble the cheesecake slice – Pour the cheesecake filling over the top of the chilled biscuit base, then smooth over and level with an offset spatula. Scatter over the toffee popcorn and press down slightly to help fix the popcorn in place. Chill the cheesecake in the fridge for at least 6 hours or overnight.

Decorate the cheesecake – When ready to serve, lift the cheesecake out of the brownie pan and cut up into slices. Drizzle with the remaining caramel sauce, then serve.
Notes
Read my Top Tips in the post above for some really helpful hints and tips to make this recipe successfully.
Your cheesecake will keep for up to 3 days in the fridge, and up to 3 months in the freezer. When freezing make sure you wrap it well with cling film or plastic wrap, and then a layer of aluminum foil to prevent ice crystals forming in the filling. Remember to allow the cheesecake to thaw before serving.
Use room temperature cream cheese to avoid any potential lumps that you might get if it is too cold.
Nutrition
Serving:
1
slice
Calories:
308
kcal
Carbohydrates:
32
g
Protein:
3
g
Fat:
19
g
Saturated Fat:
10
g
Cholesterol:
51
mg
Sodium:
236
mg
Potassium:
80
mg
Fiber:
1
g
Sugar:
17
g
Vitamin A:
594
IU
Vitamin C:
1
mg
Calcium:
43
mg
Iron:
1
mg
DISCLAIMER
The nutritional information provided is approximate and is calculated using online tools. Information can vary depending on various factors, but we have endeavoured to be as accurate as possible.